It's almost the middle of the month, so let's see what brings my Meal Prep November 2021?
What's high on my Meal Prep list for November? Here you can see what I prepared last Monday for the week – at least a large part of it.
Not on the picture is the already washed salad , the bread and a few basics of which there was still something in the fridge. Also the snacks have not made it into the picture.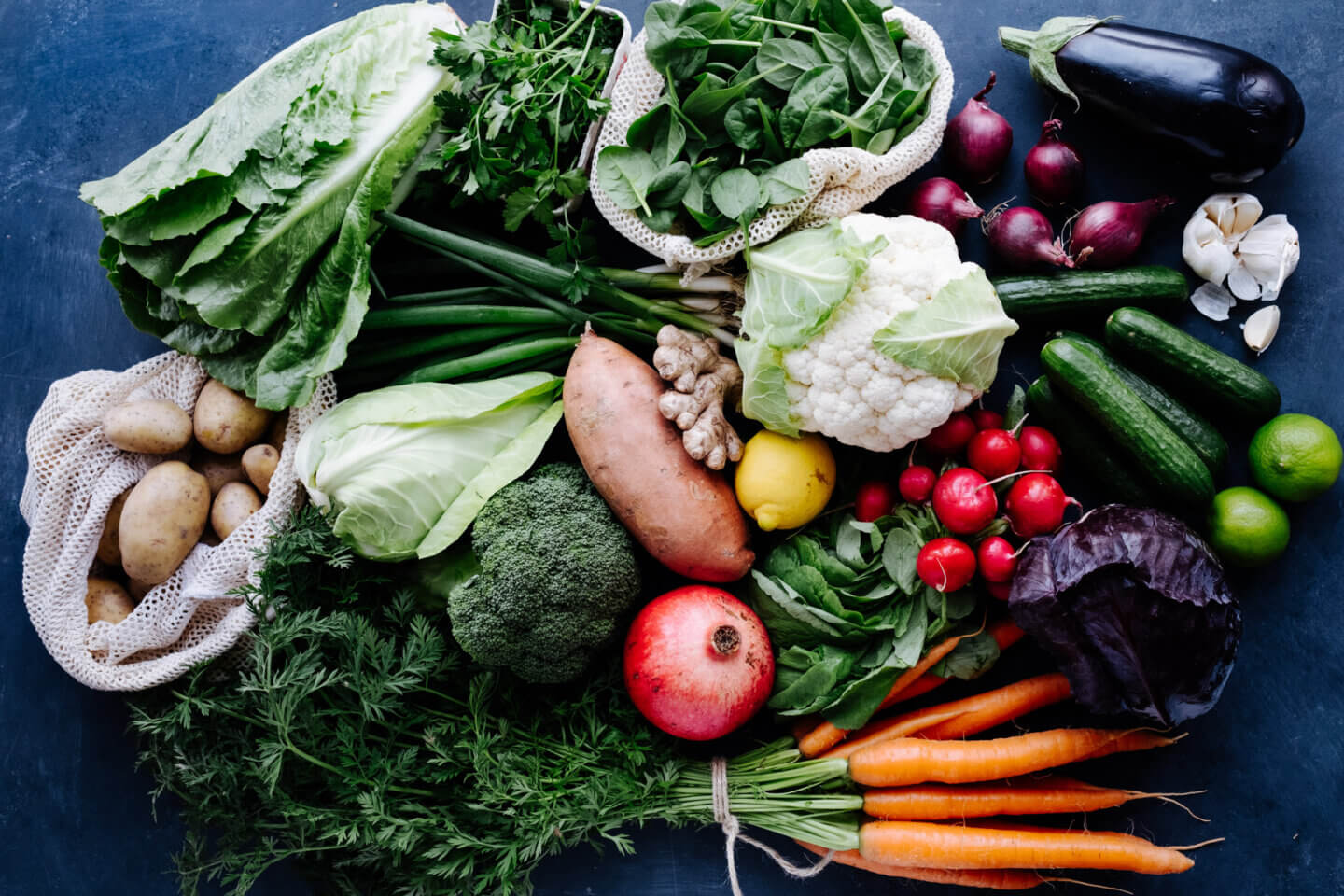 Grocery-List ( concentrated on fresh produce):
Fresh ingredients for Meal Prep:
Potatoes, mealy for potato bread, and firm for roasted potatoes, potato salad, etc.
Sweet potato, roasted I love them in a bowl.
Carrots, carrot salad is a favorite in our house in the winter and so delicious roasted too, add a blob of hummus and you have the perfect snack!
Butternut squash, for pumpkin puree.
Lettuce, a must have as a base for any bowl
Cabbage, finely shaved and dressed a bit with vinegar and oil- delicious in a bowl!
Red cabbage, I LOVE this red cabbage salad!
Broccoli, steamed and ready in the fridge for a bowl or a quick Asian pan
Radishes, for pickled radishes…. Recipe to follow
Spinach, I'm just saying green smoothie….
Eggplant, grilled briefly in the oven and on a hummus sandwich! Soooo, yum!
Cucumber, off to the bowl and also our youngest is fructose intolerant. Since he loves cucumber he often gets it to take to school as an apple substitute… admittedly I'm not quite seasonal on that one
Cauliflower, steamed and served as a salad or roasted in a bowl
Ginger, must be in high quantities in the house in wintertime! For tea and all kinds of Asian cuisine
Lime, always good to have in stock
Lemon, for salad dressing and I love hot lemon in the colder season
Pomegranate, peps up everything – no matter if it is a bowl or the rice pudding and provides lots of vitamins.
spring onions, for salad dressings, as topping for soups and dips
red onions, for pickled red onions
Parsley, always good in seed sauces, dips, soups….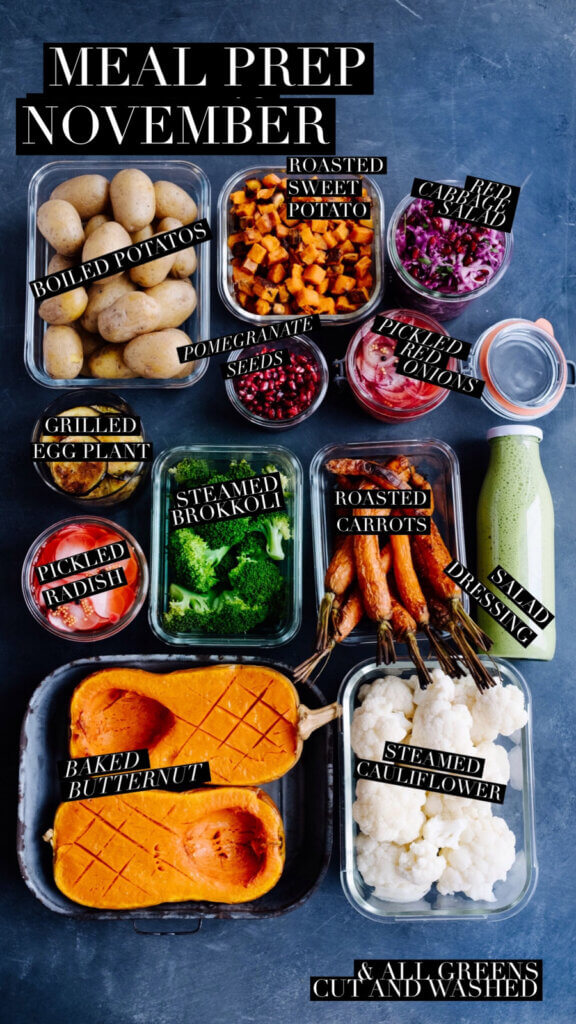 Is that enough for one week?
No, we can't eat a whole week's worth of it. But that's not how I understand my Meal Prep concept either. Rather, they are basics that I can now work with during the week without having to cook the potatoes for the quick roast potatoes at lunch. And if I don't want to stand at the stove and flip the potatoes, it becomes the roasted potatoes from the oven. Bowls can be varied throughout the week with these basics, one example being the sweet potato salad. Depending on the occasion, I add something new to it, like some fried tofu or I open another can of corn…. The pumpkin puree becomes part of a very quick soup, goes into waffles (attention for all those who are plant-based, here is still an egg hidden in the recipe…), or mixes with hummus to a pumpkin-ginger hummus….
The variations are endless. It helps me to open the refrigerator and find ready-made building blocks in it. Because in 90% of cases, the time until lunch or dinner is already gone anyway and I need to bring something yummy on the table as fast as possible!
So the Meal Prep November 2021 suggestion is really just a suggestion and is meant to inspire you to put some building blocks in your fridge too!
For storage I use Glasslock containers, the purchase is relatively expensive, but I think it's worth it to put on quality. You can read more about my equipment here.