My meal prep facilities:
First of all, there is no obligation to buy new things in order to be able to meal prep! You can actually look in your closets first and use what is already there!
The important thing is, that you can pack the food spill-proof and airtight! This goes in plastic jars, glass containers, jars, old jam and canned jars, in stainless steel cans with sealing ring, etc …
Storage:
Glas container
I would like to use plastic as little as possible in my kitchen, and have switched to glass containers over the last few years. They are available in many variations and sizes. What is important is to stay with one company: that makes it easier to assign the right lids enormously!
Unfortunately, the lid is still plastic, but the boxes are very tight. And I like being able to look in the boxes from the outside, so I have a better overview in the fridge.
Who wants to banish the plastic completely out of his household, should completely switch to stainless steel boxes and screw jars.
Stainless steel boxes
Again, there is now a very, very large selection. Have a look at Kivanta, there are many different boxes and it is a great shop!
Classic bread boxes, divided boxes (with compartments for eg fruit, a sandwich, nuts …), round cans with screw caps …
Are stainless steel cans tight? Not always, the decisive factor here is usually whether there is a seal or not. The classic lunchboxes usually do not have this, so they are more suitable for dry ingredients. For example, I like to store my kale chips in a stainless steel tin, they stay wonderfully crispy in it.
Jars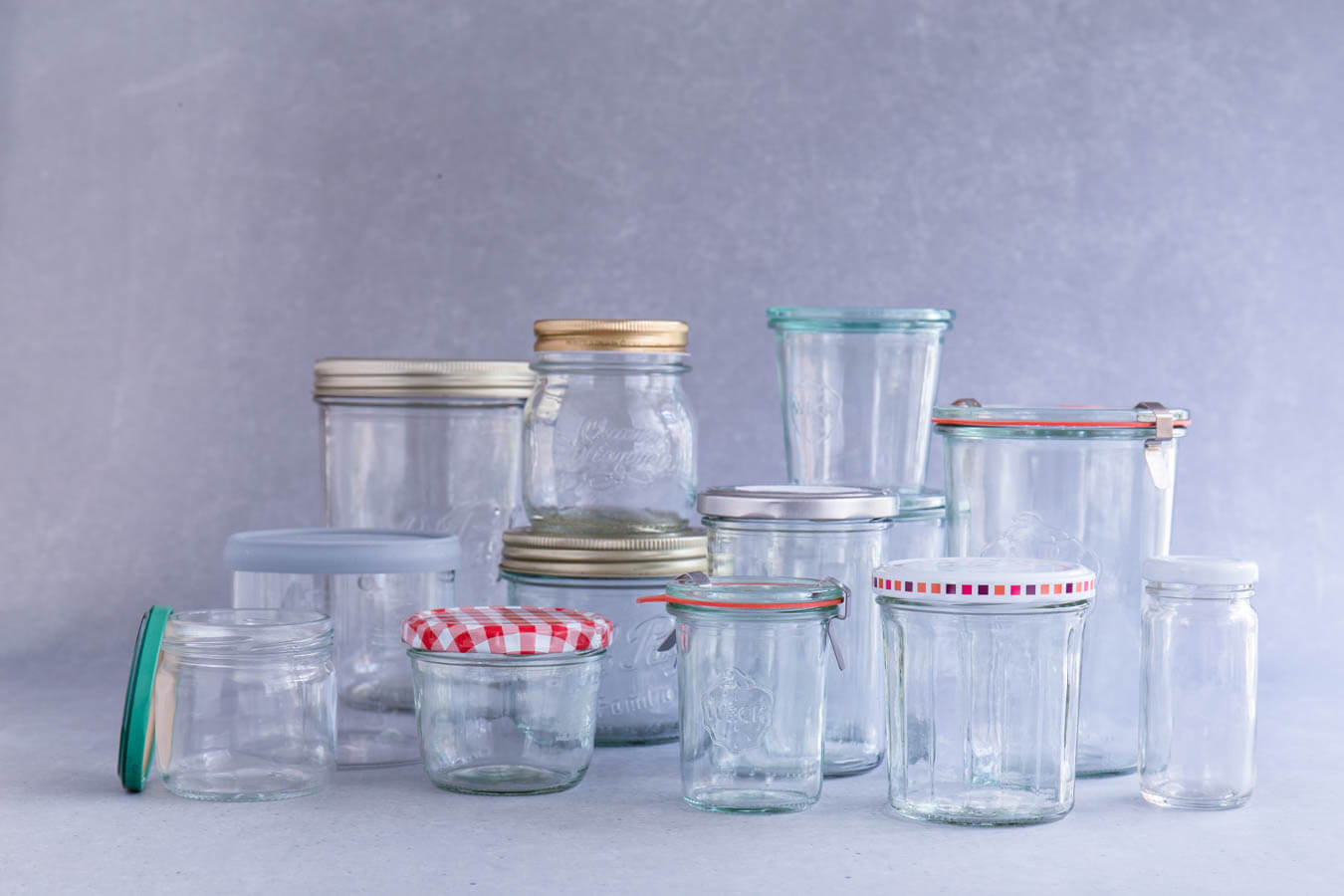 Glasses are ideal for upcycling. Especially jam jars, applesauce glasses, yoghurt glasses, milk bottles, smoothie bottles …
They actually exist in all sizes, and all are actually great to use in the meal prep. For example, small caper glasses are great for taking salad dressing with you. Large jars are ideal for freezing soups. So you always have 2-3 servings of soup at hand.
My glass collection is huge, I admit it! In addition to the reusable screw jars, I also have many preserving jars. Since I love the storage in glass so much, my whole pantry consists of well-filled glasses.
But again, it is not only good that is new !! On the contrary, take a look at the local yellow page or in the thrift store – often beautiful old preserving jars are given for free or for little money. Depending on the condition, it is worth replacing the sealing rings. And I think it's just the mix of different glasses that makes the charm!
Bento-Boxes
Again, the selection is huge! Classic Henkel men are sometimes so structured that you can vary how many "layers" you want to take. Mine are old finds and souvenirs from India.
Monbento makes beautiful bento boxes. The quality is very good and I really like the design and the feel of the boxes. They are of course a bit expensive, but so far I'm very happy with it, and my husband is happy every time he unpacks them in the office!
The world of bento boxes is great anyway. They are made of bamboo, stainless steel, enamel and even wood!
So if you take your lunch with you every day, you have many, many possibilities!
Whether, glasses stainless steel boxes or bento boxes – the main thing is, that you start right away!
Other options for packaging
Sandwiches can also be wrapped well in beeswax sandwich paper. The wax papers are also good as a plastic wrap replacement in the fridge, for wrapping cheese and so on ….
I always wrap bread and rolls in a cotton towel / kitchen towel. Since I almost always bake myself, this is an easy and good solution.

Kitchen utensils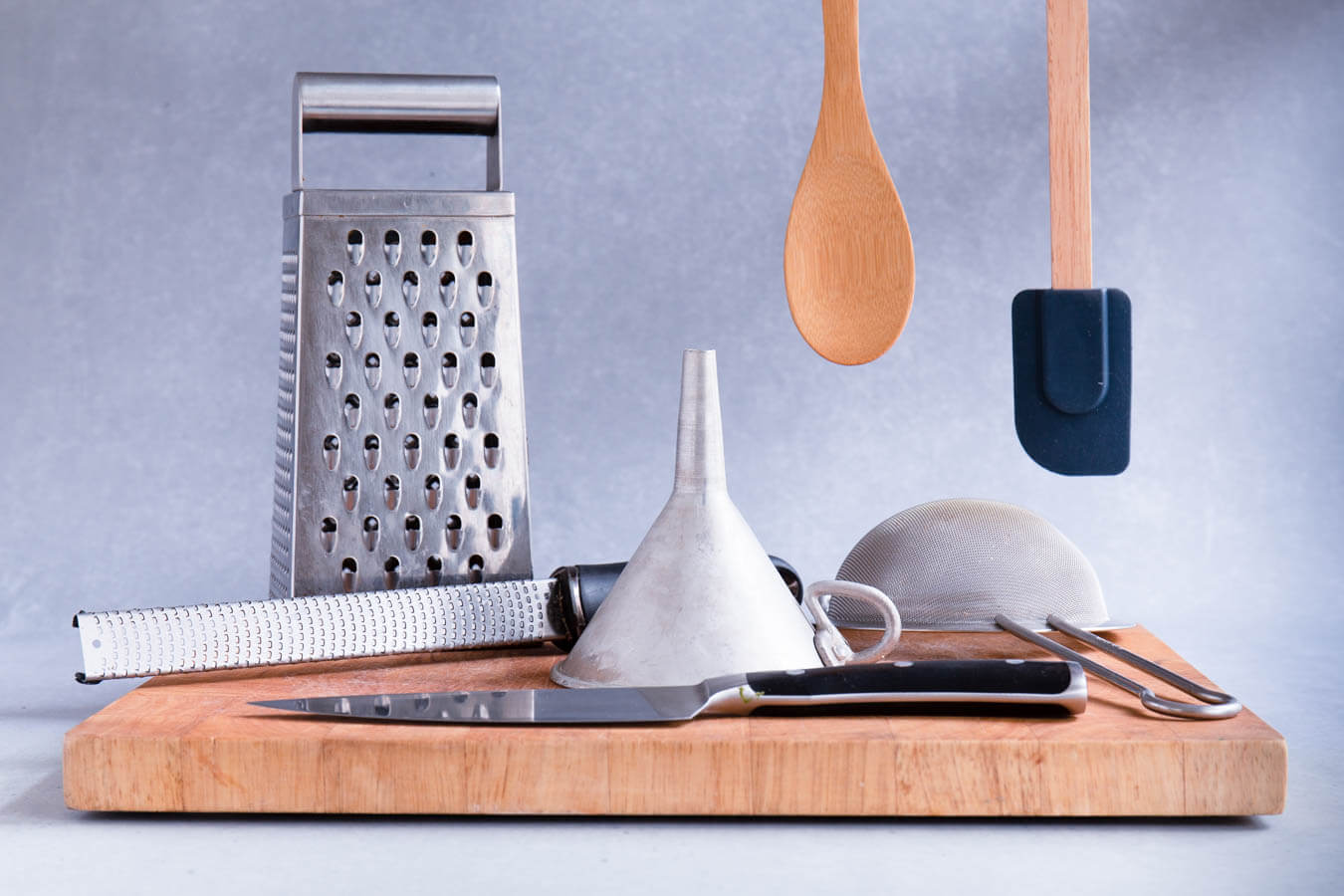 Again, you do not need anything new to start. In most cases, everything is already there. Here are my most used basics:
wooden board and an extra board for fruits
knifes
a square grater or my food processor
screenPots in different sizes
It depends a little on how many people you want to prepare food for. We are 5 people in the household, so we need quite a lot. That's why I love my food processor, he grates the carrot salad for the week in 1 minute. And I do not want to miss my blender. Especially for smoothies, salad dressings and very finely pureed soups he is a star.
But do not forget: cooking is part of my job and I think my environment would actually call me a "kitchen machine nerd". The machines help and speed up many operations, but they are not necessary to successfully prepare meals !!
So, the excuse – "I can only start when I have all these great devices", does not apply!