You know I like juicy bread and rolls! Besides the world's best sourdough wholemeal bread, potato bread is therefore at the top of the list. The children love it (ok, they love the potato and spelt bread rolls even more, but they are always gone immediately at dinner and the bread is enough for at least 2 days). But there are also five of us here in the family.
At the moment we all like it best in the form of a "root bread". Although the dough and the taste are the same – the eye eats along! There are 2 loaves coming out – if we would not eat it so fast – it could be frozen very well.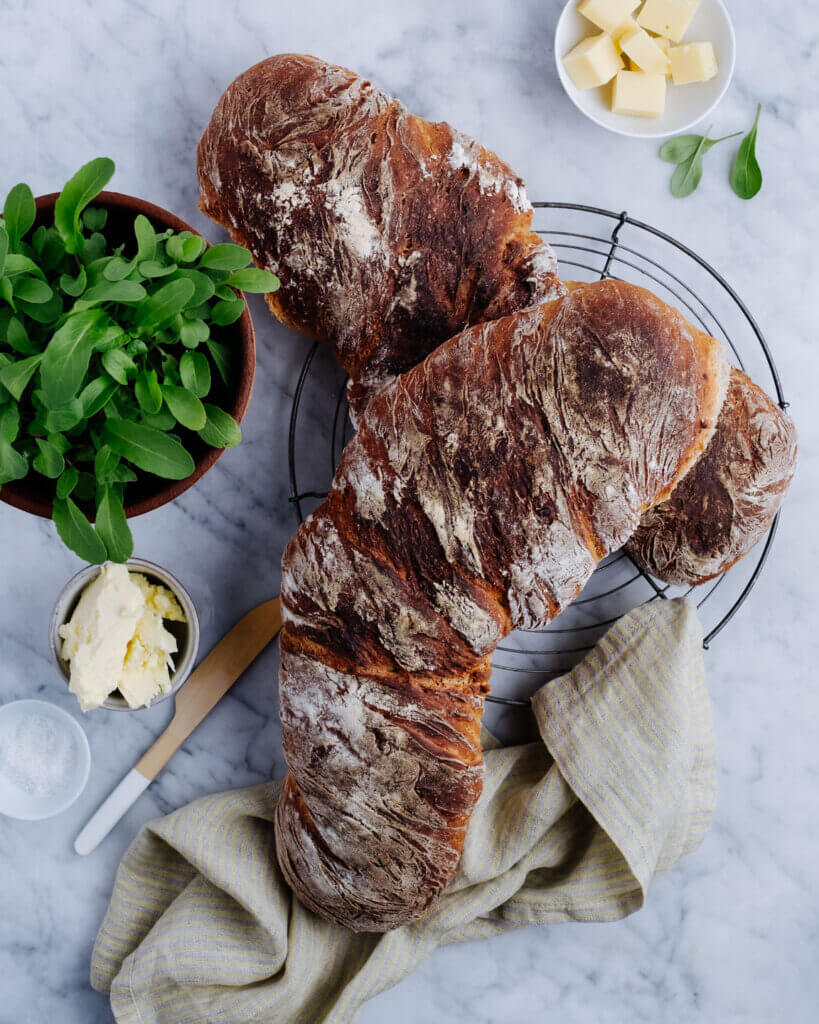 But also a round loaf is wonderfully and quickly made. Looks like from the baker and tastes even better than bought…
Potato bread ingredients:
1 cube fresh yeast (42 g) or 2 packets dry yeast
600 g spelt flour type 630
2 teaspoons honey
400 ml water
2 tablespoons of salt
400 g rye flour
400 g floury potatoes
some bread spice if desired
The spelt – rye flour ratio can be varied. Sometimes I take a little more spelt flour and reduce the amount of rye flour, then the bread just gets a little lighter. I like it with a high proportion of rye flour – the children prefer a lot of spelt… classic!
Print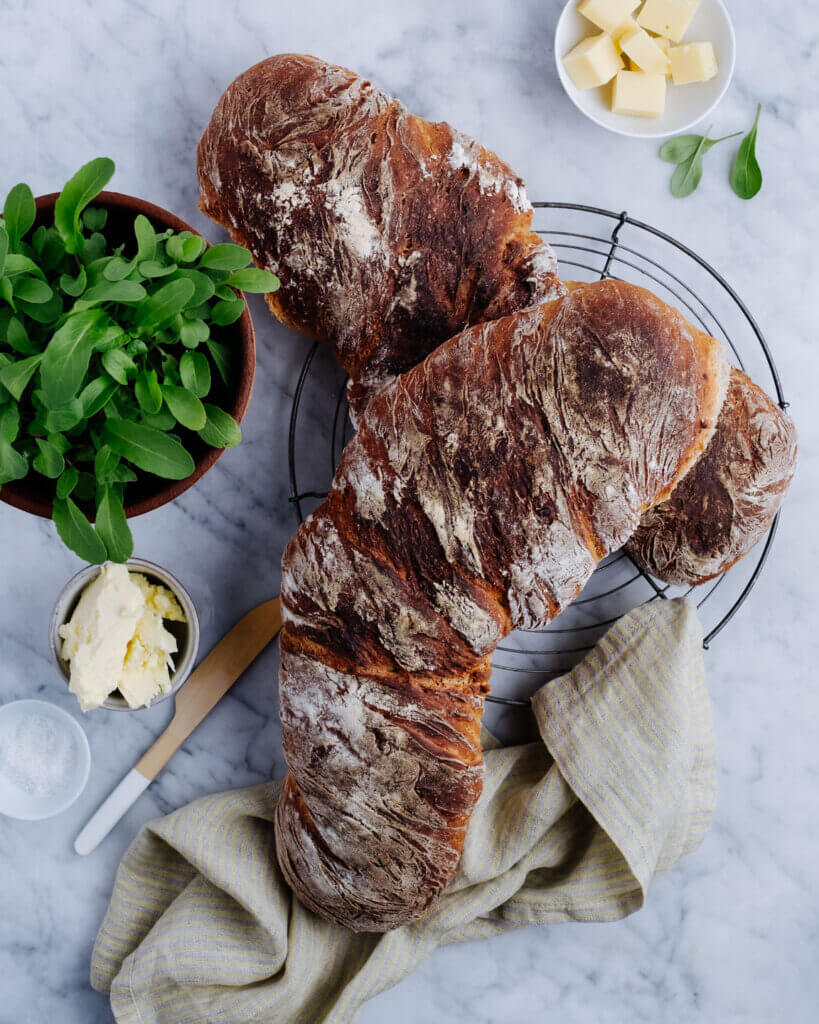 Potato bread – crispy on the outside, deliciously juicy on the inside
Author:

Prep Time:

120

Cook Time:

60

Total Time:

3 hours

Category:

bakery
---
Description
The perfect juicy bread dough for the whole family!
---
1

cube fresh yeast or

2

packets dry yeast

600 g

spelt flour 630

2 teaspoons

honey

400

ml water

2 tablespoons

of salt

400 g

rye flour

400 g

floury potatoes
some bread spice if desired
---
Instructions
Wash, peel and cook potatoes until soft, mash the potatoes
Put 100g spelt flour in a bowl, crumble yeast into it
Mix 100 ml of lukewarm water with the honey and stir with the flour-yeast mixture
Cover and leave in a warm place for 15 minutes or until the volume has doubled
Mix the remaining flour (both types), salt and if used spices
Add 300 ml of lukewarm water, the mashed potatoes and knead well with the advantage (either with the kneading chopper of the food processor, or with strong upper arms…)
Leave covered for approx. 1 hour and let the dough rise until it has doubled
Now either divide the dough into 2 parts and form 2 "root" loaves (roll into a strand and then twist) or form a round ball for a round loaf
Flour the dough pieces (i.e. sprinkle them with a little flour) and place them on a floured baking tray
Preheat oven to 230°C top and bottom heat
Let the dough pieces rise again for 20 – 30 minutes
Fill a fireproof container with water and put it in the oven together with the dough
Bake the potato bread ( 1 round loaf: 60 minutes / 2 long loaves: 40 -45 minutes)
Allow to cool completely on a grid before cutting
---
Notes
You can vary the recipe very well. If you like, put 2 tablespoons of sunflower seeds or pumpkin seeds or walnuts in it .
Keywords: potato bread, bread