Cheese omelette is a saviour – a delicious saviour, mind you! With fava beans it becomes a small sensation for every day meals!
For years I have been trying to plant fava beans, which are also called broad beans, field beans in our garden. However, the sowing begins very early in the garden year, in February or early March, because the beans need a germination temperature of 2°-3°C degrees. And almost always I have missed the time – until now.
Since this year, due to the lockdown, we were more than ever in the garden, I managed to sow them in mid-March after all and have now been rewarded with a rich harvest.
In between, however, the plants were violently attacked. First by aphids, then by the voracious snails. Sometimes I collected up to 20 snails from the plants! But they fought their way through and I was so happy to finally cook with self harvested fava beans! And cheese omelette is perfect to start with!
Ingredients cheese omelette with favabeans:
4 organic eggs
2 shallots
2 tablespoons of olive oil
500 g fava beans
30 g mountain cheese / Appenzeller
1 sprig of sage
2 tablespoons mineral water
salt, freshly ground pepper
Preparation fava beans:
Granted: fava beans take some time to process because you have to take the trouble to peel them twice. First the seeds are removed from the pods and after blanching (4 minutes in boiling water) the seeds are pressed out of the tough, then greyish skin. But in return the bean kernels show their bright green colour – beautiful!
You can buy fava beans also deep-frozen. And of course the omelette tastes delicious with all other vegetables! You can replace the fava beans with peas or green beans or a red pepper cut in small cubes. With fried small potato cubes it becomes really filling and then everybody in our household eats the cheese omelette – because green is not possible with some of the flatmates!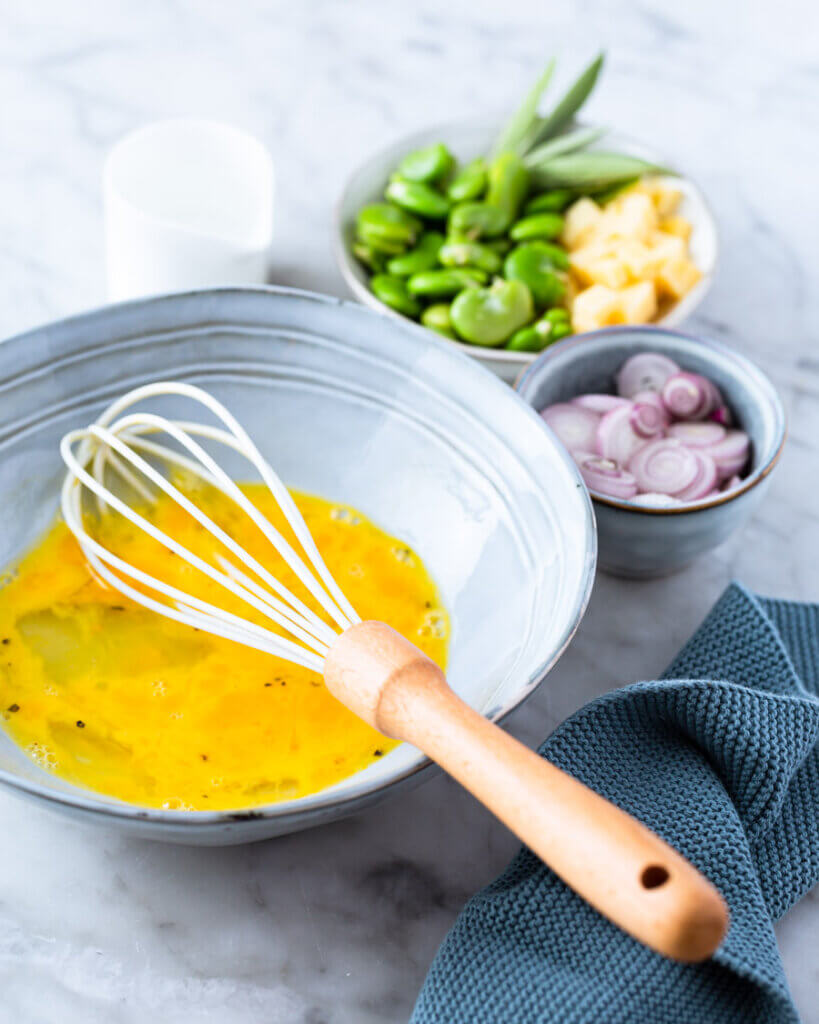 Print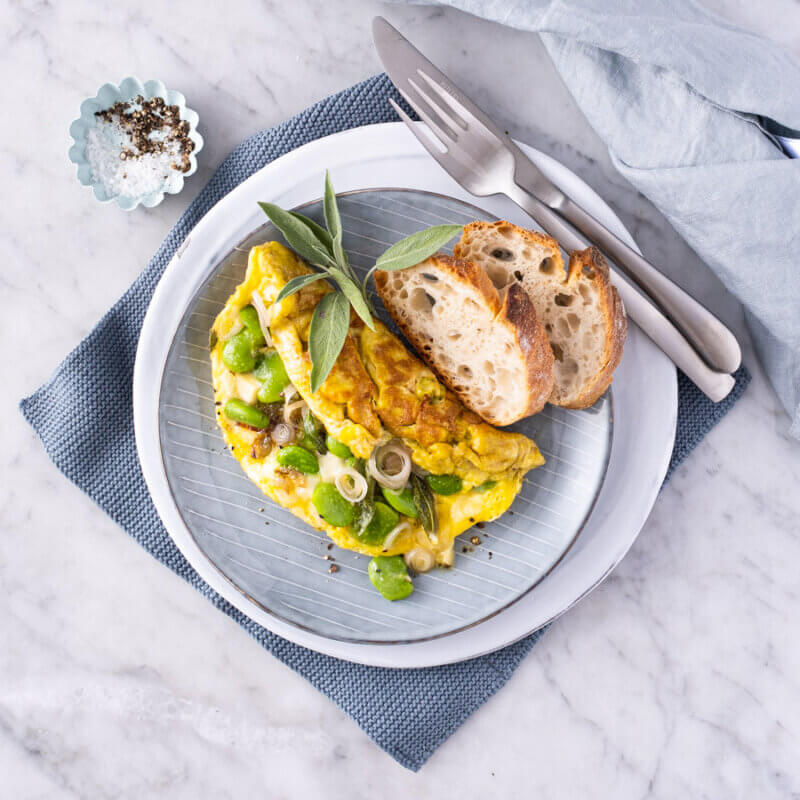 Cheese omelette with fava beans
Author:

Prep Time:

10

Cook Time:

10

Total Time:

20 minutes

Yield:

2

1

x

Category:

Recipes

Method:

Cooking
---
Description
Whether for breakfast, a light lunch or dinner: cheese omelette is an all-rounder!
---
4

organic eggs

2 tablespoons

mineral water

30 g

mountain cheese or Appenzeller

2

shallots

2 tablespoons

olive oil

250 g

fava beans (already triggered)
salt, freshly ground pepper
---
Instructions
Peel the shallots, cut into thin rings
Dice the cheese or grate it coarsely
Pluck off the leaves of the sage
Heat 1 tablespoon of olive oil
Sauté the shallot and sage in it, remove from the pan
Beat the eggs in a bowl, add salt and pepper and stir in the mineral water
Heat the rest of the olive oil in the pan again, add the egg mixture and allow to set a little
Place the fava beans, shallots and sage on one half of the omelette, carefully fold the other half over it
Cover and allow to set for 4-5 minutes at low heat
Gently slide out of the pan and serve
---
Notes
I like to divide the egg and vegetable mixture and bake smaller omelettes. So everyone can say what they want on them, with fava beans, without fava beans ….
Fancy some more summer dishes?
How about this:
Or maybe something sweet?