The berries are ripe and our garden at its best! Blueberries, gooseberries, red and blackcurrants, blackberries, raspberries … it's a dream!
This must be celebrated and since Susann and Yannik of KrautKopf have the most beautiful berry tart on their blog, the recipe was already pretty much fixed.
I changed it slightly, because the berry mixture from our garden was different for me and also in the base are more almonds than nuts. The recipe can be varied very well again, depending on what is growing. I can also imagine it only with blueberries, or pure blackberry!
The honor of the recipe is due KrautKopf – no question!
The Berries Tart is not made that fast, it takes a bit of time to pluck the berries, to pass it through a sieve and let it cool down – but it is definitely worth it!
Anyone who does not like agar agar and is not vegetarian can also take gelatine. I found it amazing how many people said they did not like agar agar, it had a too strong taste by itself? Mh, how do you see that?
Especially on the hot summer days, this tart comes to full advantage! It tastes best straight from the fridge, when it is so wonderfully refreshing and guarantees a "Boah – that is the most delicious tart" – moment!
Print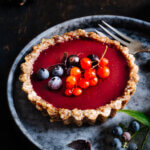 Dark Beeries-Tart
Author:

Prep Time:

30 minutes

Cook Time:

4 h time to chill

Total Time:

4,5 hours

Yield:

6

1

x

Category:

backery
---
Description
A super fruity tart, where the oven stays cold! Super delicious – super nice!
---
FOR THE CAKE BASE:
10

pitted medjool dates

200 g

of almonds

60 g

sunflower seeds

3 tablespoons

of coconut oil

1/4 tsp

sea salt
FOR THE TOPPING
150 g

blackberries

150 g

blueberries

150 g

redcurrants

150 g

blackcurrants

150 g

gooseberries

3

branches of basil

3 tablespoons

of maple syrup

1 tbsp

lime juice

1 tbsp

cornstarch

1 teaspoon

agar agar / or

6

sheets of gelatin

150 g

berries to garnish
---
Instructions
For the base, chop the dates roughly, chop almonds and roast briefly with the sunflower seeds in a frying pan until they start to smell fragrant. Let cool down. Process all ingredients for the base in a food processor to a sticky mass. Put it in a 26 cm springform pan or, as I did, in several small Tartlette dishes and press them with a spoon. Create a border and let cool it in the fridge.
For the filling, wash and pick the berries, roughly chop basil and finely puree with the berries, maple syrup and lime juice. Strain through a sieve. Boil the fruit purée in a small saucepan, stir in the cornstarch and agar agar with the whisk and cook for 4 minutes. Then allow to cool lukewarm, stirring occasionally, so that no skin forms, and put it on top of the cake base. Refrigerate for at least 4 hours in the fridge. Garnish with the remaining berries before serving.
---
Notes
As I said, you can be creative which berry combinations you take … it always tastes good! And especially on hot days, this tart is a winner!