Wild cherry blossom
We just had the most amazing spring weather the last couple of days. Nature is just exploding and so is the wild cherry tree in our backyard. It seemed like thousands of bees were active in it, they were easy to hear. I tried to enjoy the flowering tree as much as I could, by sipping my coffee next to it and taking a few pictures. Because it always lasts only till the next rain arrives… Unfortunately the fruits are not really edible, they are just to small. So these few days in spring are the glory moments of the tree year round!
When I woke up today, the streets were wet and the sky overcast with clouds full of raindrops. First moment I was a bit disappointed but one second later happy for nature, who was in need for some rain. And so was our garden. We spent plenty of time last week in the garden, just celebrating the nature explosion and still, I can't get enough from it. So I took my littlest one into his rainboots and we were of for a stroll to see what we could harvest at this time of year.
Let's get some flowers to fulfill point Nr. 3 on my 101 things to do in 1001 days was my first thought. And we found much more. Take a look: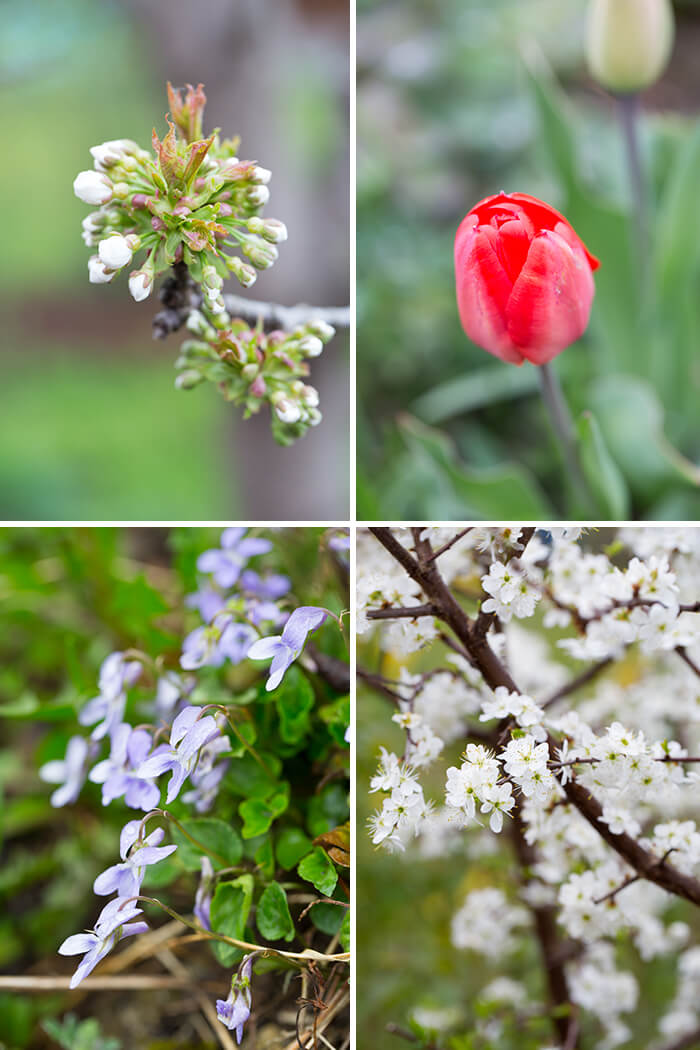 The real cherry tree is about to blossom. Hopefully without any cold snaps in order for the fruits to survive… These cherries are so yummy, can't wait to eat the fruits again. Tulips are coming out in every corner. Last Sunday they were still so small that you couldn't imagine the color, and now we have splashes of red, pink and yellow all over the place. Beautiful. Violets are out, always so fragrant and elegant.
Green peas start to climb.
The kids love to pick them directly of the plant and we decided to give them a head start with letting them sprout on our window bench. But now they are out and it looks like they like it. In a few weeks, the first peas will be ready to be picked, yeah! I can't tell you how excited I am about the energy all these plants are showing. I mean there are all these different shades of green, every plant starts to wake up after some long winter months. The plants start all over again and for me they really show the power of nature in a silent way!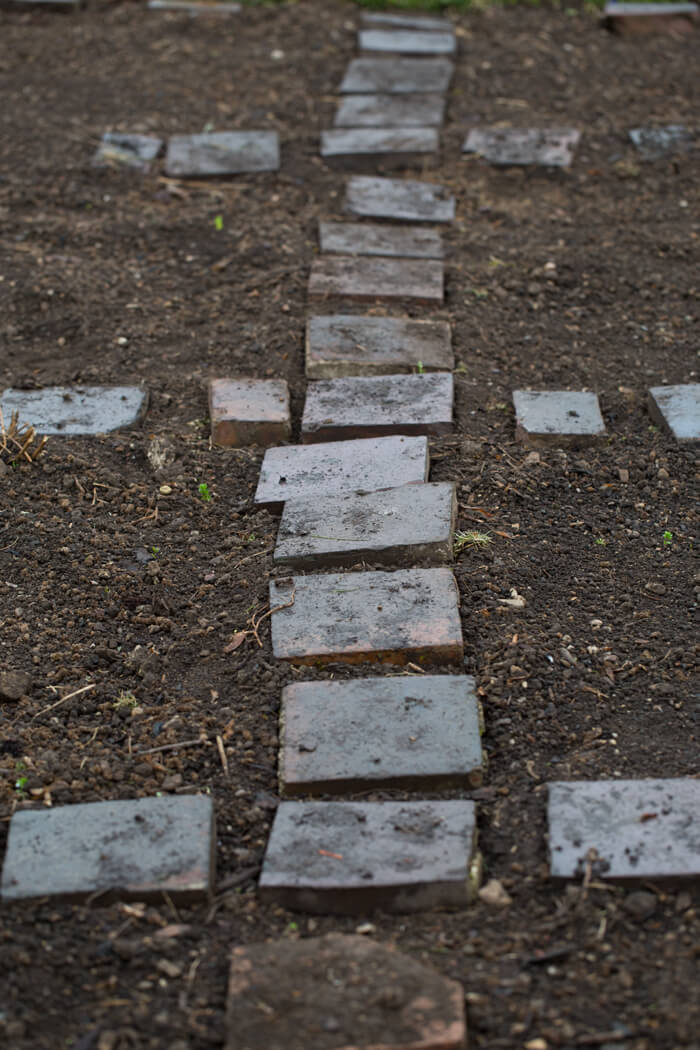 We had a "work day" in der garden last Saturday. We are sharing the garden with friends – so together we are 4 adults and 6 kids. I really was surprised how much the kids did help! Ok, the littlest one is still a baby, so she and our toddler can not be counted, but all 6 and 8 year old kids did a great job. And at the end of the day all plant beds were rigged over and are now waiting for all the seeds and little plants to grow in there.
But some herbs and as well the rhubarb are just coming back each year on their own. They show up with constancy even if I thought, no this year arugula is not coming back…. and ups, here it is! I planted some colorful chard today, because it is not only very tasteful but also so beautiful. You should give it a try if you can.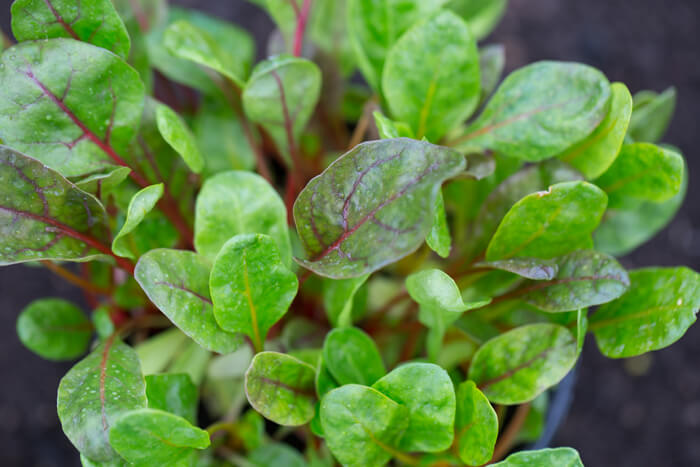 And the peonies! Last Sunday they where hardly visible. And each year I am a bit scared that they might have not survived the winter. But today they clearly have grown. And you will see them later in the year, because they are among the most beautiful flowers I know! So i am more than happy to welcome them back and to watch them grow. Chamomile, sweet woodruff, the strawberries…. everything is back!
The harvest:
And then we went on the mission of harvesting something. After all, the kids just love to get food straight out of the garden and prepare them together in the kitchen. And even our youngest with only 2 years was excited to fill our little basket with fresh herbs. We found goutweed, wild garlic, sorrel and of course dandelion. There is plenty of it in the garden, or should I say it is all over the place? Goutweed is really annoying and so is dandelion and we try to not let them take over everything. So I appreciate the possibility to eat some of it :-)!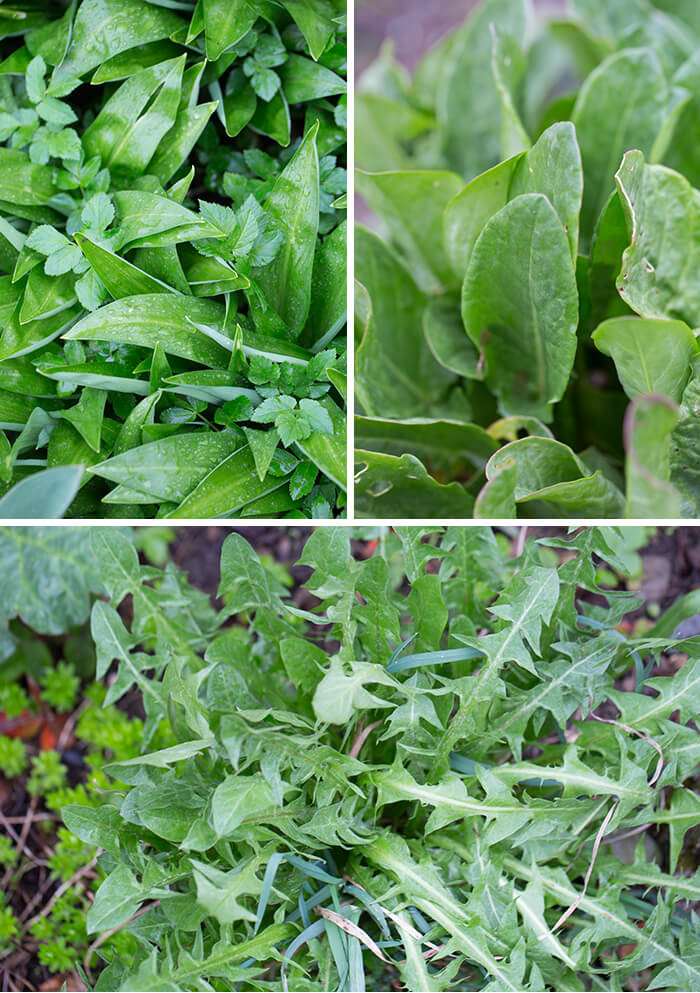 Pancake time!
And as it is Friday today, the two older ones went to play soccer in the afternoon and Friday is our pancake day. Not american pancakes, but the german version. Thin and crispy but thicker then french crèpes. We eat them savory and sweet, it is the start into the weekend, so we don't mind if the kids are indulging one or two (or three or four…) with cinnamon and sugar.
Today I added all the beautiful fresh and young herbs to the dough and out came a really tasteful pancake. We filled it with broccoli and green asparagus and topped it with sauce hollandaise. Perfect and the first meal made out of fresh harvested goodies out of our garden. I couldn't be happier!
Print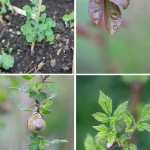 Wild herb infused pancakes
Author:

Prep Time:

30 mins

Cook Time:

10 mins

Total Time:

40 mins

Category:

Lunch or dinner
---
Description
Perfect in spring, when all the beautiful wild herbes can be found
---
250 g

wholewheat spelt flour

2

eggs

1

teespoon salt
sparkling water and milk in equal parts to get an almost fluid dough

2

handfuls of wild herbs e.g. dandelion, goutweed, sorrel, wild garlic washed and finely chopped
Vegetables at your taste and sauce hollandaise
---
Instructions
Mix all the ingredients together, until you dough is almost fluid. Let sit for 20 minutes, then bake it in butter in an non sticking pan until golden brown.
Fill with desired vegetables and top with the sauce hollandaise.
---