One thing is certain: this no churn chocolate ice cream is a sin! In every way. It tastes so creamy and chocolaty – it almost knocks you out! It might go straight to your hips….
I had to fight hard with my little angels and devils on my shoulder, because the angel on the left and the devil on the right had different opinions, as always:
Devil: "This is the best chocolate ice cream I have ever had outside of a good Italian ice cream parlor!"
Angel: "But look at the ingredients! There's a can of sugar from the powerful company with the N at the beginning – that's really not possible!"
Devil: "Yes, but you can do that every now and then – a small exception has never hurt anyone.
Angel:" What should your readers think? It's totally inconsistent, you realize that, RIGHT?"
Devil: "The readers want to make delicious ice cream, that's what it looks like! Come on! "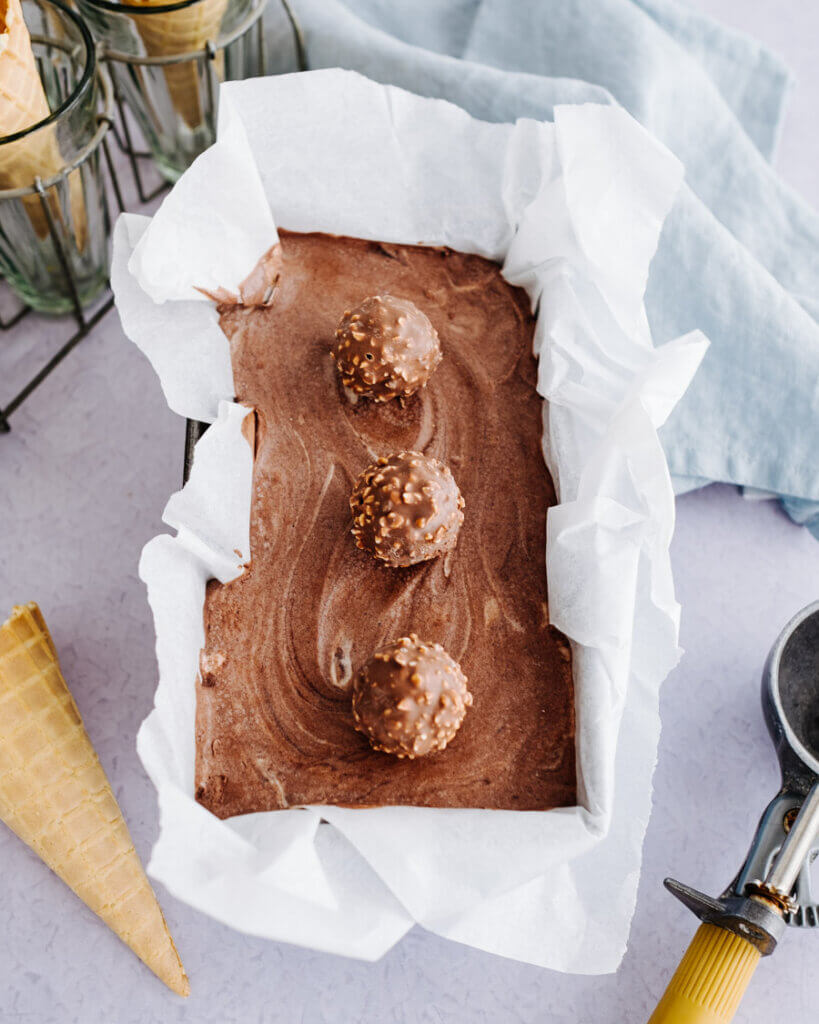 And so on and so forth! A real dilemma. Because the subject of ice and an ice cream maker has been driving me crazy for years now! You know, I'm pretty nerdy when it comes to kitchen appliances. And such an ice cream maker would actually make a good addition to the family. You know, like for chocolate ice cream.
If it weren't for our tiny little space problem! 84 sqm with 6 skateboards, a surfboard, 2 car seats in summer (otherwise we can't go camping with our Euroline), a Kitchen Aid, a blender, the beloved Food Processor, a contact grill and oh yes 3 boys and a man… well, you can guess it.
So no ice cream maker! Therefore no super creamy chocolate ice cream? It is possible without the machine! Unbelievable but true, with only 5 ingredients you can conjure up a delicious ice cream. I didn't want to believe it either and tried it.
Chocolate ice cream ingredients:
400 ml whipped cream
400 ml sweetened condensed milk
4 tablespoons of good cocoa powder
1 vanilla pod
1 good breeze of sea salt
optimal: biscuits, chocolates, cookie dough
With that written down, the angel's problem is clear, because the sweetened condensed milk is available in cans and they have the beautiful name "milkmaid". I have actually dug out a can from my pantry. It had expired years ago, but sweetened condensed milk lasts forever.
After the no churn chocolate ice cream had become so delicious, I dared to make the sweetened condensed milk myself. It works, it just takes a little time and it doesn't get any healthier because the amount of sugar is still insane… But at least it makes the whole thing a purely culinary sin, and I can live with that one in a while!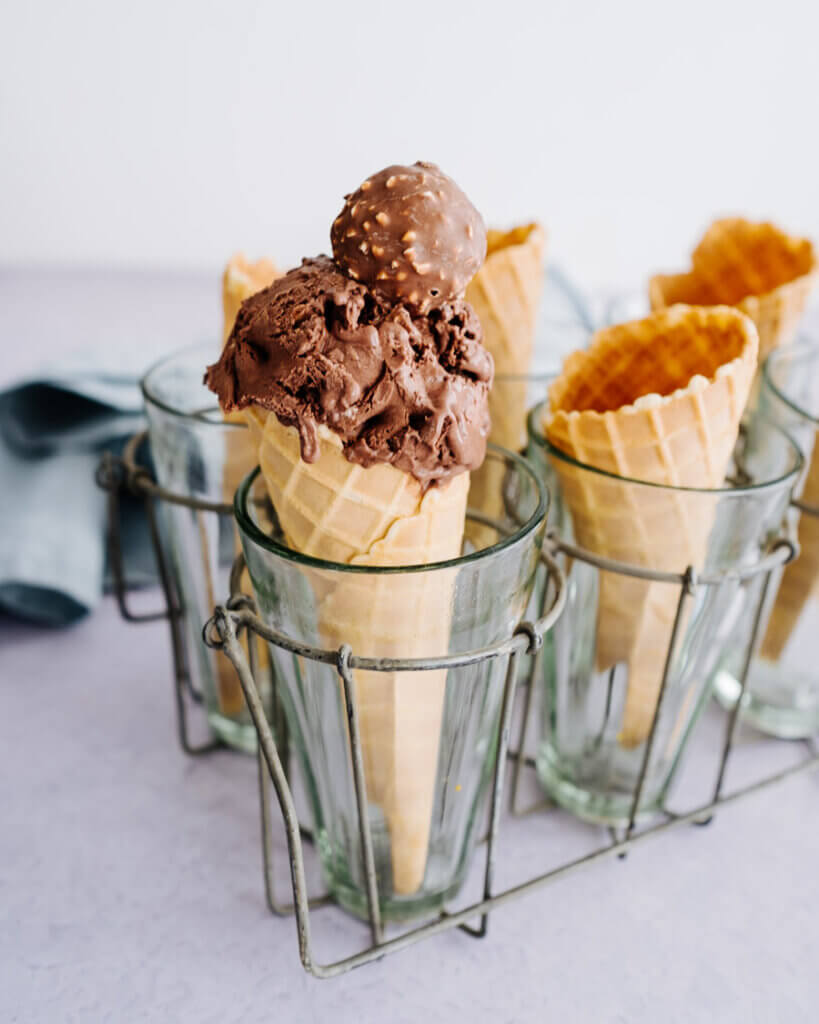 Print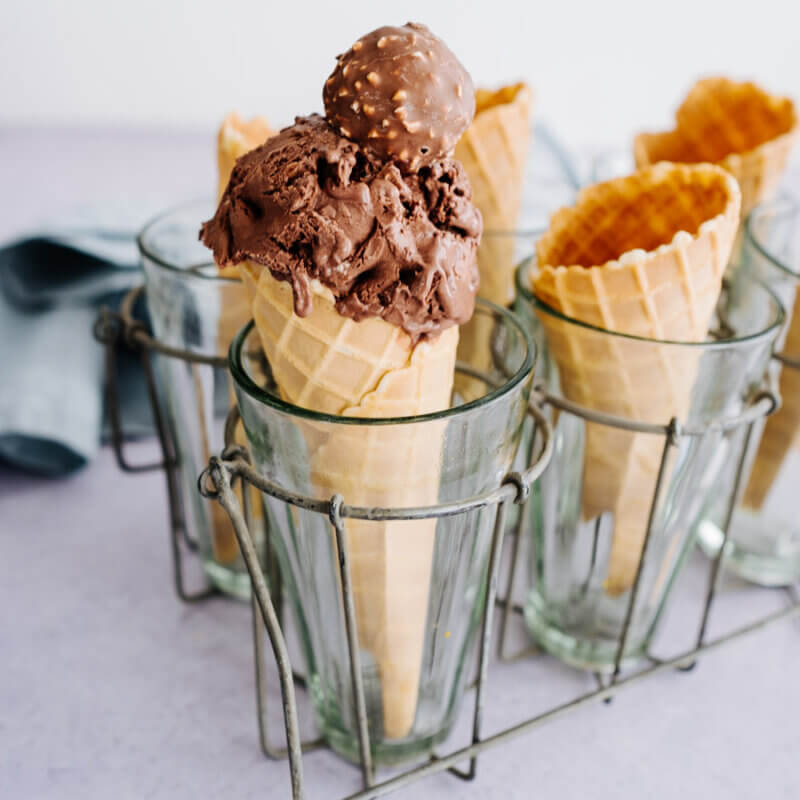 Chocolate Ice-Cream , no churn style!
Author:

Prep Time:

10

Cook Time:

12 hours freezing

Total Time:

17 minute

Category:

Ice cream
---
Description
This is the creamiest and most delicious ice cream I have ever made!
---
400

ml whipped cream

400

ml sweetened condensed milk (Edit: we made it with

200

ml as well and although it is not as creamy as with

400

ml I think it still tastes amazing and texture ist still good!)

1

vanilla pod, pulp scraped out

4 tablespoons

of good cocoa powder

1

good pinch of sea salt
optional nuts, chocolates, cookies, cookie dough…
---
Instructions
Line a rectangular baking tin (1 l capacity) with baking paper and set aside.
Whip the whipped cream with a hand mixer or food processor until stiff, until small peaks form.
In an extra bowl, stir sweetened condensed milk, vanilla pulp, cocoa and salt until smooth.
Fold the cocoa mass into the whipped cream. Do not stir too often, otherwise the cream will collapse.
Add any kind of toppings like cookie dough, chocolate chips…
Pour into the prepared form and refrigerate for at least 12 hours.
Before serving, let thaw for 5 – 10 minutes.
---
Notes
The ice cream tastes great as scoop ice cream on a wafer. I cut the rest of it into dices and now there are mini ice cream bites in our freezer! But shhh, don't tell!
Keywords: Chocolate ice cream, no churn ice cream, dessert, ice cream
Now it's up to you: Chocolate ice cream bomb yes or no? I'll experiment a little further… …and write down the recipe for the homemade sweetened condensed milk. Let me know what you decide: Yay or no way?
Would you like another kind of ice cream?
Then take a look at these variations: