Dumplings / Mandu / Gyoza
We love steamed Dumplings / Mandus / Gyoza / Dim Sum …. Because the Asian "ravioli" can be filled with all kind of delicious vegetables. There is no limit to your creativity.
This time we made the dough ourselves. Because all it takes is flour, some starch, lukewarm water and a rolling pin.
Ok, you'll need a little bit of patience when rolling out the dough and filling the steamed dumplings – but hey, when it comes to soul food, enjoyment starts with cooking, right?
If you don't feel like rolling dough at all, you can buy ready-made Gyoza dough sheets in the Asian shop. They can be found in the deep-freeze area and if they actually only have wonton leaves – good news they work too!
The dough is smooth and easy to form into a roll on a floured work surface. Divide 25 portions out of it, form small balls and roll them into thin circles. The more often you do this, the faster you get, logically, and at some point it's super easy to do.
The filling
This time we made a sweet potato and kale and pea filling. In addition, for our little vegetable refiner, a very banal minced meat filling (fried mince, without everything!).
Traditionally, steamed dumplings are often filled with mince, shrimp and chives. We wanted to make them vegetarian and also use the rest of the vegetables from the fridge. Therefore, we made the sweet potato filling inspired by KrautKopf and our own green mix with kale that needed to be eaten …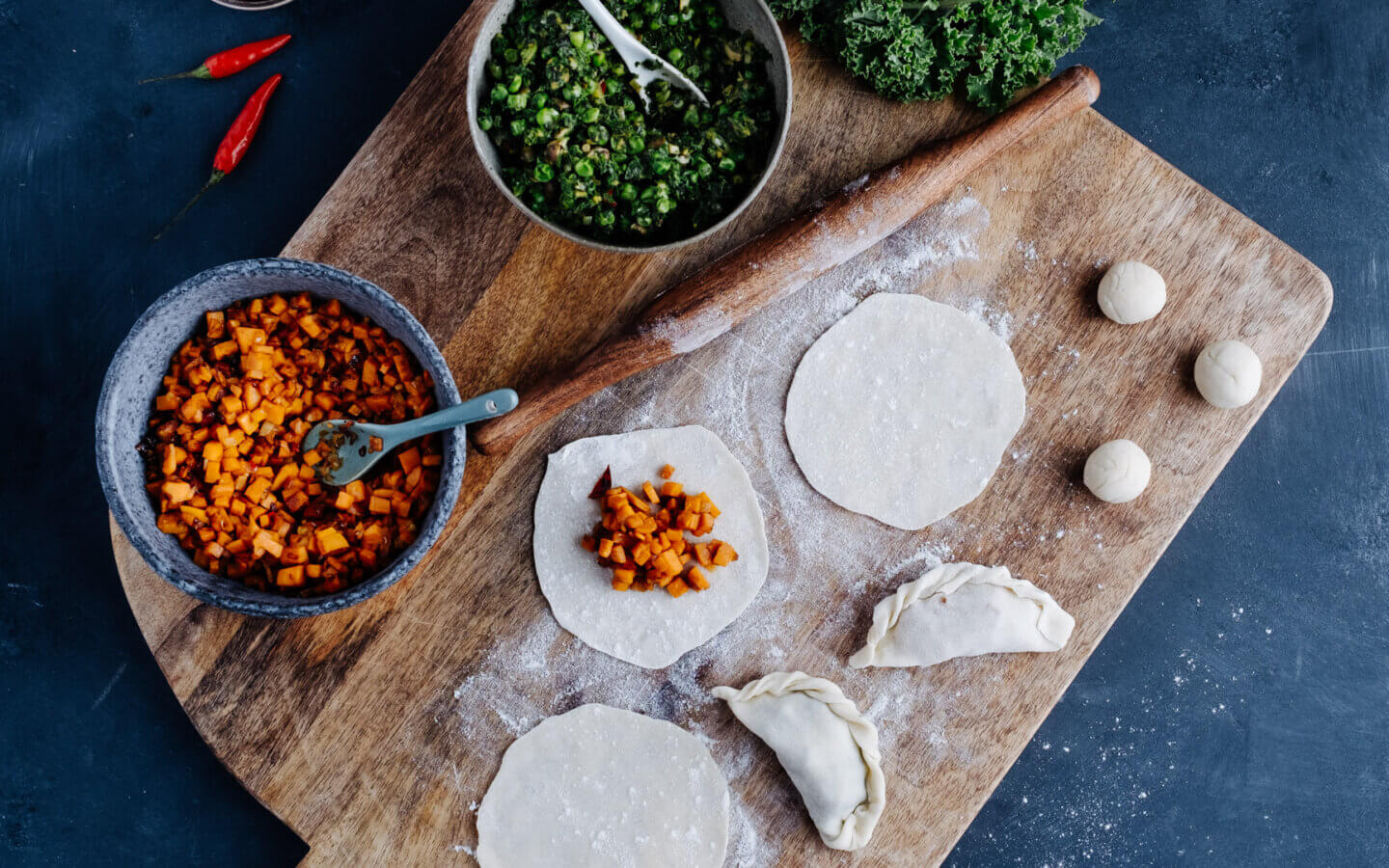 Hands on the steamed Dumplings…
Filling and closing the dumplings takes a bit of practice at the beginning, but don't worry, you will definitely get it!
There are many ways to close the dumplings. I like to take the circle of the dough in my left hand, put 1 heaping teaspoon of filling on it and fold the dough over the filling. From the right side I start to close the dumplings. Either simply press it together, or "seal" it with a fork, or I fold the dough edge slightly, as I did in the pictures. Everything possible, it tastes the same in the end!
Steamed dumplings need -?
Steam! Right?
I love steamed dumplings, but depending on the region, they are also fried.
Steaming is particularly decorative in a bamboo basket, which is also available in almost every Asian shop. However, if you have a steaming insert for the pot or even a steam cooker, you will also get along well with it.
Place the baking paper in the steam basket, prick it several times with a sharp knife. Put the dumplings in and steam over boiling water for about 8-10 minutes.
Or do you prefer them fried?
Only out of pure curiosity we did fry (already steamed) dumplings in the end – crispy and golden brown they almost evaporated from the table, haha.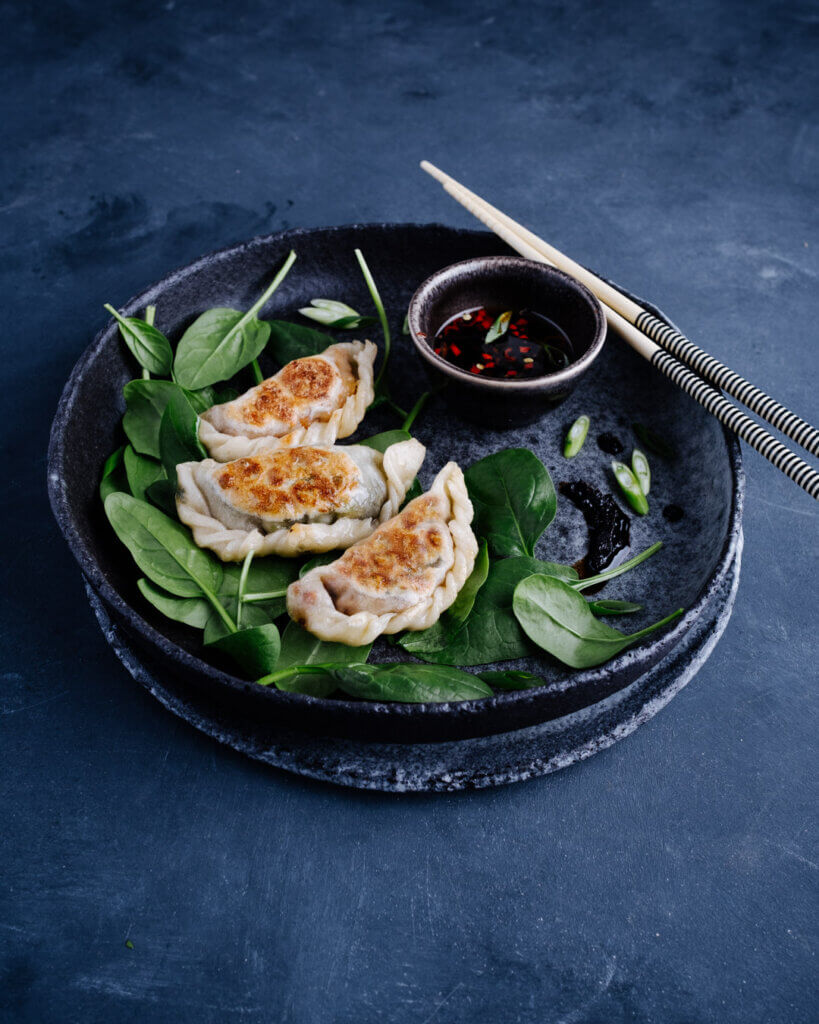 Print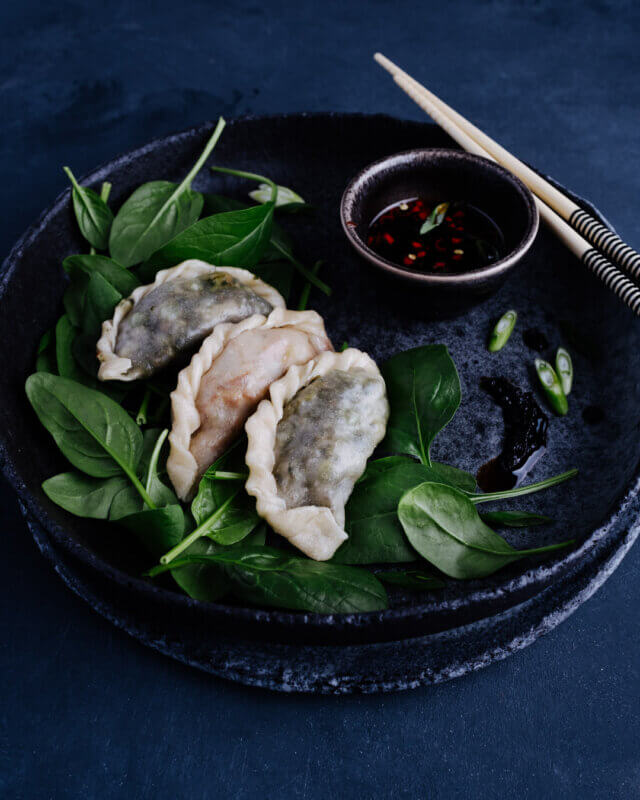 Steamed dumplings – delicious soul food
Author:

Prep Time:

25

Cook Time:

35

Total Time:

60minutes

Yield:

2

Persons as main dish, 4 persons as an appetizer

1

x

Category:

Asian Food

Method:

Cooking
---
Description
Dumplings – whether steamed or crispy fried are always tasty and somehow something special.
---
For the dough:
150 g

wheat flour (type 550)

2 tbsp

cornstarch

150

ml water
For the sweet potato filling:
250 g

sweet potatoes

1 tablespoon

of sesame oil

1

fresh red chili pepper

1

small onion

2

cloves of garlic

1 tablespoon

of soy sauce

1 tsp

lime juice
For the kale and pea filling:
200 g

fresh kale

120 g

frozen peas, thawed

1 tablespoon

of sesame oil

2

cm fresh ginger

4

spring onions

1

clove of garlic

2 tablespoons

of soy sauce

1 teaspoon

of lime juice
For the dip:
2

cm fresh ginger

1

red chili pepper

4

spoons soy sauce
---
Instructions
Dough:
Mix the flour and starch
Boil water and mix in with a wooden spoon
Knead with your hands to a smooth dough
Sweet potato filling:
Wash and peel the sweet potato. Cut into cubes as small as possible.
Core the chilli and add
Finely chop the peeled garlic and onion.
Heat 1 tablespoon of sesame oil in a pan.
Braise the chilli, onion and garlic briefly.
Add the sweet potato cubes.
Sauté on medium heat for 5-20 minutes.
Season with 1 tablespoon of soy sauce and the lime juice.
Kale and pea filling:
Chop the kale finely.
Mash the peas with a fork.
Peel and add the ginger.
Finely chop the spring onions and peeled garlic
Heat the sesame oil in a pan.
Braise ginger, spring onions and garlic briefly,
Add chopped kale.
Braise for 5 minutes until the kale is cooked.
Season with soy sauce and lime juice
Dip:
Finely chop ginger and chili pepper,
Serve mixed with the soy sauce
Form the dough into a roll on a floured work surface, divide into 25 pieces. Roll them out into thin circles with the dough roller. Cover with 1 heaped teaspoon of filling and fold up. Press firmly. Steam in a steam basket over boiling water for 8-10 minutes.
---
Notes
Depending on your wishes, briefly fry in a little sesame oil. Dumplings can be prepared very well. Just keep them in the steam basket in the fridge (covered) and steam just before eating.
Keywords: Dumpling, Dim Sum, Mandu, Goyza, steamed dumplings