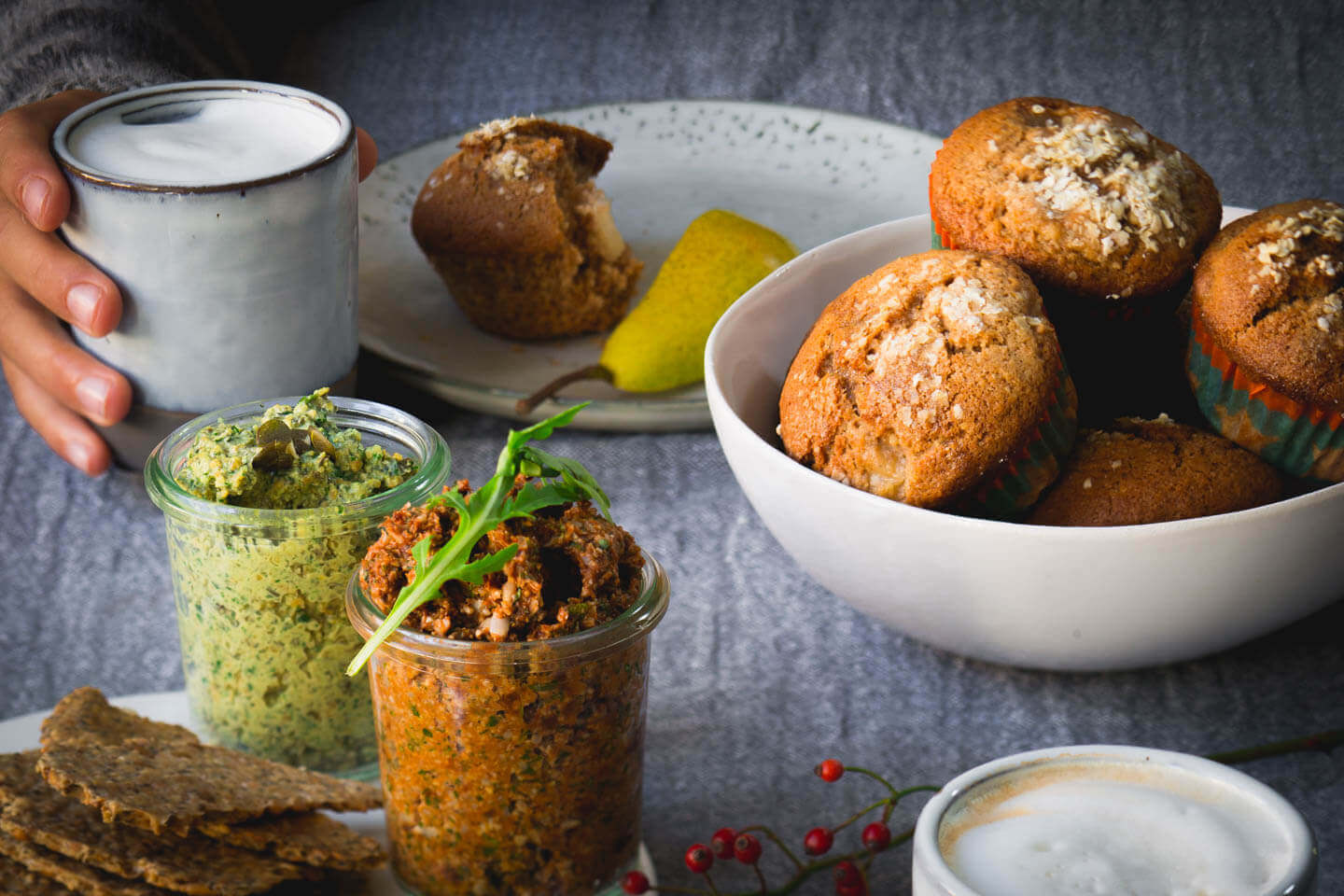 A Swedish inspired breakfast
The days are getting shorter and although we enjoy a wonderful Indian summer, all of us in the family have a great desire for cosiness.
So when I read that Green Kitchen Stories is running a competition with Stedsans in the woods, I just had to enter a pic. I mean, how cool would it be to make a little escape with my love to the Swedish woods next year?
Plus it is "International Porridge Day" so I submitted a Swedish inspired breakfast, you can give it a heart  at my  Instagram account ❤️.
So today you get 2 recipes, because they are both wonderful and if the stove is already running, it is worthwhile to do both.
Do you need a recipe for the porridge? Yay or Nay? Please leave a comment if you want one, I'll write down if needed.
The crispy crackers are made so fast and easy, I'm thrilled every time I make them. As always, I encourage you to vary the basic recipe. Maybe you do not like pine nuts, or they are just out of stock. Then just do it without. Pumpkin seeds are the hit with your kids? Use them as a add on! Just try it, it's worth it.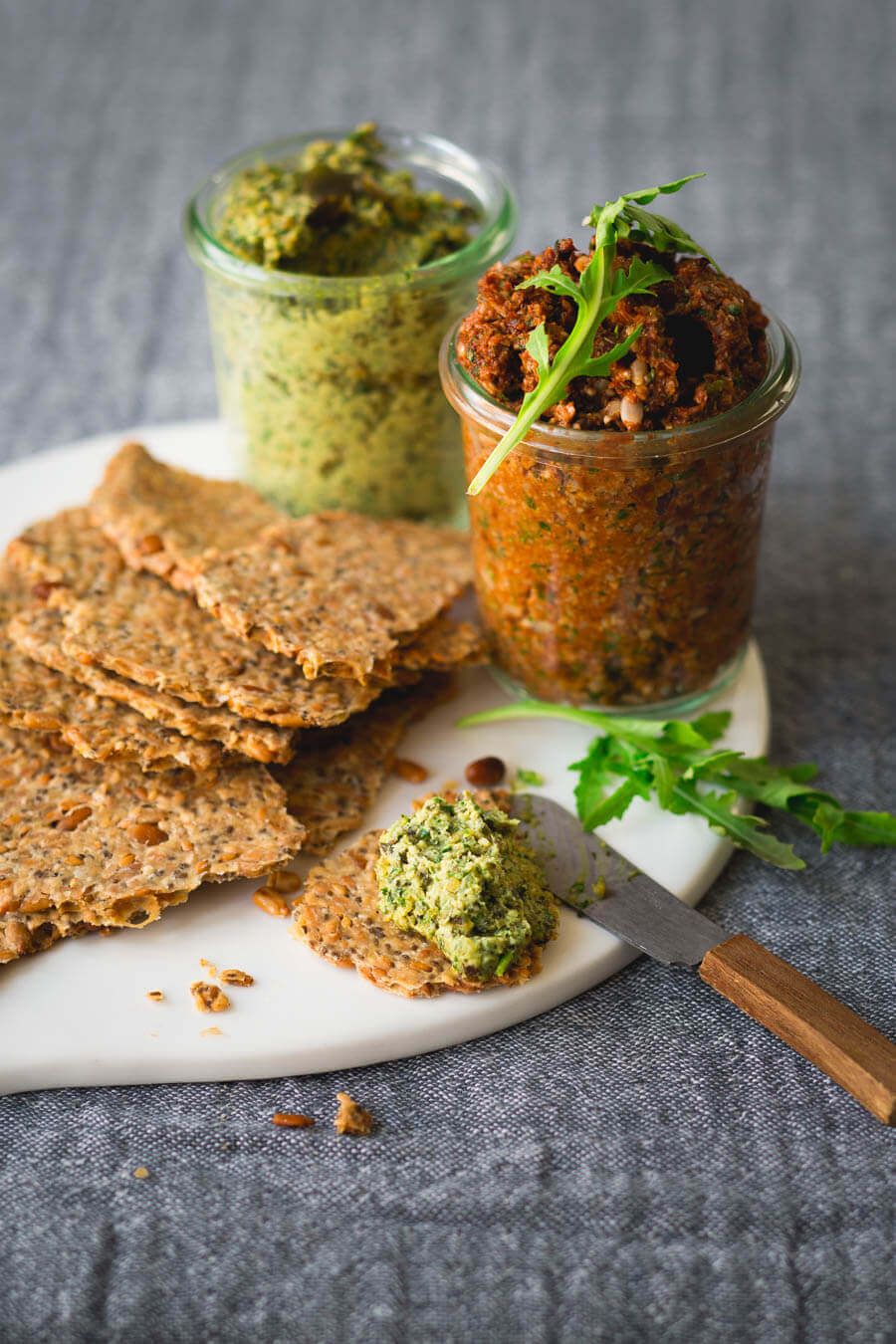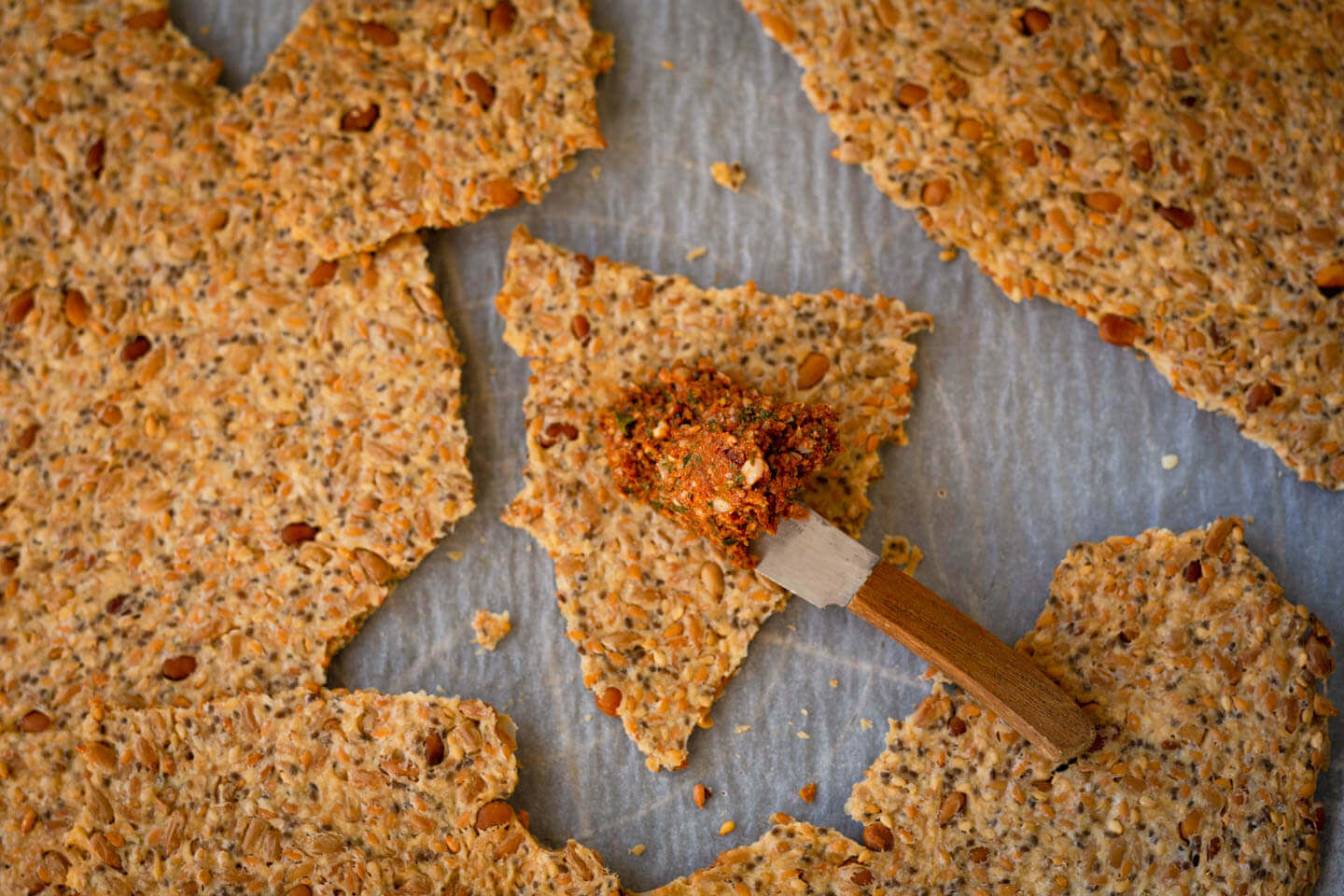 Print Homemade Cracker
Prep Time:

10 minutes

Cook Time:

20-25 minutes

Total Time:

35 minutes
---
Description
These Crackers are so fast to bake, you will love them. Perfect as a Snack or light dinner…
---
80 g

sunflower seeds

50 g

 golden linseed

40 g

sesame

2

tbs chia seeds

2

tbs pine seeds

1/2 tsp

sea salt flakes

130 g

spelt flower (630)

125

ml water

80

ml olive oil
---
Instructions
Preheat the oven to 180°C / 365°F
Mix dry ingredients
Add water and oil and mix to a smooth dough
Place baking paper on two trays and give half of the dough on each tray
Place another sheet of baking paper on the dough and spread the dough thinly with your hands on the tray
Pull off the upper baking paper and proceed with the second tray
Bake in a preheated oven for 20-25 minutes until crispy
Allow to cool on a wire rack and break into pieces before serving
---
Notes
Once cooled down keep the crackers in an airtight container!
Pear-Muffins
My boys liked the muffins so much, there was even a little drama about it! Time is always running so fast, you know, as soon as the muffins and crackers are baked, the porridge stirred and the spreads mixed, the first child is already back from school. And it just was not quite enough time to take some extra pics of the muffins.
I didn't need 12 muffins though, so every kid could have one straight away. Even two visiting children tasted it and they all loved them.
The muffins are approved !!
Of course, our youngest wanted to have another muffin! So understandable, but I just wanted to get them in front of my lens. Phew, what a drama in the house! The stupidest job of all time I have according to the little one, always EVERYTHING must be photographed, NEVER can he eat something!!
I can tell you: life ain't easy sometimes.
Print Birnen-Muffins
Prep Time:

15 Minuten

Cook Time:

20-25 Minuten

Total Time:

35 Minuten
---
Description
Pear Muffins, perfekt for an autumn picnic, for the afternoon coffee break, or as a little surprise in the kids lunch boxes.
---
50 g

of millet flakes

125

ml milk

140 g

wholegrain spelt flower

160 g

buckwheat flour

2 tsp

baking soda

1/2 tsp

cinnamon

50 g

raw cane sugar

1

vanilla pod, Mark scratched out

1

egg

180

ml of coconut oil

180

ml maple syrup

2

ripe pears
Millet flakes and raw can sugar for sprinkling
---
Instructions
Preheat the oven to 180°C / 365°F
Line a muffin pan with paper liners or grease the pan with oil or butter.
In a large bowl, let the millet flakes soak in the milk for 10 minutes
Peel the pears and cut into 2 cm cubes
Add all remaining ingredients to the millet milk mixture and stir until just mixed
Carefully fold in the pear
Divide the batter into the muffin tins
Sprinkle with millet flakes and some raw cane sugar
Bake in the oven for 20 to 25 minutes
Allow to cool for 5 minutes, then remove the paper cups from the tin and allow to cool on a wire rack.
---
Notes
The muffins are (airtight packed) even after 3 days still wonderfully juicy! If you can not use them all at once, you can also freeze them individually.
Keywords: Pear-Muffin, Muffin, Bakery, Cinnamon, Vanille