Ruffled Milk Pie – infused with Pumpkin Spice and Applesauce!
When I saw the wonderful picture of Bella's Pumpkin Spice Ruffled Milk Pie this morning on Instagram, I was immediately thrilled! I have not used a phyllo dough for so long …
Since we have cooked a lot of applesauce and the shelves already bend under the many glasses, I used applesauce instead of pumpkin puree in the cake. And an insanely delicious, tender cake came out of the oven. See for yourself: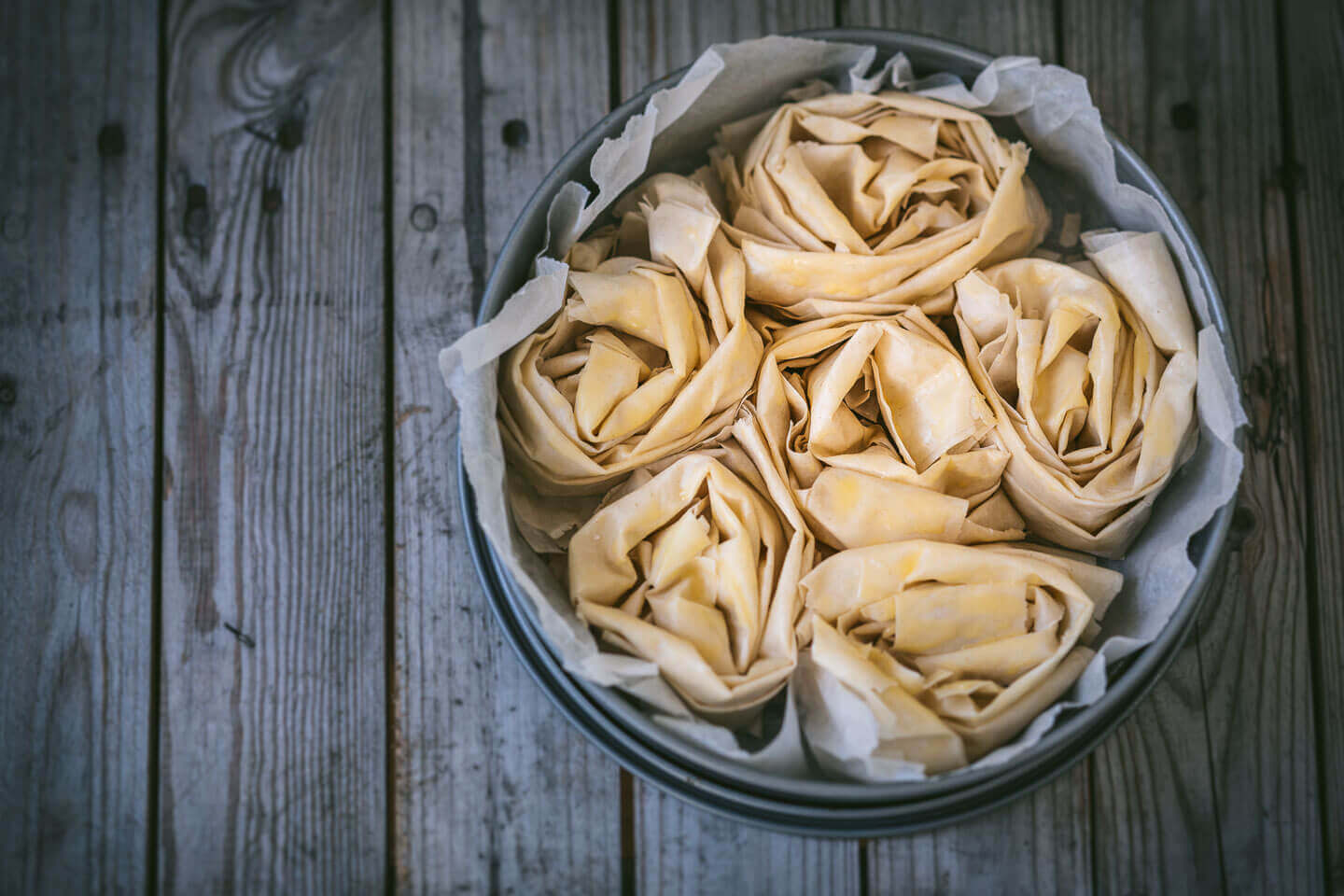 Phyllo-Dough – "I am scared about it"!
I know, phyllo dough is scary in the beginning! It is such a thin and fragile dough – but no worries, in this recipe it doesn't matter at all! You will easily overcome all your fears!
The dough is coated plate by plate with liquid butter, then always 2 dough plates are "gathered together" and turned into a snail. You can see that in the stop motion video by Bella.
I have taken a 26er form and 500 g phyllo dough. That's about 10 sheets.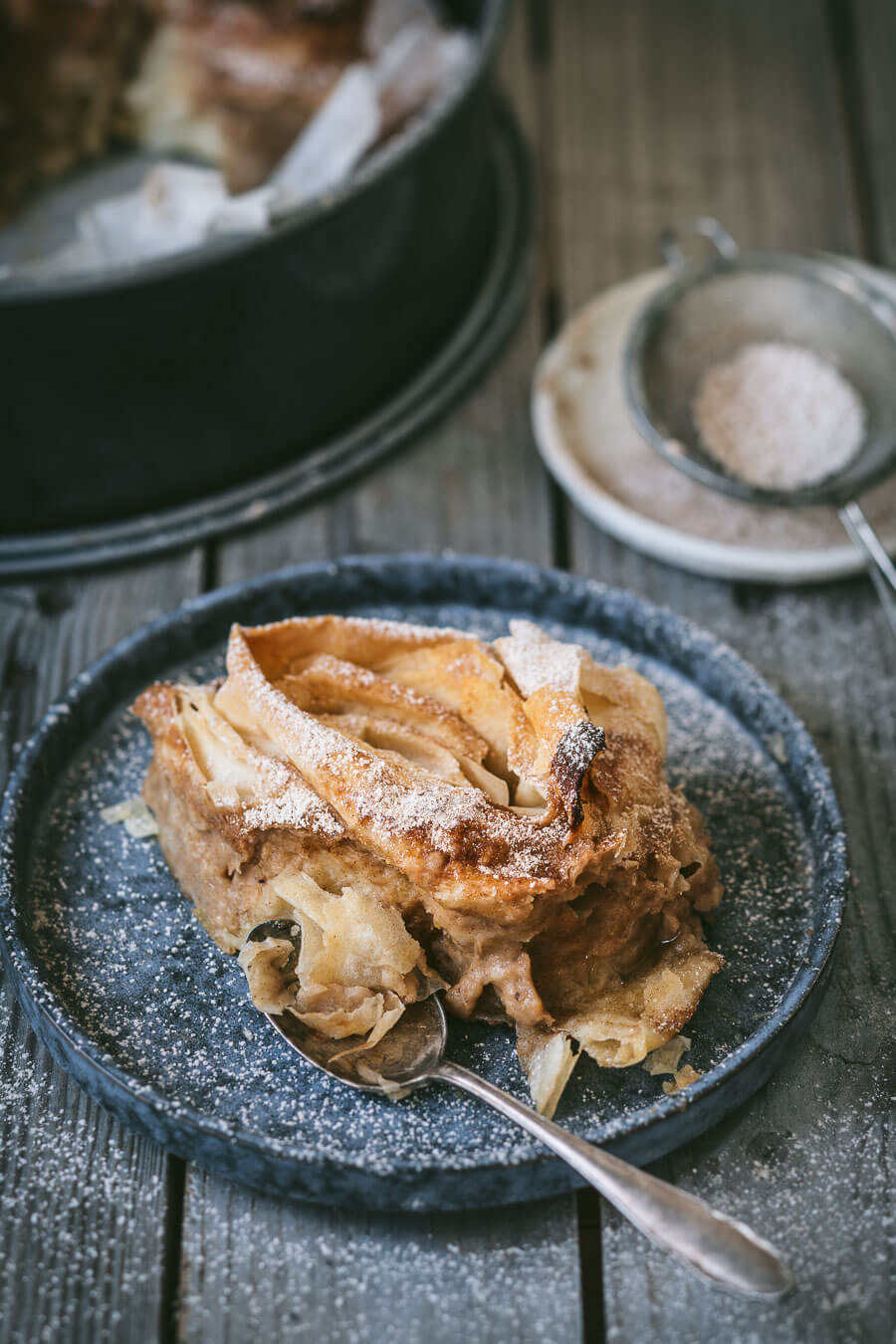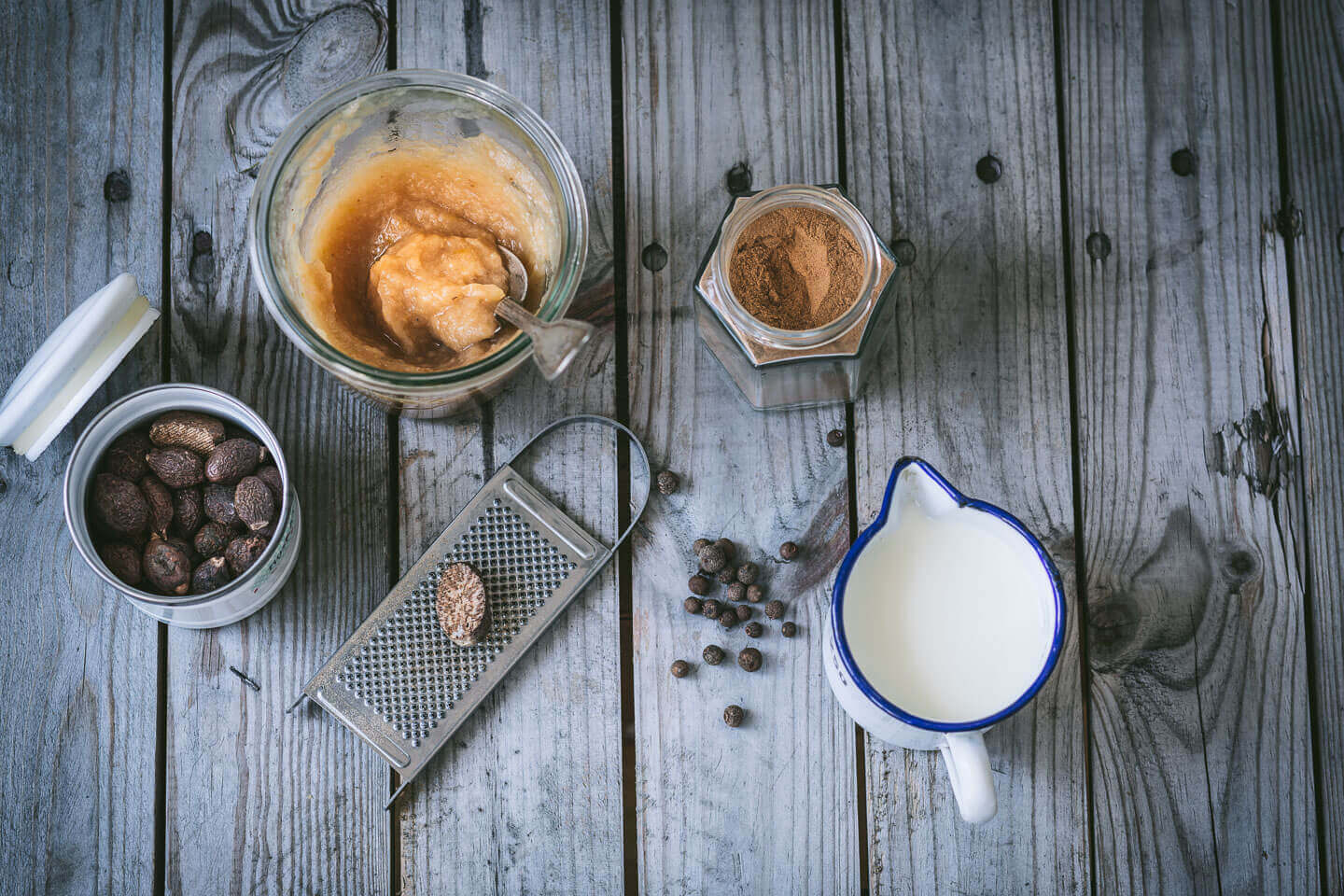 Cinnamon, allspice, fresh ground nutmeg, ginger & vanilla
I refined the applesauce with the classic "Pumpkin-Pie" spices. This gives the cake its autumnal note. Cinnamon, ginger, nutmeg, vanilla and allspice … just wonderful!
Mixing applesauce with milk was a bit strange at first, but it works wonderfully and the mixture blends with the filo pastry to create a deliciously juicy cake.
Try to make the Ruffled Milk Pie with Applesauce and let me know what you think! I already have some other variants floating around in my head …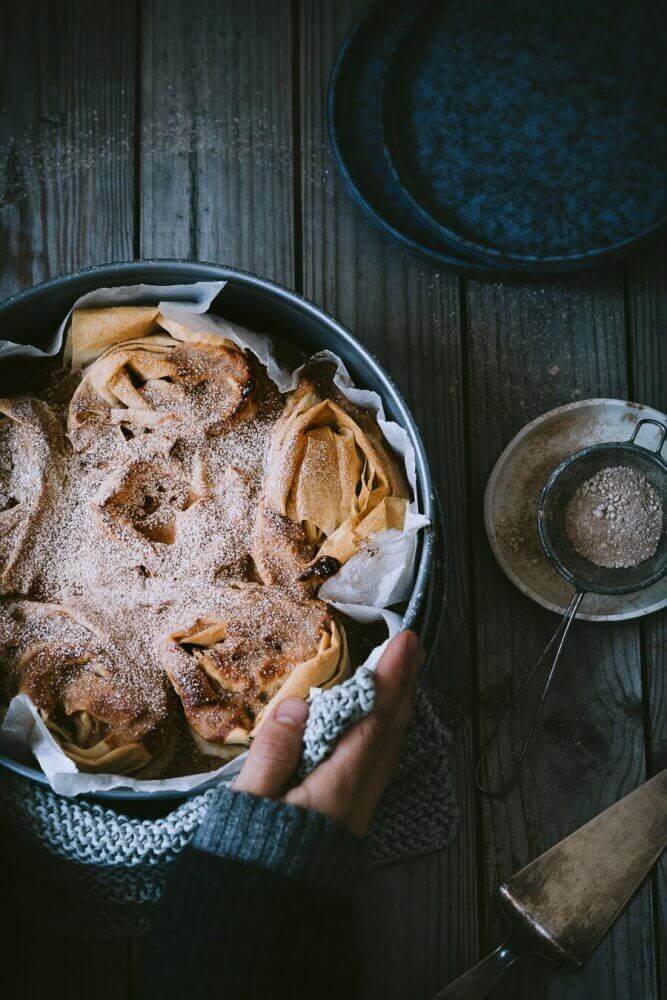 As I said before, I was truly inspired by Bella with her wonderful recipes! She was so kind to let me use her words in the recipe, as I couldn't think about another way to explain the process of "ruffling" better then she did! Thank you so much Bella!
Print Ruffled Milk Pie with Applesauce
Prep Time:

10 minutes

Cook Time:

40-50 minutes

Total Time:

50 - 60 minutes
---
Description
A delicious cake, made with phyllo dough and applesauce, refined with the classic Pumpkin-Pie spices – a perfect autumn treat!
---
10

sheets phyllo dough, fresh or thawed

100g

butter, melted

200

ml milk

3 tbsp

cornstarch

1 tablespoon

vanilla extract

225 g

of applesauce

100g

light brown sugar

1 tsp

cinnamon

1/2 tsp

ground ginger

1/4 tsp

fresh ground nutmeg

1/8 tsp

ground allspice

1 tbsp

powdered sugar +

1/2 tsp

cinnamon, for dusting
---
Instructions
Preheat your oven to 350°F (175°C). Brush a 26cm round cake pan lightly with melted butter and line with a sheet of baking paper, that covers the sides of the baking pan as well.
Place 1 sheet of phyllo dough on a clean surface and brush it with melted butter. You don't need much. Place another sheet of phyllo over the top of the first one and brush with butter. Use your fingers to scrunch up the fillo long ways, into a loose ruffled strip (its okay if the phyllo tears a bit). Wind up the dough into a loose, ruffled spiral, place it in your prepared pan and repeat with the rest of the phyllo dough until your pan is filled. (you should have 5-7 spirals depending on the size of your phyllo)
Brush the tops of the spirals with the remaining butter. Bake in the pre-heated oven for 20-25 minutes, until the phyllo is golden brown.
While the phyllo bakes, prepare the applesauce  custard by whisking together the milk, cornstarch, applesauce, vanilla, spices and sugar.
Remove the pan from the oven and pour the pumpkin custard mixture over the spirals. Return pan to the oven and bake another 20-25 minutes or until the custard is set in the center.
Let cool for 15 minutes, then lift from the pan and serve dusted with cinnamon and powdered sugar.
---
Notes
Best eaten warm, but leftovers store beautifully in the fridge for up to 3 days. And if you really, really want to treat somebody: add a scoop of vanilla ice-cream on top!!