Do you enjoy plum pie as much as I do?

Every year when summer waves good-bye and autumn comes around I get a bit nostalgic. Suddenly the days get shorter and the morning air becomes fresh and crisp.

Maybe it has something to do that in Bavaria just about every year the end of summer happens with the start of the new school year. The looong summer vacation come to an end, the school bags are getting prepared, and in the morning tired eyes rubbed.

The only thing that helps in that case – bake a plum pie!

Rich harvest

The plum trees this year seem to carry more fruit than ever! It really feels like that and guess what? We too have a little plum tree in our garden since this year.

Actually, the story goes like this: For years, we were of the opinion that we are looking a young apple tree in our garden and even tried to cultivate it. Then – out of the blue – small plums appeared much to our surprise….I had such a good laugh when I saw that!

Our first harvest was not exactly plentiful and did not provide nearly enough for a plum pie but, let's give it some time, we will get there!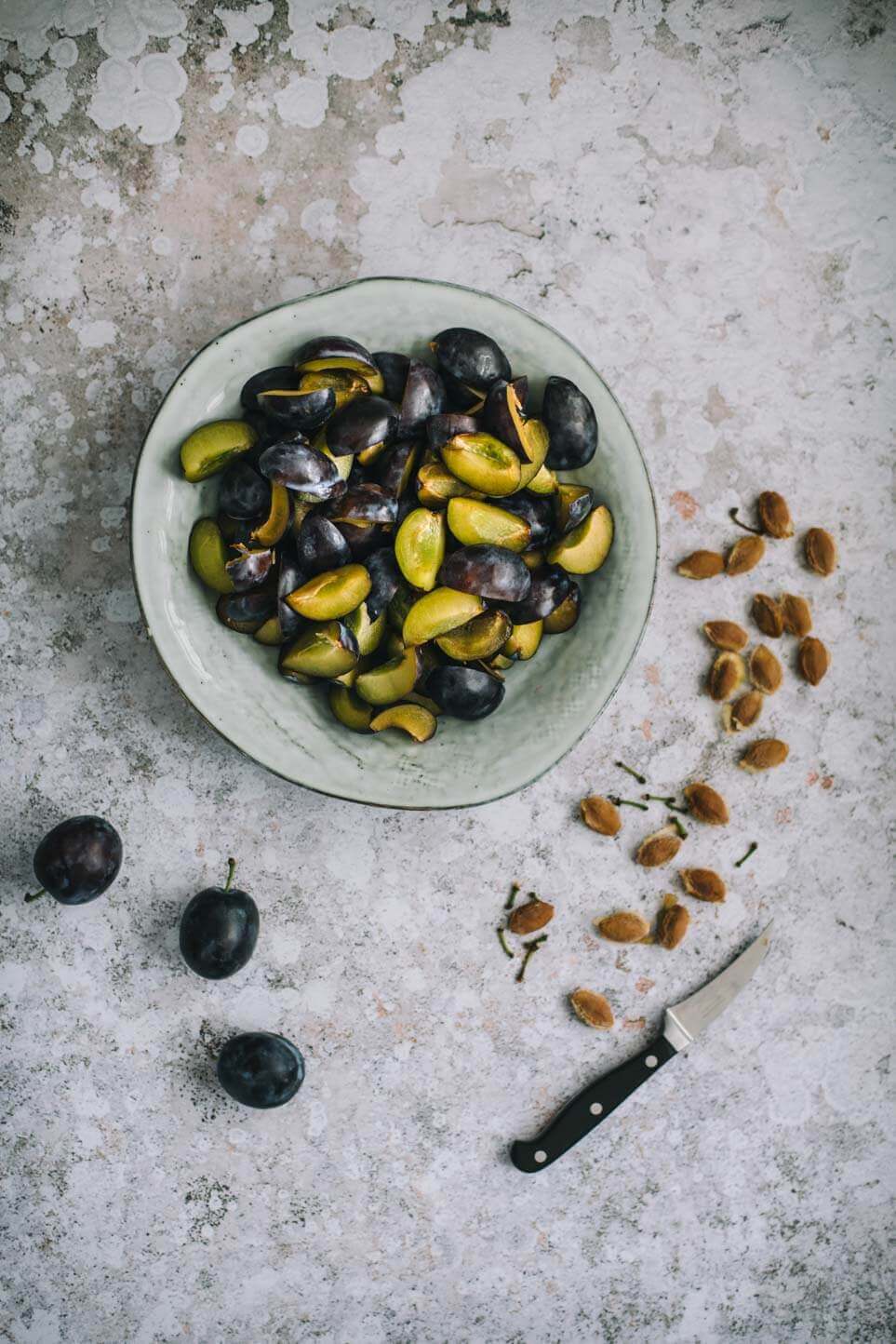 A recipe for a true classic!

This recipe is a true gem! Yeast dough with juicy fruits and crumbles. And why not put a healthy portion of whipped cream on top! A dream comes true!

I have heard it so many times: "Oh boy, a yeast dough….that never works for me…!" Let me reassure you: This recipe is foolproof! Nothing will go wrong – and that has been proven many times! The only thing that you need to keep in mind is, do only use ingredients at room temperature. Just take the eggs out of the fridge a few hours before doing the dough. Alternatively, do an express warming (5 minutes) in a warm water bath if pressed for time. Both ways lead to eggs that will make instant friends with the yeast culture. And so dear ladies and gentlemen, summon your courage….and go! Bon appetit!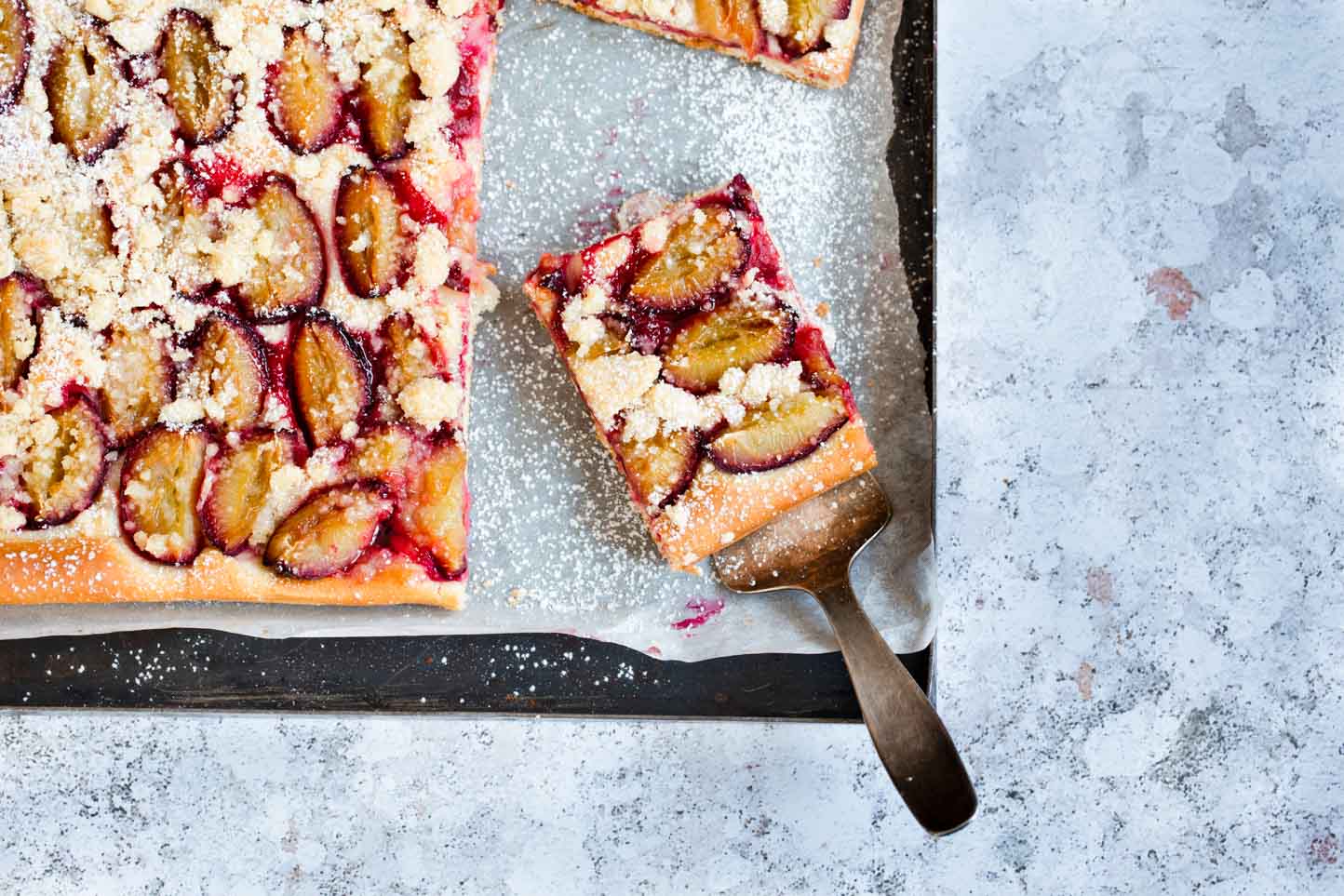 Print Plum pie straight from the tray – like grandma's
---
Description
A juicy cake from the oven – as delicious as my grandma used to!
---
For the yeast dough
200

ml of milk, lukewarm

25 g

of fresh yeast

25 g

of sugar

425 g

of flour (type 550)

1

organic egg, size M
For the crumble:
120 g

of flour

60 g

soft butter

70 g

of sugar

1

pinch of cinnamon

75 g

soft butter
Topping:
---
Instructions
For the yeast dough: Crumble the yeast and stir with 2 tablespoons of the milk and the sugar in a small bowl until the yeast has dissolved. Approximately let it sit for 5 minutes, until small bubbles form.
Knead flour with the yeast milk, remaining milk and the egg with the dough hooks of the food processor (or with your hands) to a smooth dough.
Gradually add the pieces of butter and continue to knead the dough for about 5 minutes. First, the dough looks very soft, but it will dissolve towards the end of the bowl edge. Place in a clean mixing bowl, covered and draft-free for about 60-75 minutes, until it has increased significantly.
Prepare the sprinkles: use the very soft butter with the remaining ingredients to crumble by hand. They should not be too crumbly, otherwise add a little butter.
Clean the plums and cut in half, remove the stone. Depending on the size, quarter the plums.
Roll out the dough on a greased tray (preferably a fat pan). and let it rest for 20 minutes.
Preheat the oven to 190 ° C top and bottom heat.
Arrange the prunes on the cake, sprinkle with crumble and bake for about 35-40 minutes.
Sprinkle the cake with powdered sugar and serve as desired with freshly whipped cream.
---