Our local vegetable vendor went off to see his family in Bosnia. Before he left he gave my friend a bunch of eggplants. The big, round ones – do you know them? They are really tasty and I would say even a bit sweeter then the normal ones…
So I was lucky to get 4 beautiful eggplants from my friend. They where lingering in the fridge for the last week. Time was to short to cook, but today is Friday and I am at home, so we'll have eggplant-salad!
The good thing about it is, that most of the work is done by the oven. Your eggplant will turn into into tasty, juicy, golden cubes and will taste fantastic, so there is not much you'll have to add.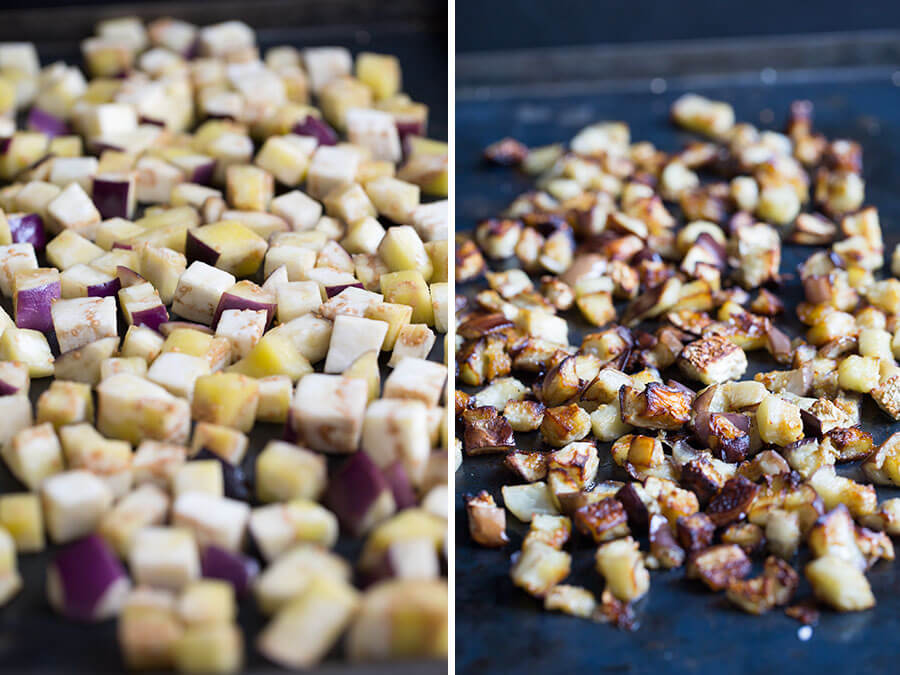 I still remember the time, when eggplants needed to be salted and left alone for an hour before they were ready to use. Luckily most of the eggplants now grow without the bitterness. So you can save some time here. While the oven is working, you can easily roast the pinenuts, cut the parsley and the buffel mozzarella. And please, feel free to play around. Substitute the parsley with basil. Or the pennants with pistachios. Or add fresh tomato cubes… black sesame…. everything is fine!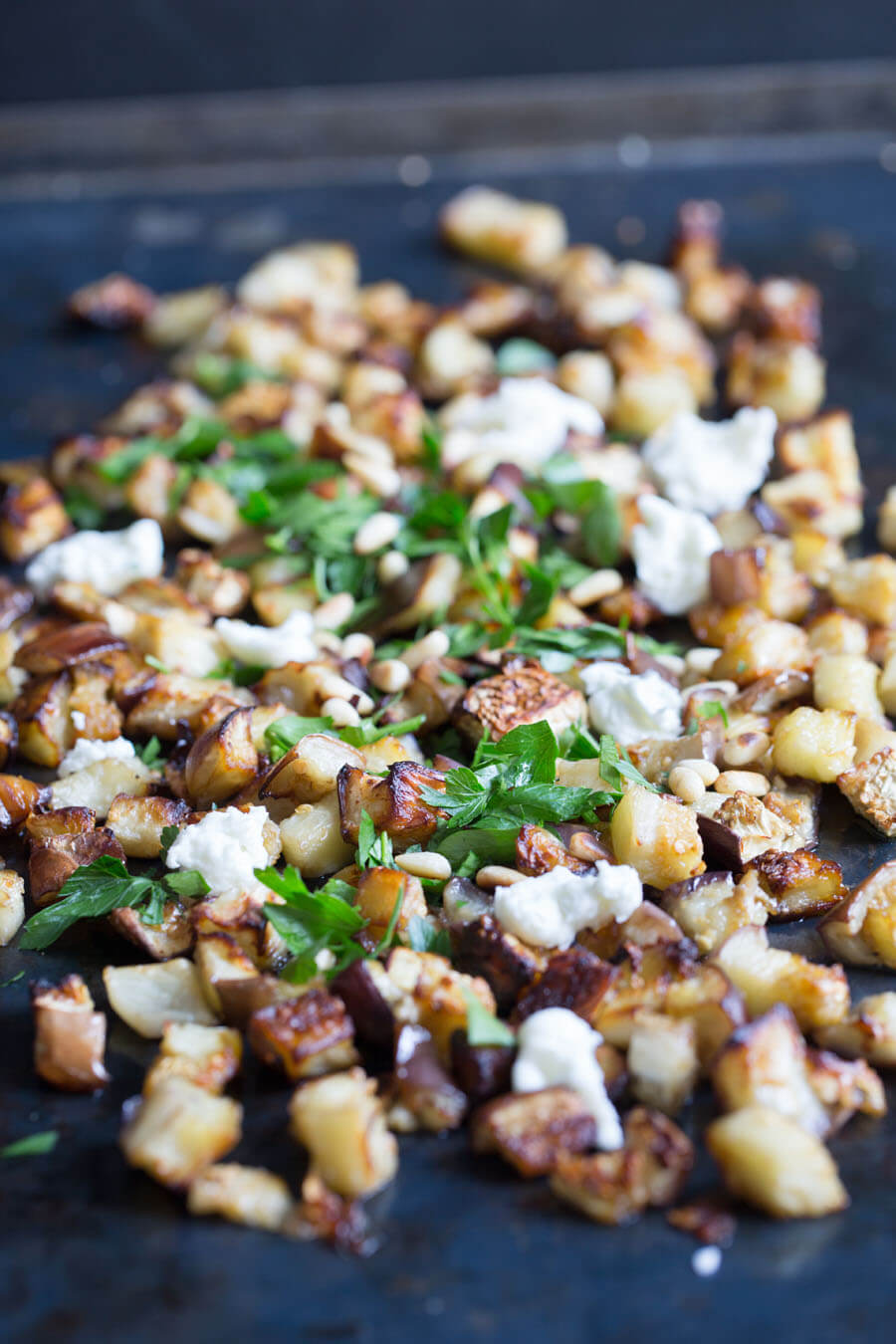 If you want you can serve a few slices baguette with the salad, but in my opinion there is no need for it. The good olive oil and the nuts are making the salad rich, you won't feel hungry after eating it… If there are any leftovers, try the salad in your Quesadillas … fantastic filling!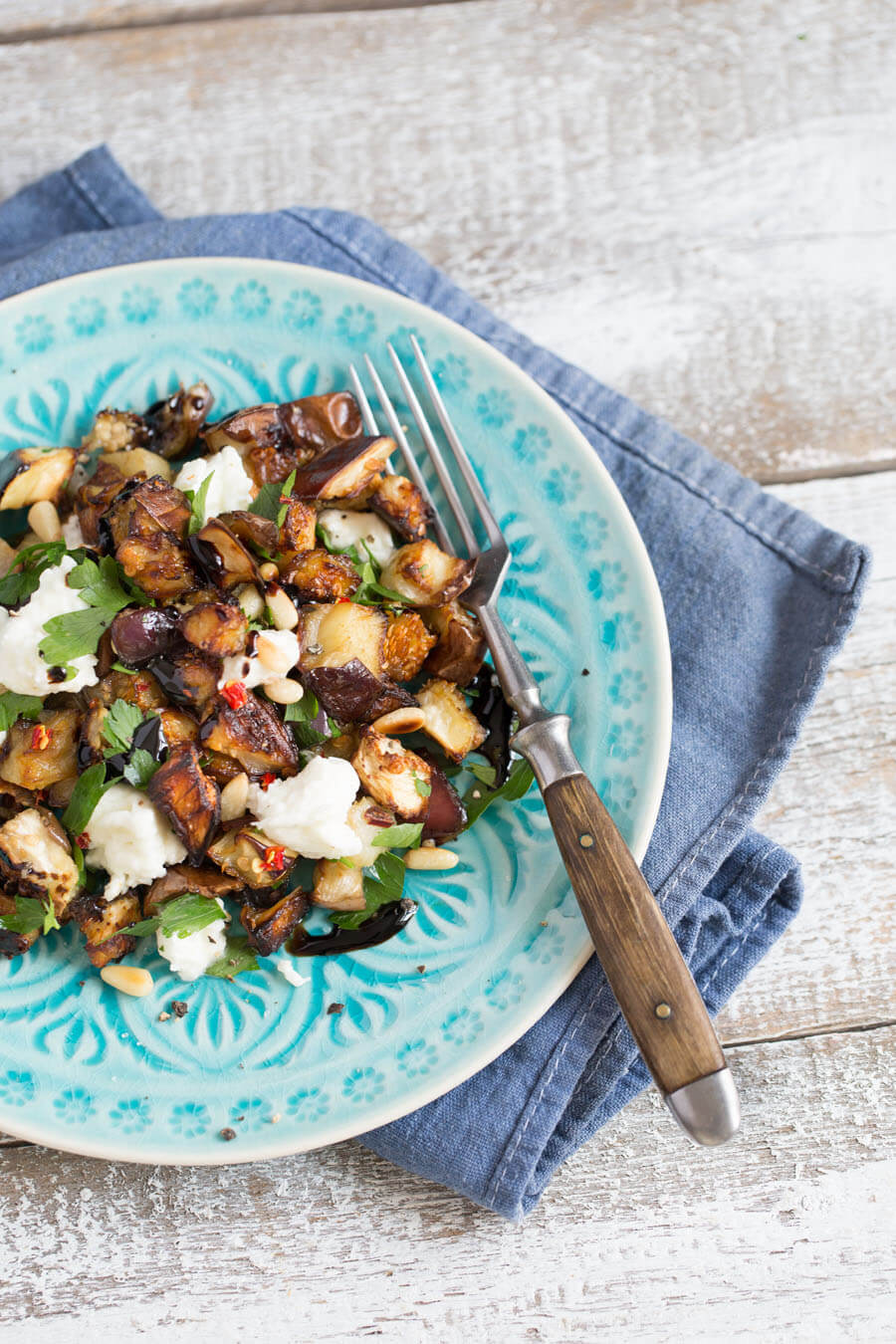 Eggplant-Salad
2 big round eggplants (or 3 normal eggplants)
100 g pinenuts
200 g buffel mozzarella
1 bundle fresh parsley
good olive oil
Crema de balsamico
salt, pepper
peperoni to your taste
Preheat the oven to 200°C. Cut the eggplants into cubes and soak them in olive oil. Salt and pepper. Put them onto two baking trays and bake for 25 minutes or until golden brown. Toss them after appr. 10 minutes. In the meanwhile roast the pinenuts until brown, cut the parsley and the mozzarella.
Mix everything together and add the cream de balsamic and pepperoni to you taste! Happy Friday!