No doubt, fall has arrived! Days are getting shorter, you need lights on in order to get up in the morning and the Oktoberfest is at it's peak right in front of the door – fall!
And with this season, pumpkins will be making their way back on our plates – yummy! Today a quick hokkaido-oven-recipe. That's a convenient one not only because of it's colour but you can also eat it without peeling it. Since it's an oven recipe and no need to peel it, it's very quick, easy and tasty. The baked onions will be nice and crisp and just add to the flavour. Finally there is corn salad again with it's slightly nutty taste, it just fits perfectly. If you think the spring onions are too much in the end, either skip them completely or just add them to the oven for the lst ten minutes of baking time.
Enjoy your weekend – everyone!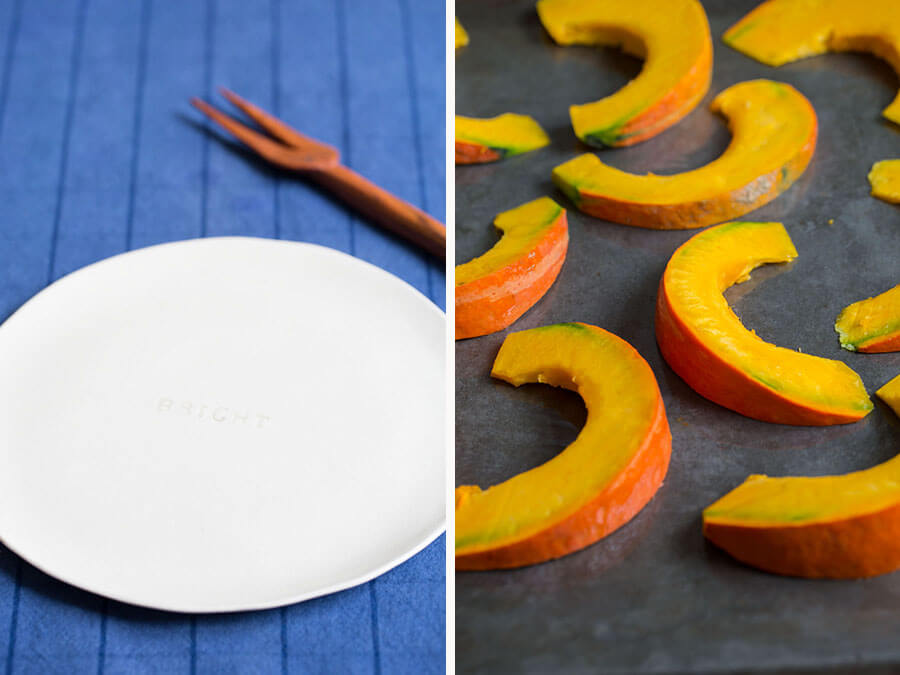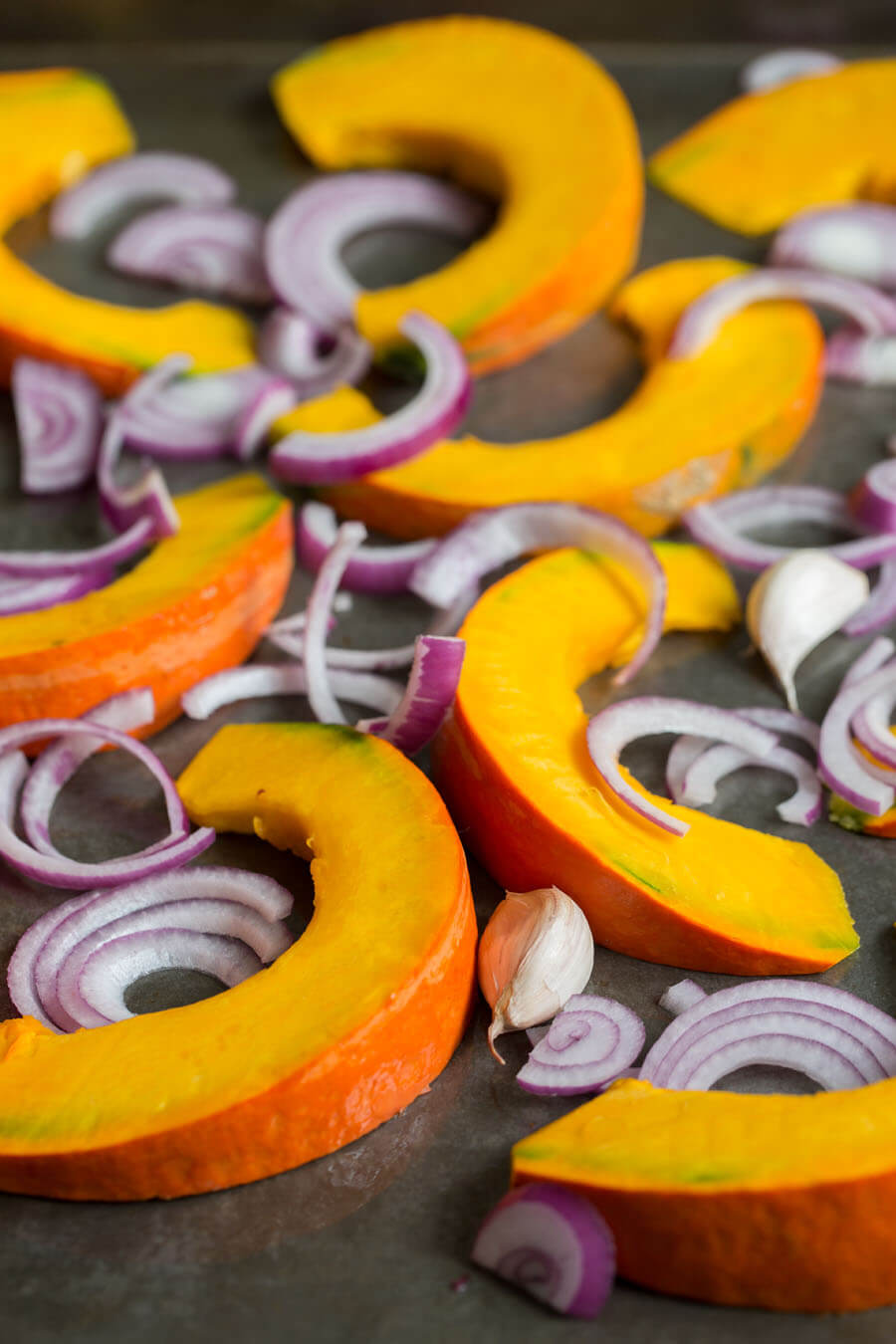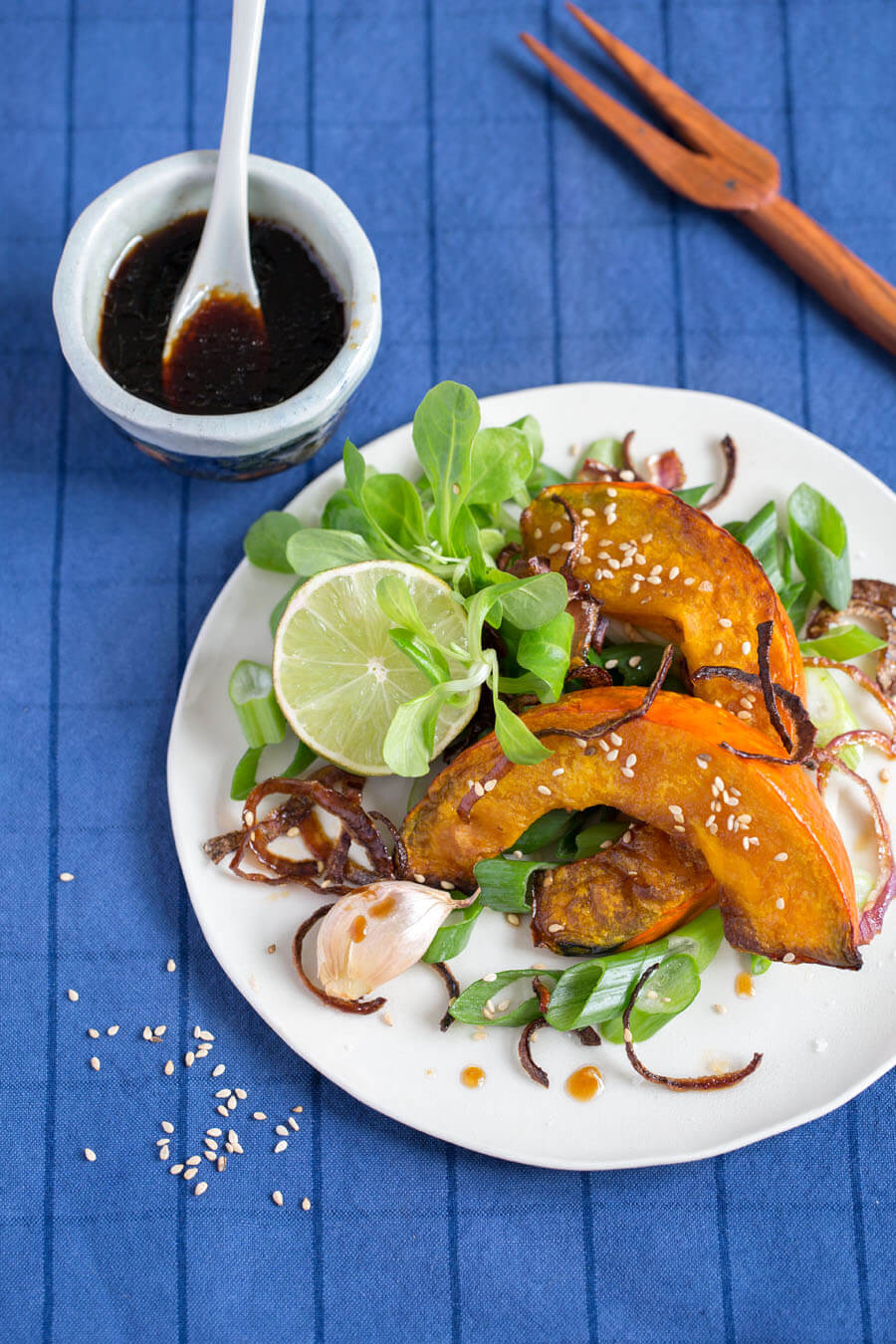 Oven-hokkaido with soy-sesame-dressing (recipe for 2)
1/2 Hokkaido Pumpkin, washed and without seeds
1 red onion
2 cloves of garlic
2 tbsp. of oliveoil
1 tbsp. sesame
1 spring onion
4 hands of corn salad
4 tbsp. soysauce
4 tbsp. maple sirup
1 tsp. sesame oil
juice of 1/2 of a lime
Fleur de sel
Preheat oven to 200°C. Slice hokkaido pumpkin into 1-2 cm wide slices. Peel the onion and cut in half. Cut thin slices. Spread onions, pumpkin and garlic cloves (leave unpeeled and whole) on a lightly oiled baking tray. Sprinkle the rest of the olive oil over it. Bake for approx. 25 minutes. Stir up a tasty marinade with the soy sauce, maple sirup, sesame oil and lime juice. Turn over pumpkin slices after 15 minutes, brush some of the marinade on top and sprinkle with sesame seeds.
Slice up spring onions in fine rings and arrange it together with the corn salad and the baked goods on 2 plates. Pour the rest of the marinade and add salt to your liking. Bon appetit!
Whoever likes to add some spice to it just needs to add some finely cut fresh red chilly.