I got some homemade crispbread from my godmother (who is norwegian) a couple of weeks ago. We haven't seen each other for a long time and it was so much fun to spend some time together (although I would say it was way to short). I know in Scandinavia, crispbread is a big thing and there a tons of recipes out there. We really, really loved the one we got as a present and when it was finally over, I couldn't wait to get the original recipe from my godmother. I just had a look into my kitchen and took what I got. And it turned out really good. It is fun to do with kids, because they can measure and mix the ingredients together so easily.
And now take a look at this old pair of scales I got from a dear friend of the family! Isn't this a beautiful one? For the last decades it was hidden in a barn, you can still see the dust! I guess there are many stores behind and I would love to hear them…
But coming back to the crisp bread. You can take my recipe as an inspiration and then play with all you like to have in a bite of your very own crispbread! I can only encourage you to play around a bit, the only really important thing is, that you absolutely need to cut the bread into pieces after 10 minutes of baking! Otherwise you'll have a HUGE crisp bread :-).
To serve there are millions of variations… Sweet or savory, there are no limits. I had mine with some soy crème fraîche (wich was surprisingly good) and some blackberry jam. Mhh, so yummy, I can only recommend it. Honey or agave syrup are great with it, but I can see it as well with some salmon and fresh herbs… cheese…. there are to many options popping up!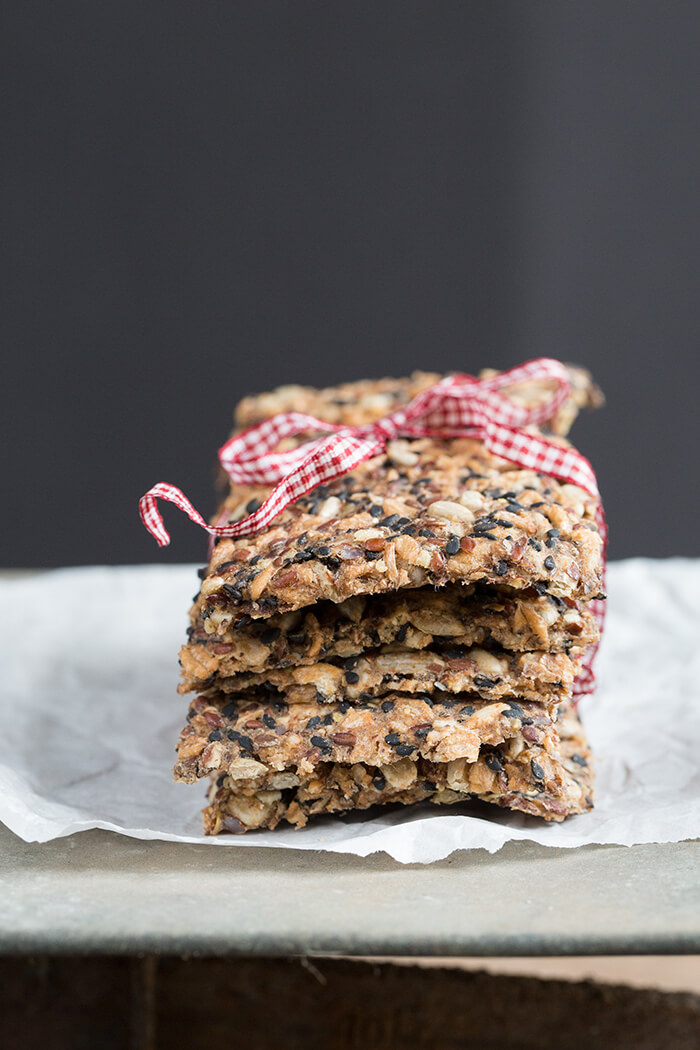 It is also a lovely gift. at least I was so pleased when I got it. You can store it in airtight container for up to 2 weeks, but I bet it won't last as long! My kids love to eat them like crisps, without anything… So, now I have given you something to try on this happy friday and to enjoy on a hopefully lovely weekend!
Print
Homemade Crispbread
Author:

Prep Time:

10 mins

Cook Time:

70 mins

Total Time:

1 hour 20 mins

Category:

Bread
---
Description
Crispy, crispy crispbread – easy but so tasty. Perfect as a snack, for breakfast or as a little gift.
---
120 g

whole grain flour (I used spelt)

120 g

oat flakes

100 g

sun flower seeds (peeled)

50 g

sesame (I only had black

one

, but you can use white

one

of course as well)

2

Tb chia seeds

50 g

flax seeds

3/4

TS kosher salt

2

Tb Olive oil

1/2

l water
---
Instructions
Preheat the oven 170°C (circulating air)
Mix all ingredients together in a bowl.
Let sit for 15 minutes.
Put parchment paper on two baking sheets and add a bit of olive oil to grease the paper.
Bake for 10 minutes, than cut your bread in your desired shapes.
Put it back to the oven, lower the temperature to 130°C and bake for approx. 60 minutes, until crisp.
Let cool completely on a rack and store in airtight containers
---