Yesterday we had Jerusalem artichoke soup, because on Saturday we unexpectedly harvested a lot of Jerusalem artichokes in the garden. The bed is about 2m x 2m and while digging one tuber after the other tumbled to the surface, certainly 3 kg! Officially, the season is over at the weekend, but hey you can still get them at organic stores.
I must confess, until now I was not such a huge fan of Jerusalem artichoke. I really like the plant and flower and also how easily it grows in the garden. However, I have never quite warmed to the taste.
That has just changed. At the feed from dear Anya of Tegernsee_Kitchen I had seen a picture of a Jerusalem artichoke soup, topped with Jerusalem artichoke chips. Inspired by this, I gave the tuber another chance and what can I say? The soup is really delicious and the chips are the insanely good!
What is Jerusalem artichoke anyway?
Jerusalem artichoke is a tuberous vegetable, similar to the potato. Originally the plant comes from North and Central America and came to Europe in the 17th century. Here it was a staple food for a long time, until it was largely displaced by the potato. Jerusalem artichoke is easy to grow in your own garden, the plant blooms a cheerful yellow. However, the Jerusalem artichoke likes to sprawl, so you have to keep an eye on the spread, otherwise the plant will take over the garden.
Nutrients Jerusalem artichoke:
Unlike the potato, Jerusalem artichoke does not contain starch. The root is very rich in fiber and provides a lot of potassium, magnesium and calcium. However, Jerusalem artichoke eaten raw can cause flatulence, so don't go overboard here!
The inulin contained in Jerusalem artichoke stabilizes the blood sugar level and thus relieves the important metabolic organs pancreas and liver. The tuber is also particularly suitable for diabetics.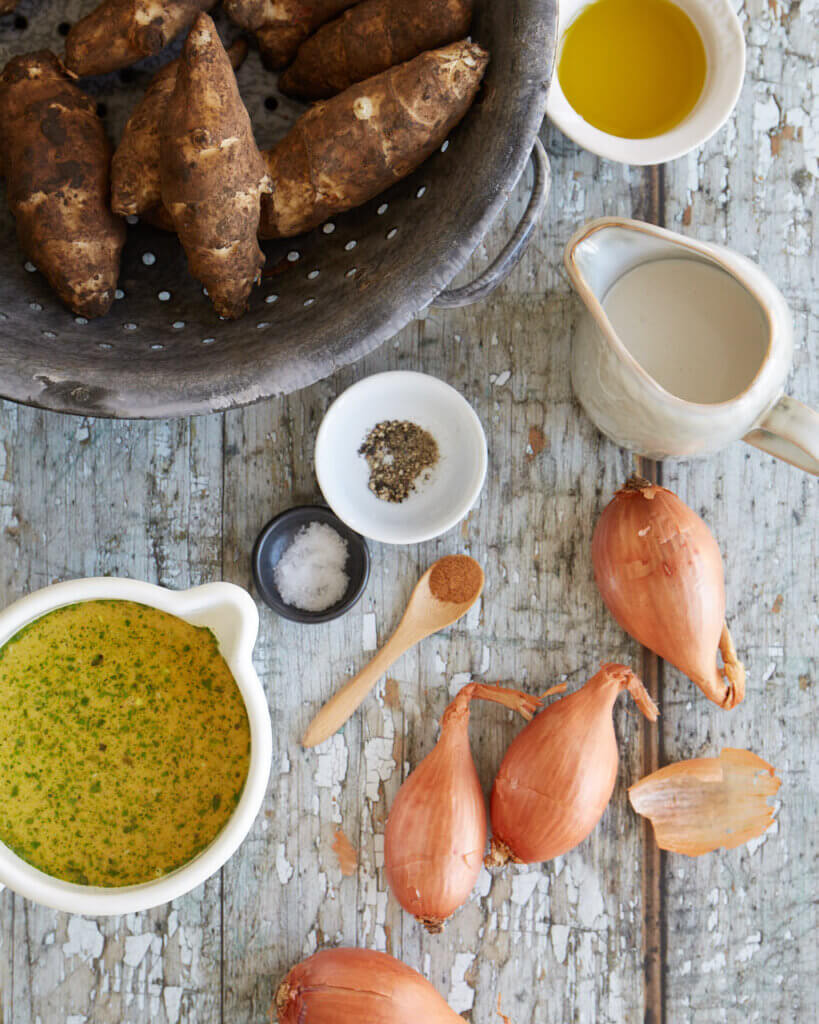 Ingredients Jerusalem artichoke soup
fresh Jerusalem artichoke, the tuber is in season from October to the end of March. It is best to buy firm tubers and use them as soon as possible. In the refrigerator, Jerusalem artichokes can be stored in a damp cloth for only a few days. If you are able to harvest in the garden yourself, always take only as many tubers as you need. Cover the ground with straw, if necessary, so that it is not completely frozen through and to difficult to get the vegetables out. However, the frost does not affect the taste. On the contrary. I find Jerusalem artichokes much more flavorful towards the end of the season.
Shallots, are a bit milder than onions, however the soup tastes just as good cooked with a vegetable onion or red onion.
Olive oil, organic quality, for sautéing the onions and the Jerusalem artichoke chips.
Vegetable broth, homemade or grained.
Vegan cream, I like to use oat cream but also with soy cream the soup tastes very delicious.
Nutmeg, refines the Jerusalem artichoke soup in taste.
Salt and freshly ground pepper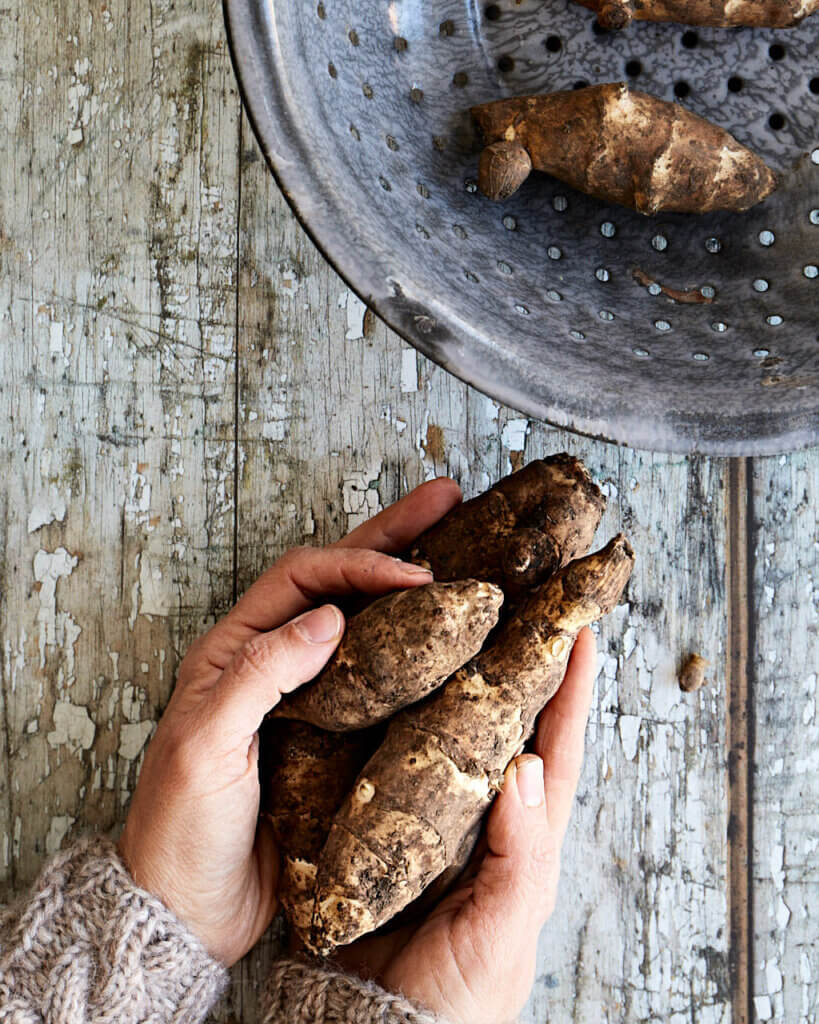 Preparation Jerusalem artichoke soup:
Wash and peel Jerusalem artichoke, put 2-3 tubers aside.
Peel and dice the shallots
Heat 2 tablespoons of olive oil and sauté the shallots until translucent.
Slice the Jerusalem artichokes and add to the shallots.
Sauté briefly together
Deglaze with vegetable stock and simmer for 15 minutes until the tubers are soft
Puree soup finely in a blender or with a hand blender
Fold in cream (hold back a little for decoration)
Season Jerusalem artichoke soup to taste with salt, pepper and nutmeg
Preparation Jerusalem artichoke chips:
Wash but do not peel the Jerusalem artichoke
Cut into fine slices
Heat 2 tablespoons olive oil in a coated frying pan
Fry the Jerusalem artichoke slices over low to medium heat until golden brown, turning several times
Add some salt to taste
Print
Jerusalem artichoke soup with crispy Jerusalem artichoke chips
Author:

Prep Time:

15

Cook Time:

15

Total Time:

30 minutes

Yield:

4

1

x

Category:

soup
---
Description
The season is almost over, but there are still Jerusalem artichokes. Quickly made and very tasty, especially with the Jerusalem artichoke crisps!
---
550 g

Jerusalem artichoke

4

shallots or

1

vegetable onion

4 tablespoons

olive oil

550

ml vegetable stock

150

ml vegan cream (I used oat cream)
nutmeg, grated
salt
pepper
---
Instructions
Wash 550 g Jerusalem artichokes, peel 500 g, put the remaining tubers aside.
Peel and dice the shallots
Sauté in 2 tablespoons olive oil
In the meantime, slice the peeled Jerusalem artichoke tubers
Add to the shallots and fry briefly together
Deglaze with vegetable broth, simmer for 15-20 minutes
In the meantime, finely slice remaining Jerusalem artichoke tubers and sauté in remaining olive oil over low to medium heat until golden. Salt and drain
Once vegetables are soft, puree finely in a blender or with a hand blender
Add vegan cream, reserving a little for decoration
Season to taste with nutmeg, salt and pepper
Divide into bowls or deep plates, pour remaining oat cream on top of soup, making a circle with a bit of a flourish
Serve with the Jerusalem artichoke crisps.
---
Notes
The Jerusalem artichoke soup can be frozen well and also varied very well. For example, if you could replace part of the Jerusalem artichoke with potatoes and season the soup with a little truffle oil.
Keywords: Jerusalem artichoke, Jerusalem artichoke soup, Jerusalem artichoke chips, vegetable
Mehr Suppenrezepte? Hier entlang: