Who does not love this sparkling drink?
Or have you never heard about "Switchel"?
Sparkling, energizing and healthy – how cool is that? And in this heat we can all use a nice glass of refreshment!
Ginger, apple cider & lemon…
… are the basic ingredients. Add some classic maple syrup for sweetening and crushed ice and soda will make this drink a summer hit!
There are countless variations of "switchel". You can let your imagination run free, everything is possible! Pleas understand the recipes here as a suggestion and start experimenting by yourself.
Where does "Switchel" come from?
It is said that the apple cider vinegar lemonade was invented by American farmers. In the 18th century, at the hay harvest, when the sun was burning and the farmers wanted a refreshing drink. Without alcohol, but still tingling. The name "Switchel" probably comes from the English term "swizzle".
But the drink really got going in Brooklyn – where else? Nothing sells in the hipster area as well as delicious country food, haha.
If the metropolitan puts on a plaid shirt and chops wood in his imagination, a glass of "switchel" must be served!
Health elixir "Switchel"?
The drink is hyped as a miracle drink. It is designed to strengthen the immune system, soothe inflammation and blemishes, help with weight loss and fill the electrolyte balance on very hot days.
The two main ingredients of ginger and apple cider vinegar are actually full of power and make the lemonade so healthy.
Ginger has a disinfecting and anti-inflammatory effect and boosts the immune system thanks to the antioxidants it contains. Apple cider vinegar is a basic food and balances the acid-base balance. In addition, apple cider vinegar boosts the metabolism and has a fungus and bacteria-inhibiting effect.
Find the basic "Switchel" recipe at the bottom of the post!
"Switchel" variations:
Lemon-rosemary
Put 1 sprig of fresh rosemary in the cooling ginger water. Strain and add another fresh sprig of rosemary to the carafe for decoration.
Orange
Add 200 ml of freshly squeezed orange juice to the prepared mixture and add one sliced orange.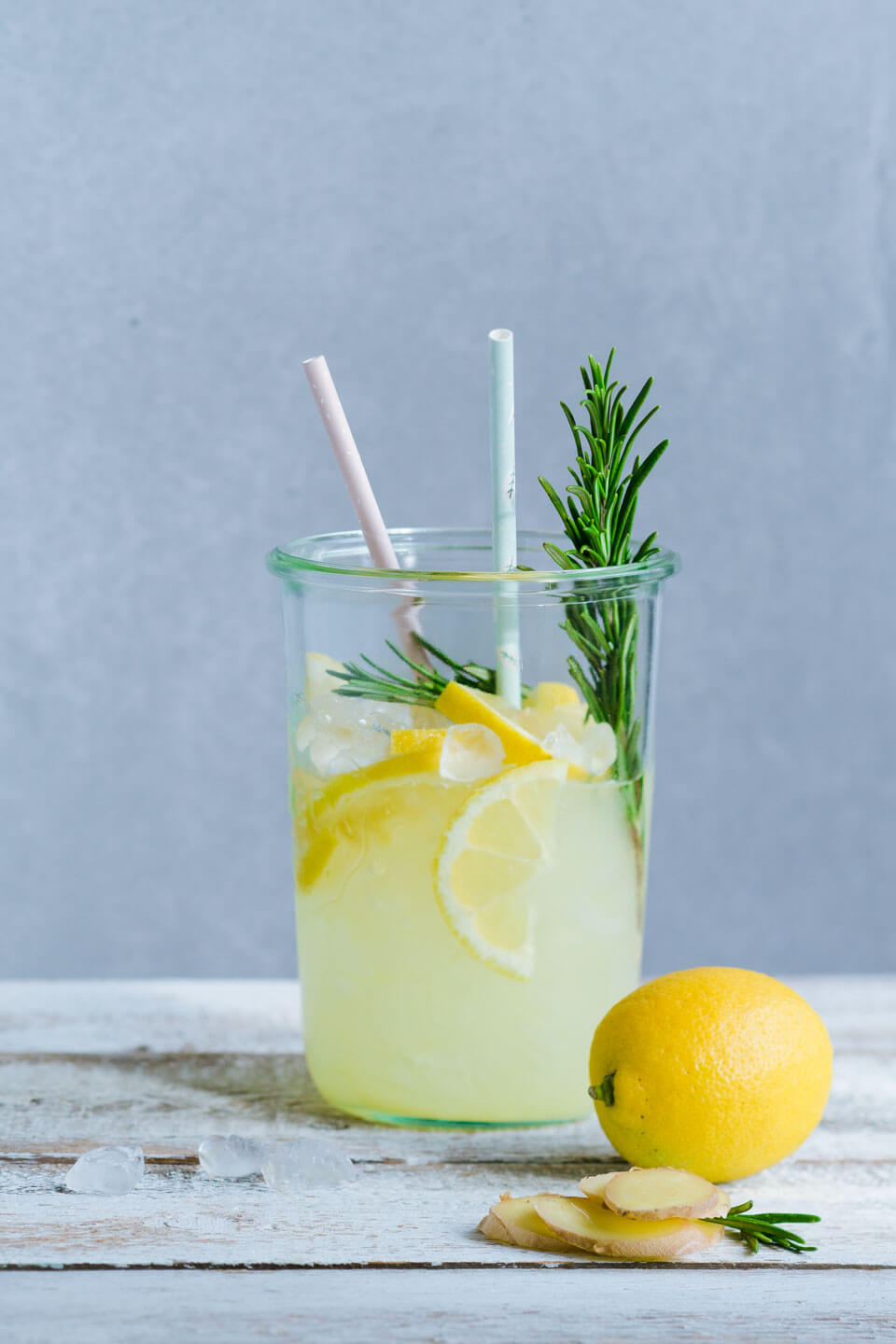 Pomegranate
Add 200ml of pomegranate juice to the finished mixture and put a cup of fresh pomegranate seeds on the glasses.
Blueberry
Add 200g frozen blueberries to the prepared mixture. Add some fresh blueberries for decoration!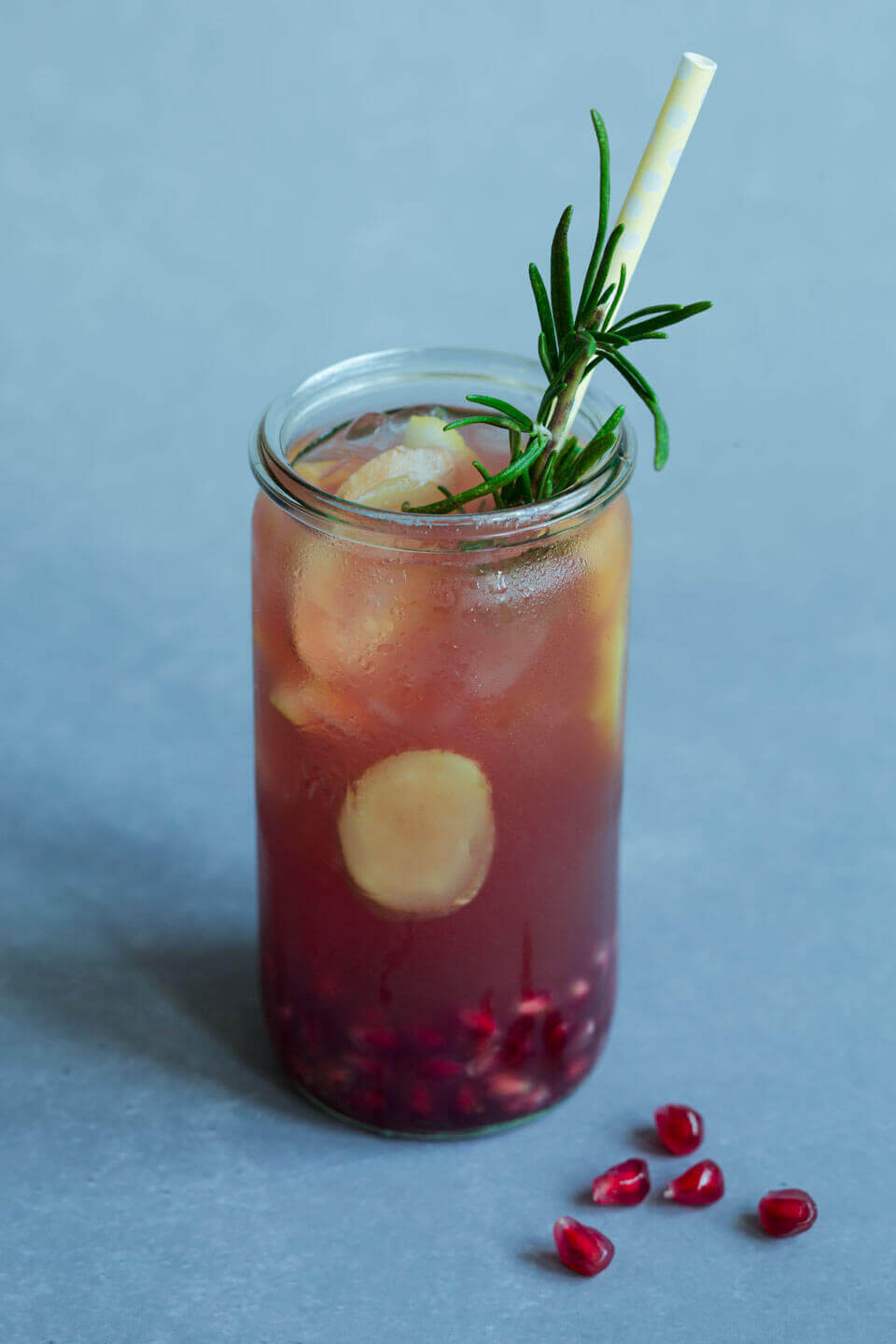 Passionfruit-Switchel
Core 4 passion fruits and add the juice to the finished mixture.
So go ahead: make your "Switchel" today and enjoy!
You won't regret it! Don't be afraid of apple cider vinegar, the taste blends in beautifully and makes the drink so deliciously refreshing! Try it!
For those who prefer to make a classic lemonade : I got you covered, here is my absolute favorite lemon lemonade recipe!
And if you have absolutely no time to do it yourself, you are now spoiled for choice to buy delicious "Switchel" varieties in you local organic store!
Print Switchel – the summer drink
Author:

Prep Time:

10

Cook Time:

20

Total Time:

60 (incl.cooling time)

Category:

Drinks
---
Description
Here comes the basic recipe! Play around with all the variations, it is o worth it!
---
1

large piece of ginger , crushed about

1 cup

120

ml organic apple cider

180

ml maple syrup or honey

1

–

2

lemons, aprox. 160 ml fresh squeezed juice

1

,2  l water
Soda to your taste
crushed ice
---
Instructions
Peel and chop the ginger. Boil in 1.2 liters of water and simmer for 2 minutes. Pull away from the heat, still infusing for 20 minutes and allow to cool.
Put the apple cider vinegar, maple syrup and lemon juice in a large carafe. Add Crushed Ice or ice cubes and top up with the ginger water. Stir. If you like, you can add a dash of soda.
---