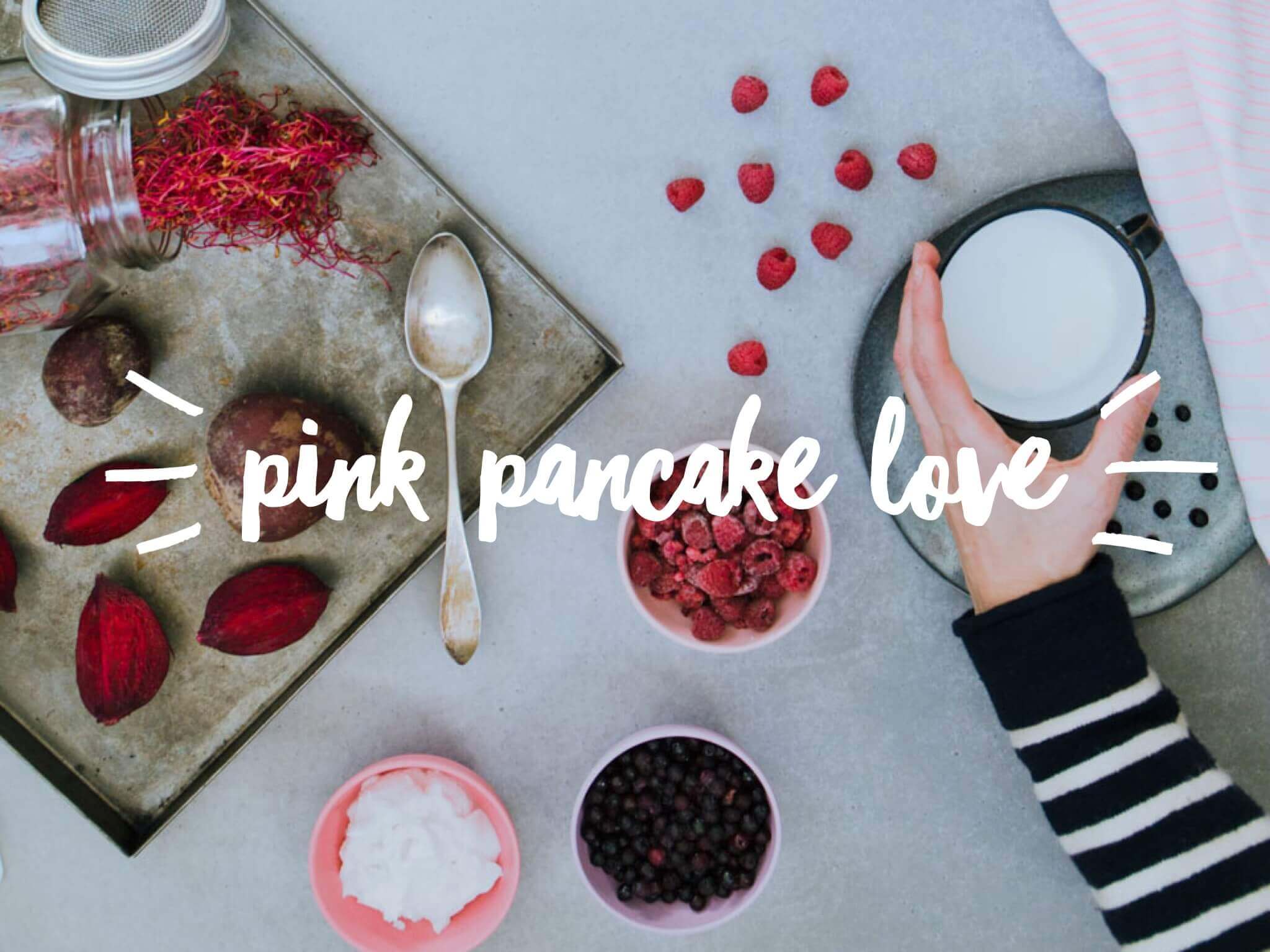 The winter is back in Munich, with crispy cold air and a lot of snow! You guys know that I really love all 4 seasons we are able to feel here in central Europe.
Winter with snow is one of my favorite moments. Winter without snow I could easily skip for an early spring…
But as there is snow and we still have to wait for a moment until spring will really kick in, I decided to brighten up the table today!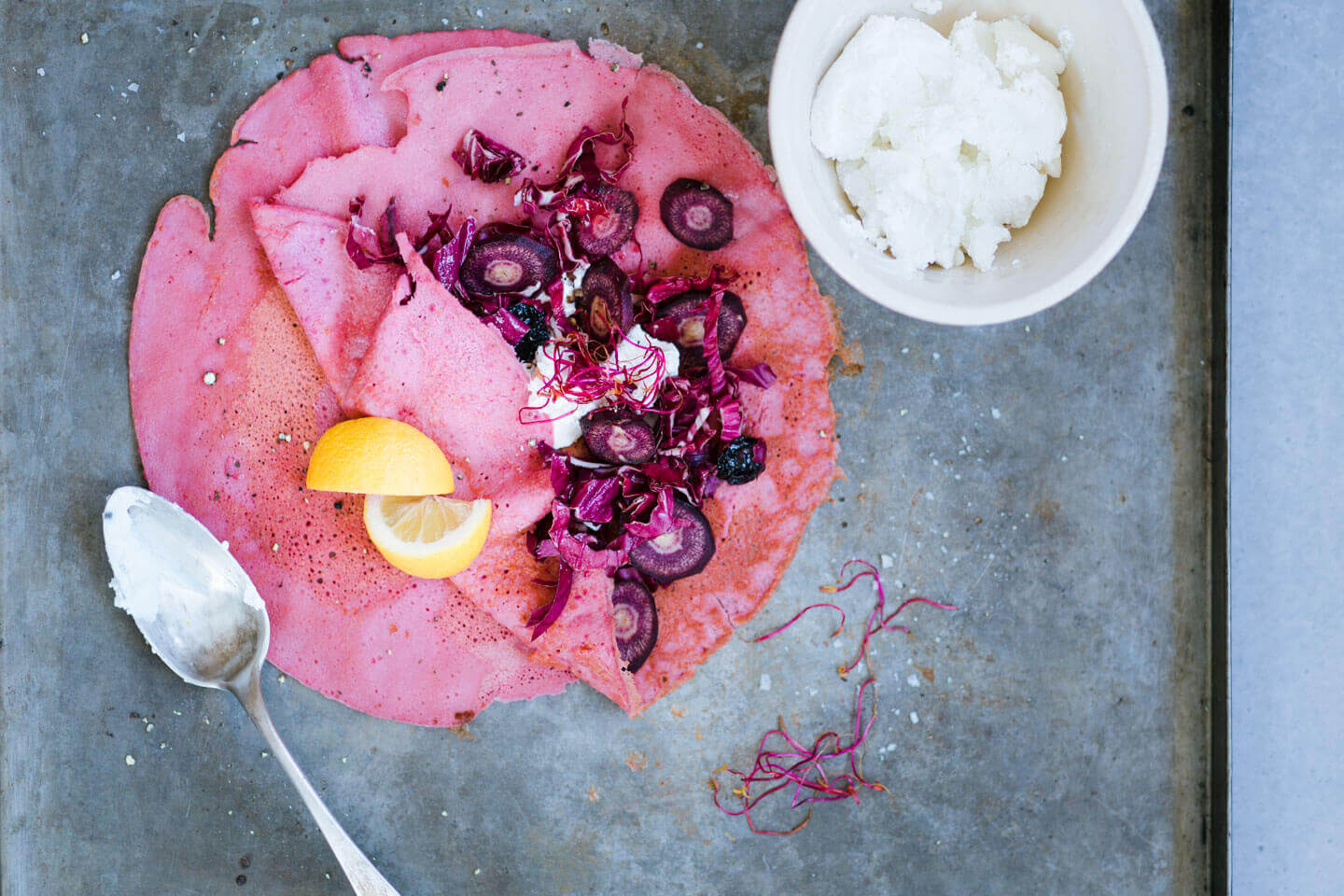 As long as we have beetroot – we are safe!
Beetroot makes the most beautiful and vibrant pink to color food! No need at all to use artificial colors.
You can make the pink pancakes savory or sweet, or like I did: both!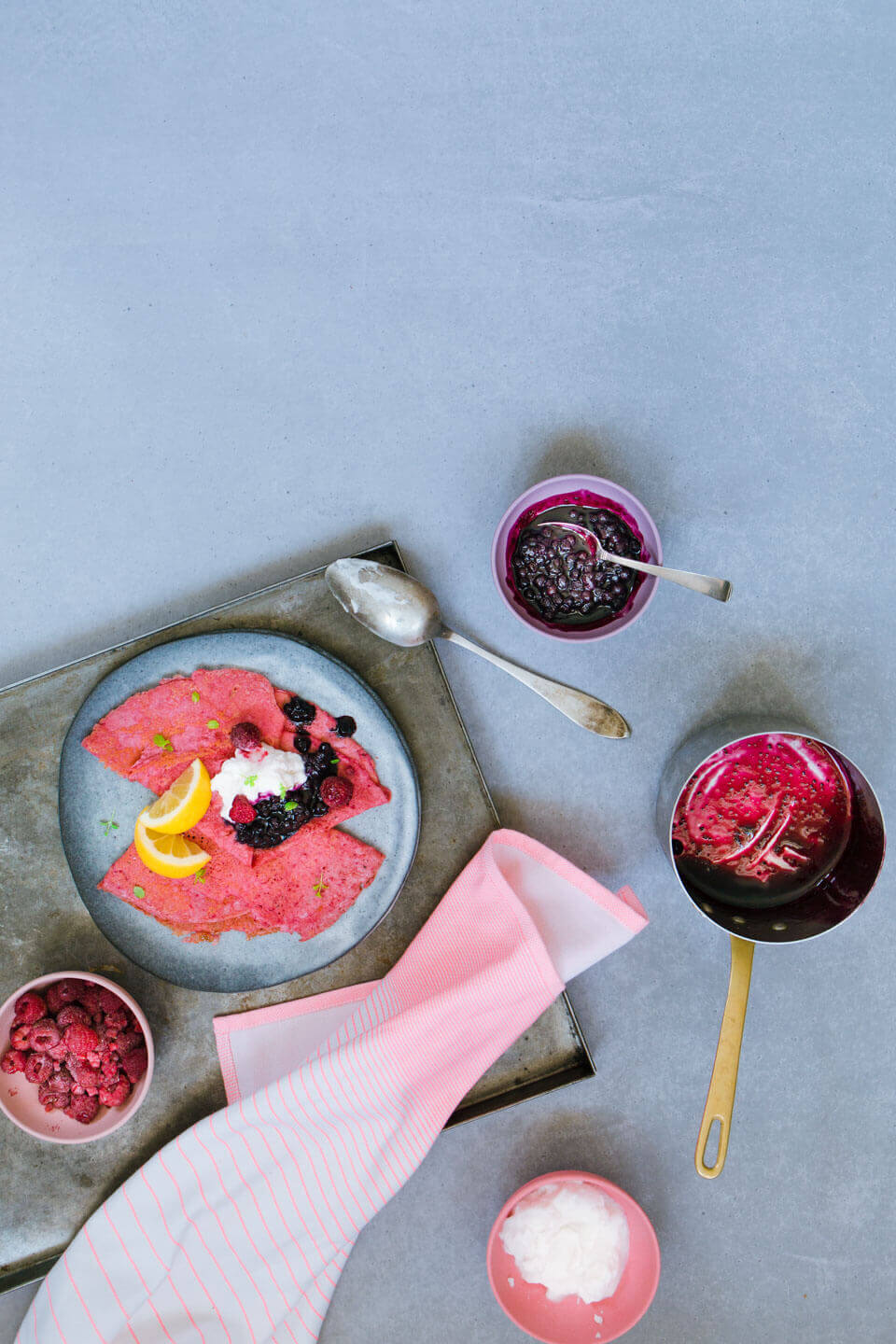 Pink Pancakes – Basic recipe
inspired by Greenkitchenstories
5 eggs
500 ml milk, or your preferred plant milk
150 g spelt flour (rice flour if you need it gluten free)
1 pinch of salt
1 tbs butter or coconut oil
60 g finely grated raw beetroot
To make the batter, add all the ingredients to a mixer and whisk on high speed until you have a smooth batter. You can also use a hand mixer but take care that there are no lumps of flour left. Put in an empty glas bottle and let sit for 20 minutes. After the waiting time, give it a good whisk, as the flour tends to sink to the bottom.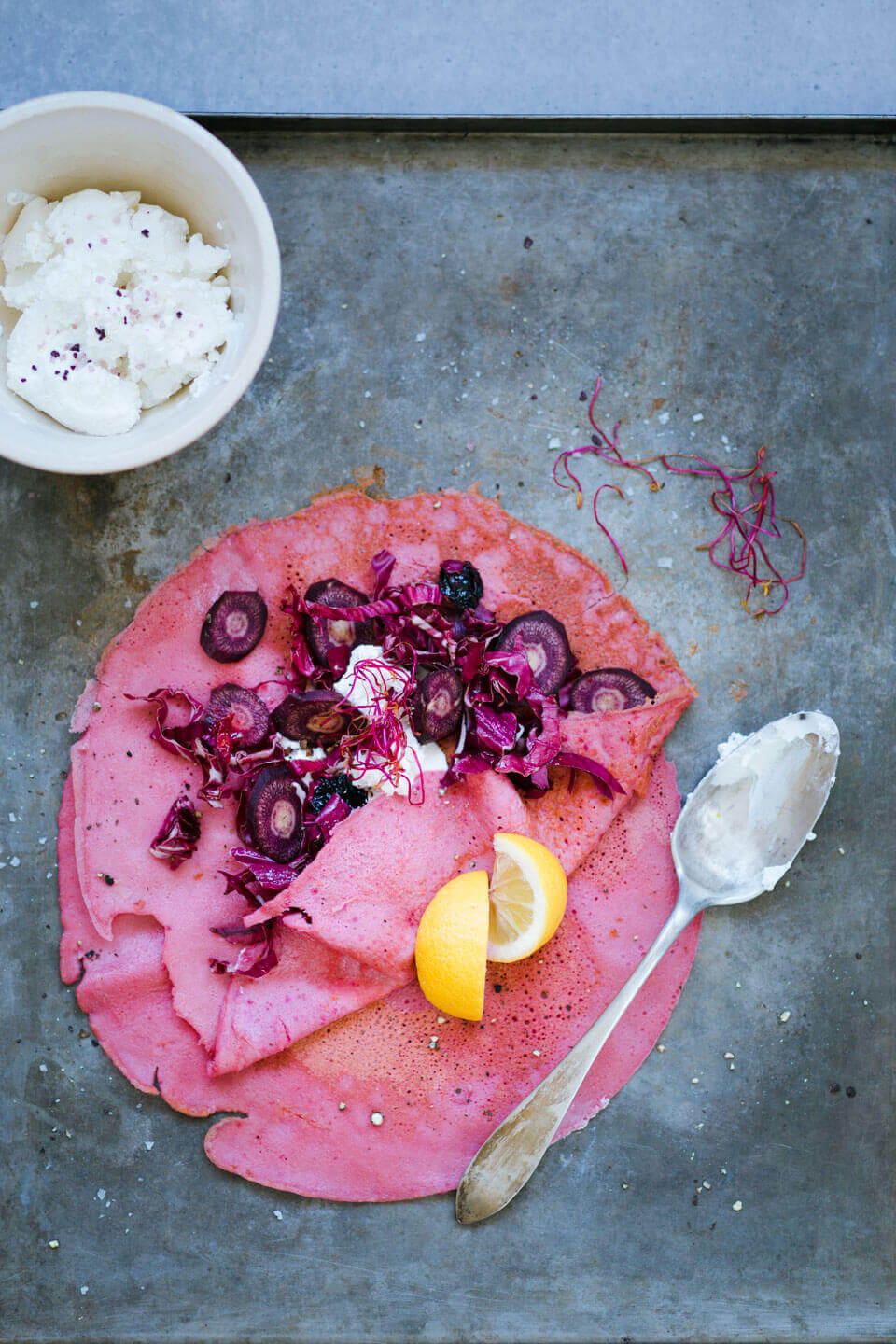 Pink pancakes with radicchio, goat cream cheese & purple carrots
​
200 g radicchio

3 purple carrots

2 tbs dried sour cherries
4 tbs fresh or thawed raspberries
4 tbs olive oil
2 tbs lemon juice
salt, pepper
150 g fresh goat creme cheese
1 handful beet root sprouts
Wash and dry the radicchio and cut in stripes. Peel the carrots and cut it rounds. Sprinkle with the dried cherries.
Put all ingredients for the dressing in a mixer and blend together. You can also use a bottle and give it a good whisk.
Heat a  non-stick frying pan on medium-high heat. When the pan is hot, add a few drops of coconut oil and about 80 ml of the batter. Tilt the pan until the batter is evenly distributed. Bake approx. 60 seconds on each side, until the pancakes are golden and can be flipped easily with a spatula. Fry all of the pancakes.
Serve the pancakes and fill them with the salad and 2 tbs of goat cream cheese. Sprinkle with the dressing and the beet root sprouts.
Add salt and fresh ground pepper to your taste.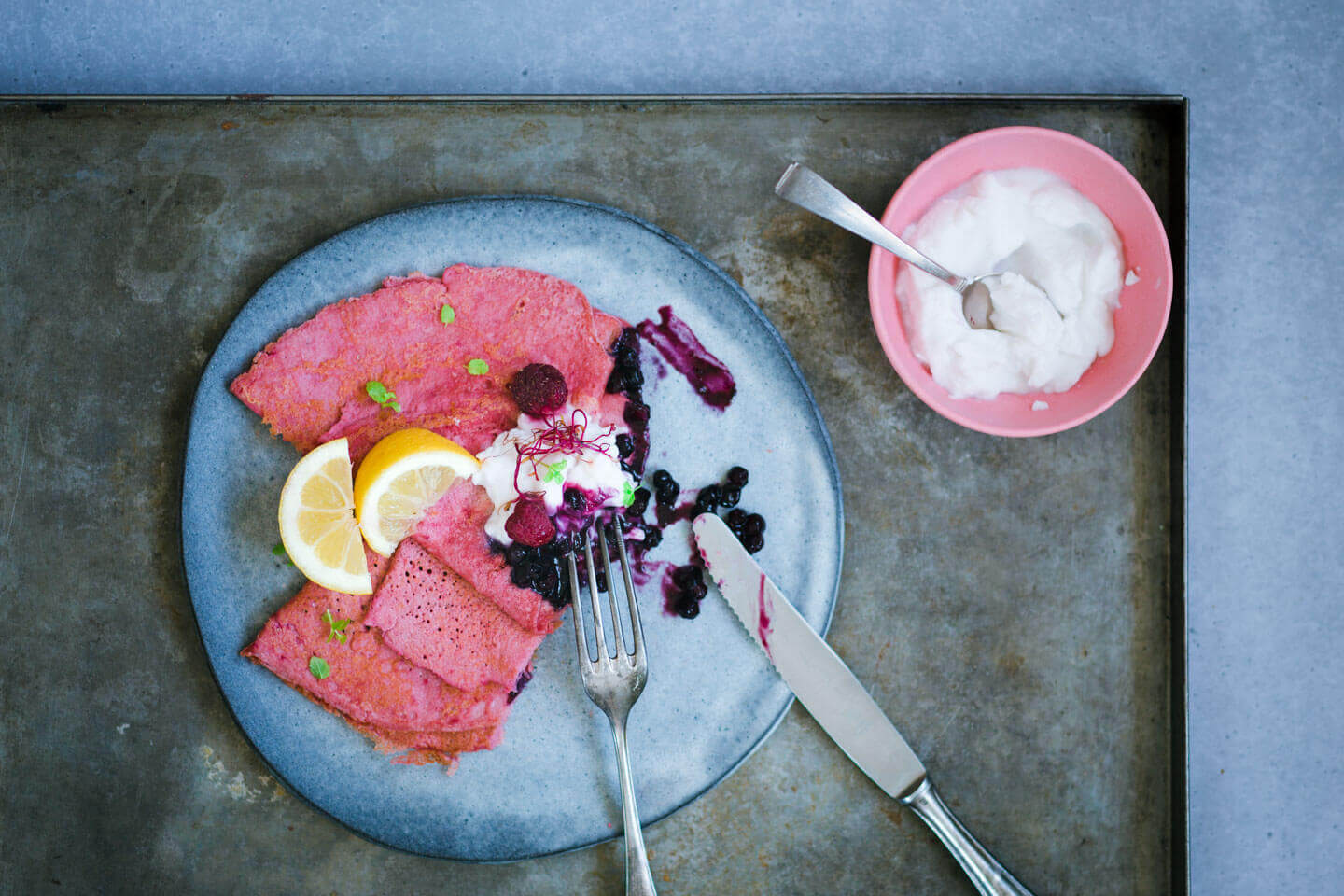 Sweet pink pancakes with blueberry compote
1/2 a basic pink pancakes recipe
150 g fresh or thawed blueberries
1 tbs maple syrup
1/2 vanilla pod
 handful frozen blueberries and raspberries or fresh if in season

300 g coconut yoghurt

fresh mint

1 leomon
Fry the pancakes like in the recipe above.
For the compote, scratch the vanilla pod and put the seeds with the berries and the maple syrup into a small pan. Bring to boil and let it simmer for around 5 minutes, until it thickens slightly.
Serve the pancakes folded and with a dollop of coconut yoghurt, some compote and the frozen berries on top.
Garnish with some mint leaves and lemon slices.