Bye, bye flu with the magic acai bowl
The flu has reached our family! Totally annoying! I haven't been knocked out like this for years. I was laying in bed for the last 10 days – or at least I felt like I wanted to sleep all the time. Not easy as mom, right?
Slowly it goes up again, but my husband is now off! Our youngest is already coughing and so I decided we need extra dose of vitamin power! Easy to make with an acai bowl!
The immune system needs all the support to fight off all the buzzing viruses, so why not mix and enjoy one of the tastiest versions together?
It is quickly made and the kids lick the bowl to the last and are more then happy! Mission fulfilled twice, everybody full of good nutrients and happy on top!
Ciao Flu! … But hello dilemma!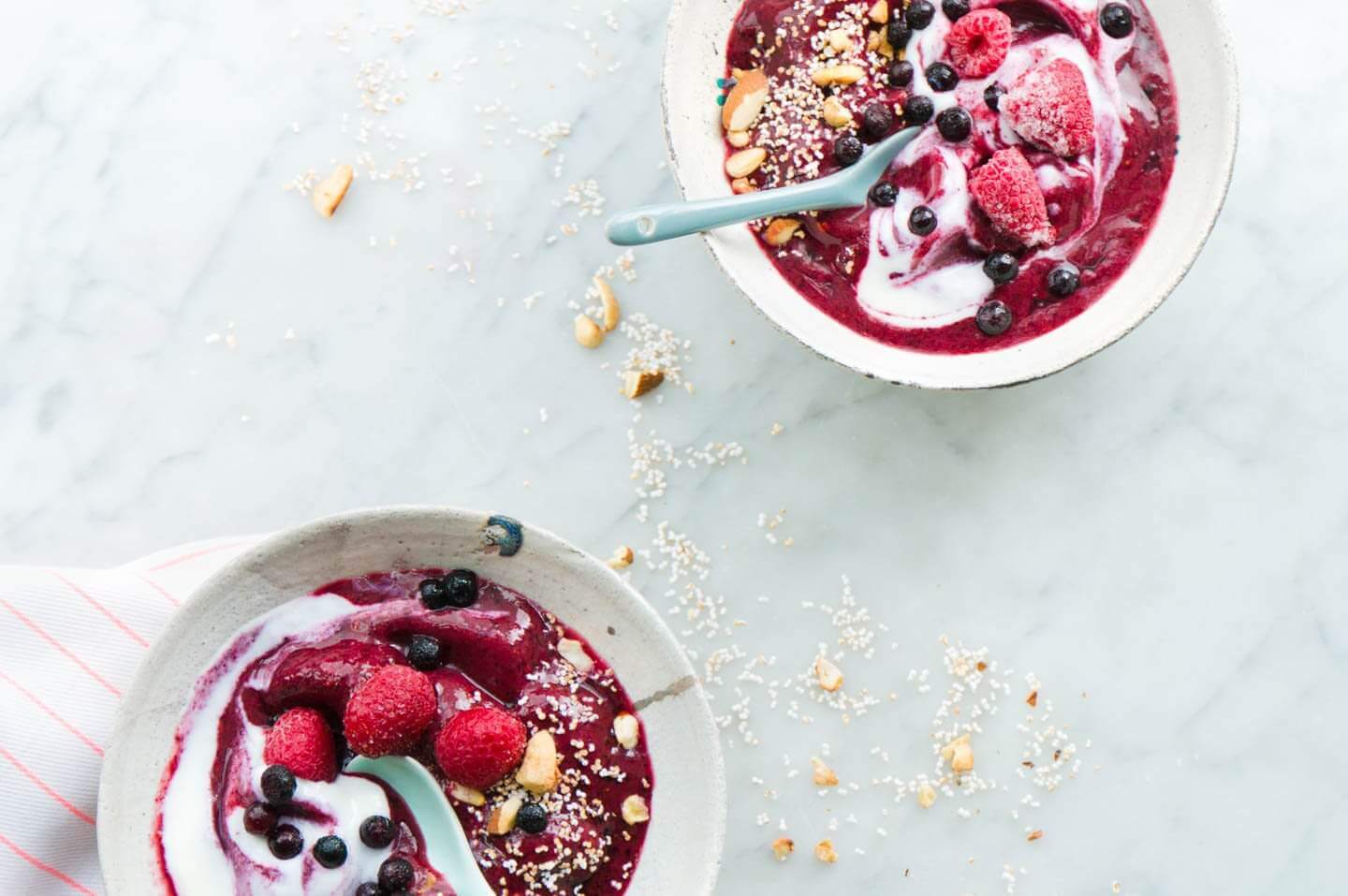 Because, what is Acai again?
Acai comes from the Acaizeiro palmetree, which grows in the rainforests of the Amazon. So it's neither a regional product nor is it ever in season here. Mh.
In Germany, acai is offered in the form of powder, frozen berries, as juice, puree and in capsules. In well-stocked supermarkets and organic markets you will find a good selection here.
But it is clear: the berries have been grown and harvested in Brazil, processed and then shipped to us. A pretty long way is behind them.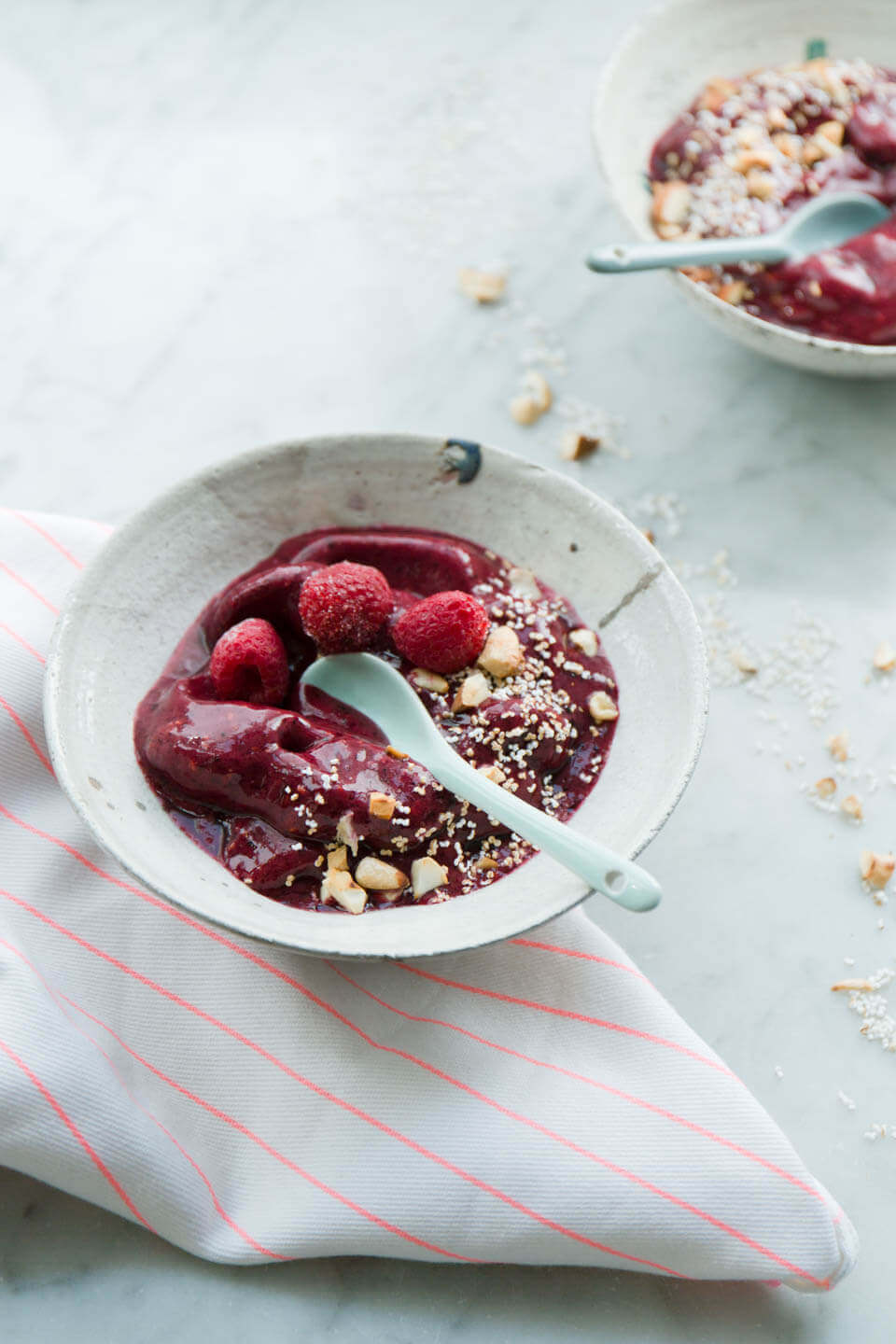 What's in Acai berries?
Açai berries are particularly rich in omega-3 fatty acids and antioxidants and contain lots of vitamins and minerals. They have been hyped over the last few years as "superfood" and many are almost attributing magic to the berries.
Theyare supposed to have perfect anti-aging ingredients, protect against cancer, help with weight loss and much, much more.
But scientists say: the effect can not be proven so far. And the nutrients and antioxidants are also found in our native dark berries, such as blackberries, blueberries and black currants.
And so I have a dilemma! I like the idea to get an extra dose of good nutrients with a spoonful of acai powder! But I also want to make sure that I include climate protection in my diet!
Without dogma, right?! As always, I think it's all about the mix. But do I need acai powder, when the local berries have just as strong nutrients in them?
Not really! Letting go of the acai powder may make the bowl a little less fancy, but so what?
The combination of frozen blueberries, frozen raspberries and banana mixed with some (vegetable) milk creates a delicious ice cream, fruity fresh and edible for me at any time of the day!
Ciao, ciao acai berry or what?
The acai berry is healthy and contains many nutrients and antioxidants. That's for sure.
However, they are also found in native dark berries, such as blueberries, blackberries or blackcurrants. These are in March in Germany, however, far from beeing in season.
Since I've used frozen berries for my bowl anyway – and here you have to be careful as a fox, otherwise you can buy delicious frozen blueberries from Canada (which is pretty far from Germany…) – I could have left it like that, without adding acaipowder.
I'm sure, even without the bright pink acai powder, it's a bowl full of vitamins and nutrients – just the feeling suggested by the press: "Ah, I'm doing myself something especially good when I add a superfood," is not kicking in. And the hipster feeling … ha, ha, ha!
But the awareness of what fantastic opportunities we have here in Europe and that "superfoods" grow here as well!
My conclusion:
Of course, I will consume my glass of acai powder and I will be happy eating it!
Because it helps neither the people in Brazil, nor the climate protection, nor me, if I throw it now in the bin.
And I will continue to make bowls and smoothies with frozen fruit. I just can not get around this fact in wintertime.
It would be so difficult for me to completely let all fruits go when not in season, that in the end I would give up and let go my vision, to do one step at a time to move forward and protect our climate! Because I'm so allergic to dogmas! And we do not want that, right?
I will not buy acai powder again. But if you buy some, then pay attention to get organic and fair trade quality!!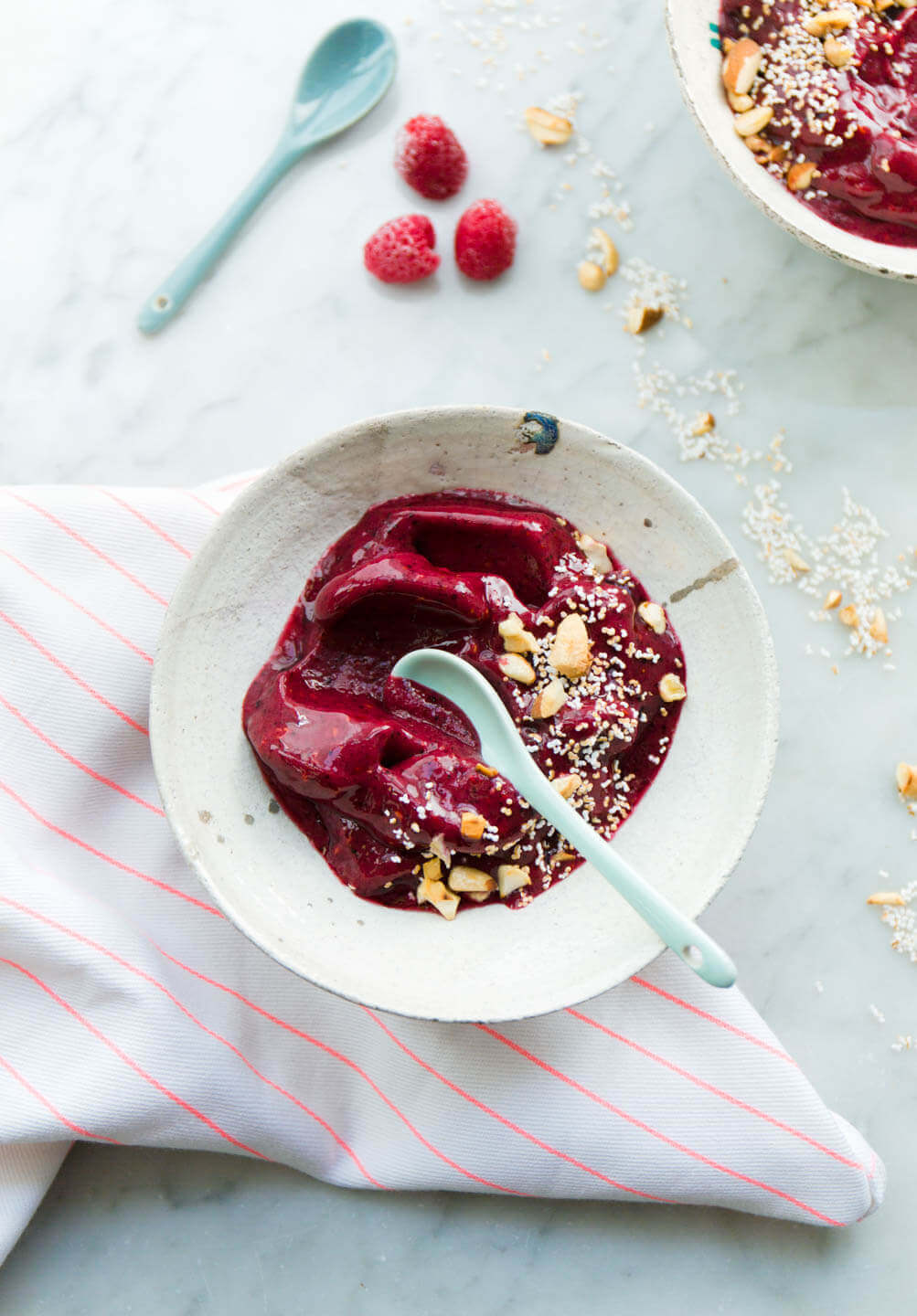 Here comes the recipe…
…because, who knows, maybe there's an acai berry powder glass in your pantry too ? Or you can find a crumpled frozen berry package in the freezer compartment?
And those who have no acai powder in the house are happy and can just omitt it!
The Bowl still tastes so delicious – promised!
And it is full of nutrients thanks to the frozen blue- and raspberries too!
Without any thoughts, I have already shown several acai bowls, have a look here and here
Berry-Bowl with or without acai
1 cup organic blueberries
1 cup organic raspberries
1/2 cu frozen banana
1/2 cup (plant-) milk
optional 1 TB acai powder
Put all ingredients together in a high-performance blender and process to a creamy ice cream.
Depending on the power of your blender, you might have to let the berries thaw a bit.
You can go crazy with the toppings!
I added some puffed amaranth and roasted nuts and a large tablespoon of yogurt. A few frozen berries on top make the whole thing even prettier! Enjoy!