A burger inspired by the fall season: a portobello burger – a what!?
Portobello mushrooms are giant button mushrooms. I just stumbled upon some at our local farmers market last week. They cought my eye almost screaming: "take us with you!", and that's what I did. Seeing those burger-patty-like mushrooms in my shopping basket, I immediately had the idea of turning them into burgers…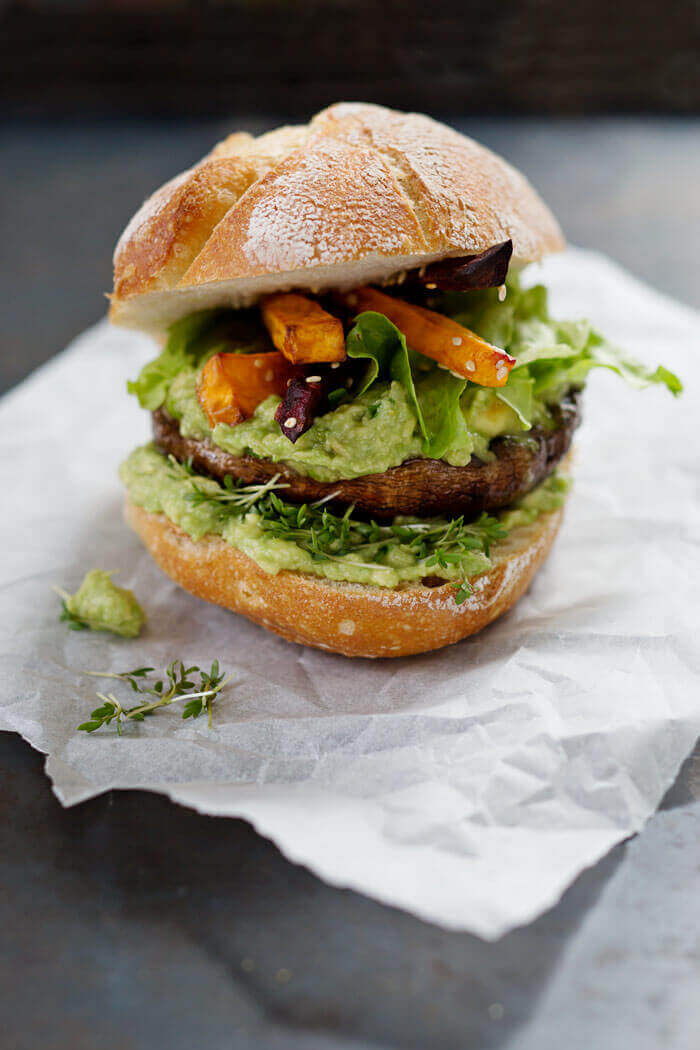 Briefly fried in a griddle-pan and stuffed in a spelt roll, the portobello-mushroom is a wonderful variation to a regular beef patty. Nice and juicy and quite aromatic but still something firm to bite into.
Unfortunately portobello-mushrooms are often hard to get – so go get them when you have the chance. In fall you will find really beautiful organic pieces.
As a side dish I served oven baked sweet potatoe fries. The farmer, whose vegetables I preferably buy, has recently started planting purple sweet potatoes – the taste is almost similar to regular sweet potatoes but I love their look! My food-styling-heart is taking a leap!
The avocado went really well with it, as avocado often does. It's one of the fruits which I would have a hard time giving up. However, it has a long journey to Germany and I do want to indulge it with a bit more awareness. Every now and then an avocado will land on my plate though and I will enjoy it with all of my heart.
One thing that grew in my concious over the past weeks:
My perception for climate protection right here in my kitchen has become much more aware. I go shopping with more awareness, I try to make use of the entire plant / food and I am looking forward to the seasonal menu.
In the same time there is this "guilty conscience" popping up here and there… because I am still far away from an optimized, sustainable energy-saving and ecologically optimized kitchen. Hence before I put the avocado into my shopping basket I briefly thought: " Can I do that? Is it right?"
I came to the conclusion: "Yes I can!" Because I do not want to abstain from everything that hasn't got a "golden ecological footprint" all at once in a dogmatic way. That way, I would probably stop doing what I am just starting to do very soon… and additionally would feel really really bad about it…
I want to become a little more aware – step by step for myself and my family – and convey the message that it is great to be able to eat things that don't grow here and come from afar. I am aimnig for a balance. It has to be possible to eat with joy and without a guilty conscience.
How sad would it be not to value this far travelled avocado and eat it with a feeling of guilt rather then to relish it to the full.
How are you – what does your conscience say?
Do you think it is possible to find a balance or is it unrealistic and ending in self deception?
Do you just grab the whatever you need or do you want to know where your food is coming from?
Over and over I am surprised, where "fresh" food is coming from. The distance our food is travelling – for years I haven't thought about it and just bought it because it was available. Beans from Kenia? Why not, they look so firm and crisp…
That's exactly where I see the first starting point in my climate kitchen:
Shopping conciously: regional and seasonal (organic food is so much cheaper if it doesn't have to travel far and if it is in season), with an eye on the origin. Appreciation towards the products and the producers.
I am curious how I will manage the winter season this way. The regional and seasonal supply will disminish and the question is if cabbage soup will be accepted as the new favourite dish by my children? Rather unlikely :-) ! So it will be my little challenge to cook more creatively with what I get – trying something new…
Portobello-Burger (2 pieces)
2 portobello mushrooms
2 rolls of your choice, I chose crispy spelt rolls
1 ripe avocado
fresh cress
2 leaves of any lettuce
2 tbs canola oil
pepper, salt
Gently brush off Portobello mushrooms if necessary. Cut out the stem (cut it into pieces and add to the sweet potatoe fries on the baking tray…), fry the mushrooms on high heat for 2-3 minutes on each side – I used a griddle pan.
Remove the avocado pit, mush the fruit with a fork and add salt and peper to your liking. Wash the lettuce and cut the cress.
Cut open the roll and spread some of the avocado cream on the bottom part. Spinkle with the cress and place a fried mushroom on top of it. If you like it just place some of the freshly baked sweet potatoe fries on top of the mushroom, add the lettuce put on the lid and take a big, hearty bite!
Sweet-potatoe-fries (2 people)
1 big orange sweet potatoe
2-3 purple sweet potatoes (just for the look of it…)
2 tbs sesame
2 tbs olive oil
Cut the sweet potatoes in your desired fry-size. Mix it on a baking tray with the olive oil and then add the sesame so that it sticks to the fries. Spread them out and add some salg.
Bake at 180° Celsius (convection) for 20 minutes until the potatoes turn nice and crisp on the outside.
As an alternative this is still my favourite baking method, however, it needs a stove and an oven…. Again – another topic to think about ;-)