Last year around this time….
… our whole family was caught by a heavy Harry Potter fever! Our oldest son had finished all 7 books and I enjoyed to read them to our middle son. I had never read them before, so I was as curious as he was…
For the 10. birthday party we therefore decided to go for a Harry Potter Party! And while the little Honeydukes buffet we had, not only is great for Harry Potter fans, it also is perfect for Halloween.
So I thought I share some inspiration with you….!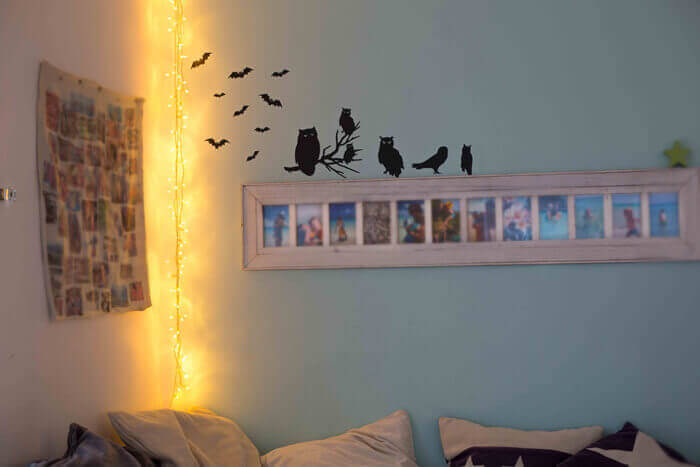 Owls and bats
Nothing goes without owls and bats! I am lucky to own a Silhouette Cameo , so I took the easy road and downloaded some owls and bats and let the cutter work for me. But you can do it by yourself and cut hem out by hand, there are tons of owls and bats patterns in the internet.
It is pretty amazing how the feeling of a room changes with bats flying around all over the place and I even felt a bit under surveillance by the owls…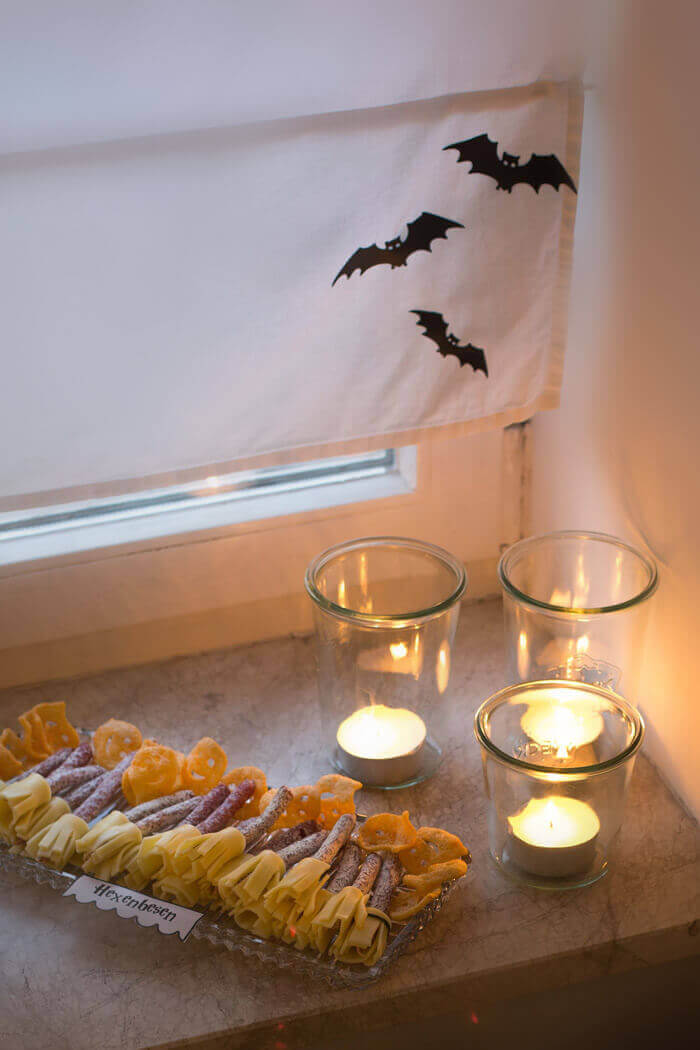 The perfect Halloween snack buffet!
I had such a good time preparing the food for the snack buffet! You just have to open Pinterest to knock yourself out with the most funny and amazing ideas…
I did bake owl and spider cookies, colored spaghetti with beetroot juice so they became bloodworms…You'll find recipes for vampire-blood-lollipops and for the witches' broom I used salametti sticks and cheese. Let me tell you, they were gone pretty fast – or did they all fly away???
There is no limit to your fantasy… I was walking around my kitchen and looked into my pantry to bring out dried apricots metamorphosed into dried bugs, coffee beans became bat eyes and so on… seriously I was just laughing about myself because I had so much fun!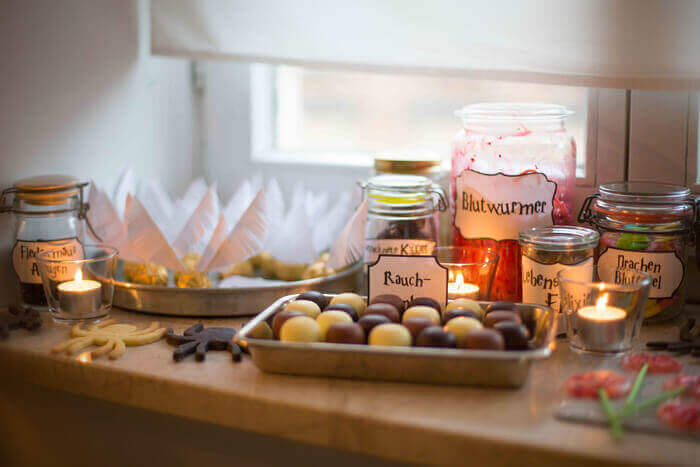 Flying candles and black light
Not only preparing the food made me totally foolish happy. The whole decoration was fun, my husband an me kept on smiling and laughing while crafting wands and flying candles… We have quiet a few child birthday parties behind us already, and the last few years we were a bit "burned out" about them, haha! Like : "How can we make the 7th treasure hunt through the neighborhood exciting….".
It was such a nice change to go with a theme… And Harry Potter is a thankful theme, I can tell you. There is so much inspiration in the internet and you can use your own fantasy as well…
The blacklight added a spooky atmosphere to our living-/ dining room and who would not have fun painting the eyes of the owls and bats with a blacklight marker, so they become invisible with real light but glow in the dark with blacklight?
Well and the flying candles can't be missed in Hogwarts! We used this tutorial. We played with the size of the candles and used transparent thread to hang them… You can't imagine the look in the eyes of the kids! I mean a second later they all understood the trick, but still it looks so cool, everybody enjoyed the magic atmosphere!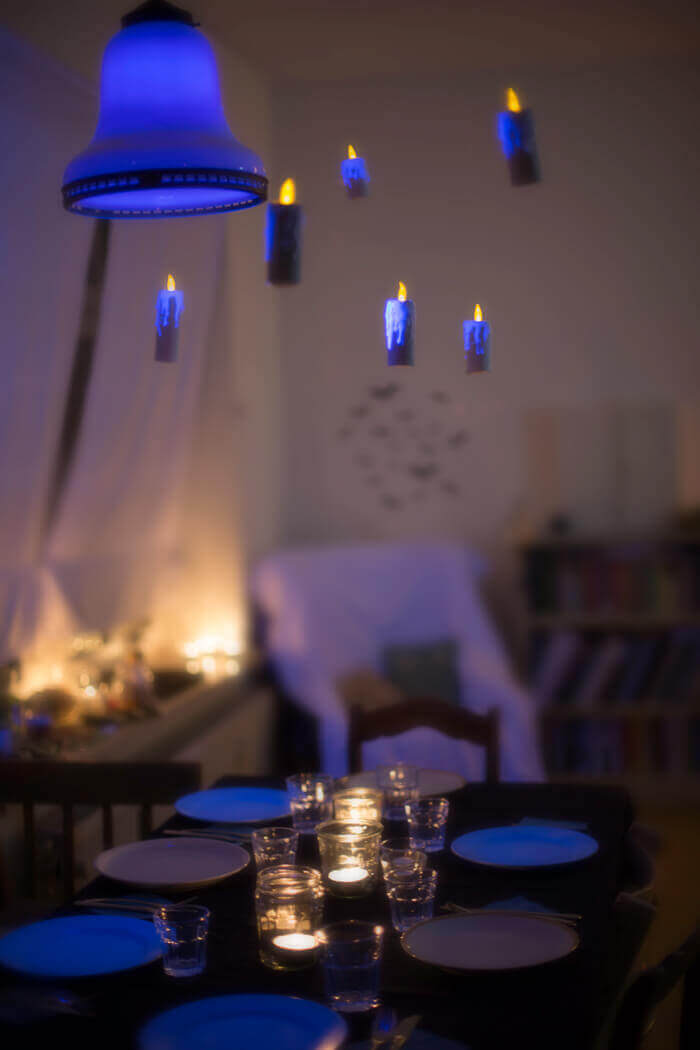 From wizards and experiments
We made a special wand for every child. As a base we used extra long chop sticks from the Asia market. Take a look here it is a perfect Tutorial and then you can play around and let your fantasy take over…
While my husband was the perfect Mr.Ollivander, I used the  Sound Machine to make funny explosion sounds, while the kids tested their wands. Sometimes it takes some tries to find your perfect wand!
We were all laughing so hard!!
Then we took of to prepare some potions…
We had bought dry ice ( …goodness, I know, it is not very compatible with my climate protection idea! And on top who would by dry ice for a childs birthday party?? I mean we were always smiling about all the perfect kids parties!! And now?).
Anyway, we did it and had a blast with it all together! The effects of dry ice mixed with hot water are endless and pure magic!! I mean, how can a drop of dish washer let bubbles rise, which will disappear without hardly leaving any trace of water?
But please, take safety first while "playing" with dry ice. If not handled with care and precaution it can become very dangerous. I only recommend using it, if there are not to many kids per adult! And maybe you should now the kids well, to be sure nobody will start making chaos with the dry ice…
We made crystal balls to become fortune-tellers… youtube will supply you with all kind of inspiration…
Just be cautious!!!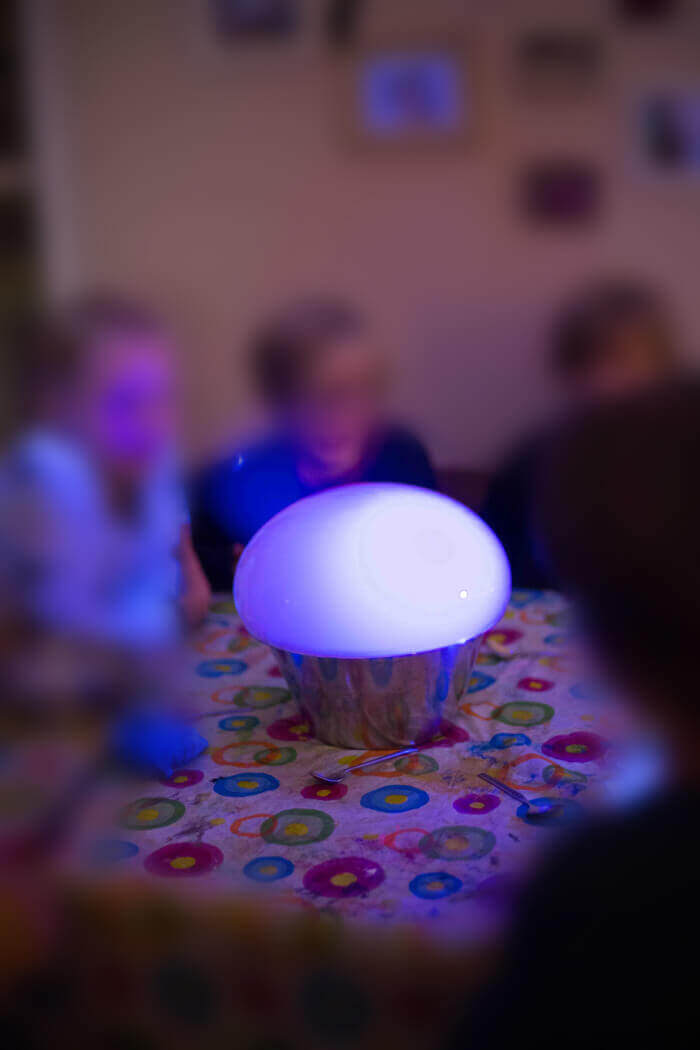 How about you?
Is Halloween a big one for you? Or do you tend to avoid it?
This year we only want to carve a nice Jack o' Latern…