I like the fall.
The scent of moist fallen leaves, the swish of the dried leaves. The discolouration of the trees, the sparkling spiderwebs. Suddenly the rays from the sun become so precious, the light becomes warmer and the nights turn fresh and cold.
Still there is quite some melancholy at the end of the summer. No more flip flops, no more tank tops till late at night and even summer break is over…
Nevermind – the taste of a freshly picked apple from our garden makes up for it!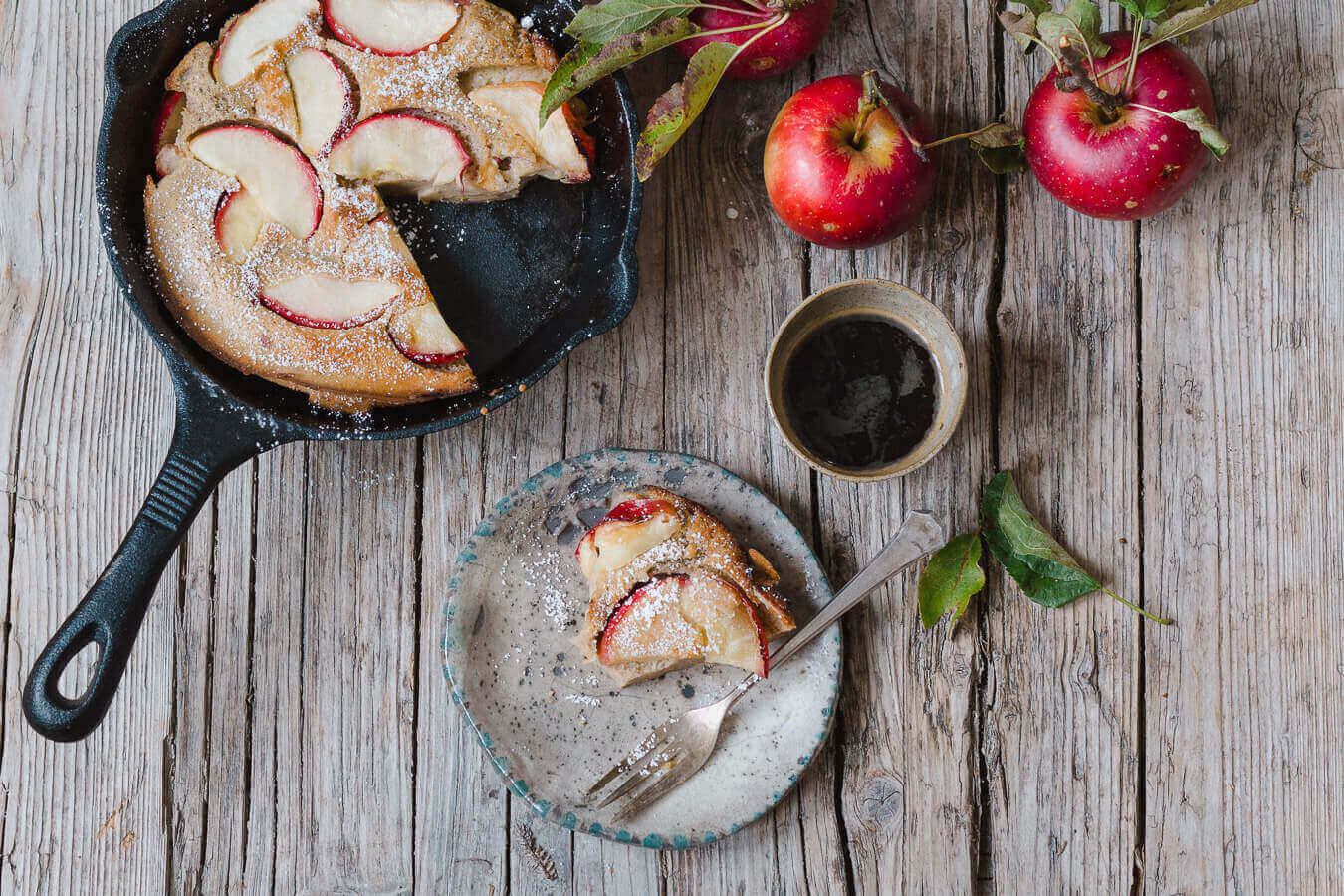 Processed in a fluffy apple dutch pancake we are floating in "apple-heaven", which is totally necessary in between studying new english vocabulary and mathematical formulas with my oldest one. The mother's head is spinning, so I have to take a break in the kitchen. For me it is soothing to whip up some flour, egg and sugar, slice up some apples and throw it in the oven altogether. There is a large amount of anticipation in preparing the dish and the others start looking forward to it as soon as they smell the scent rising from the oven.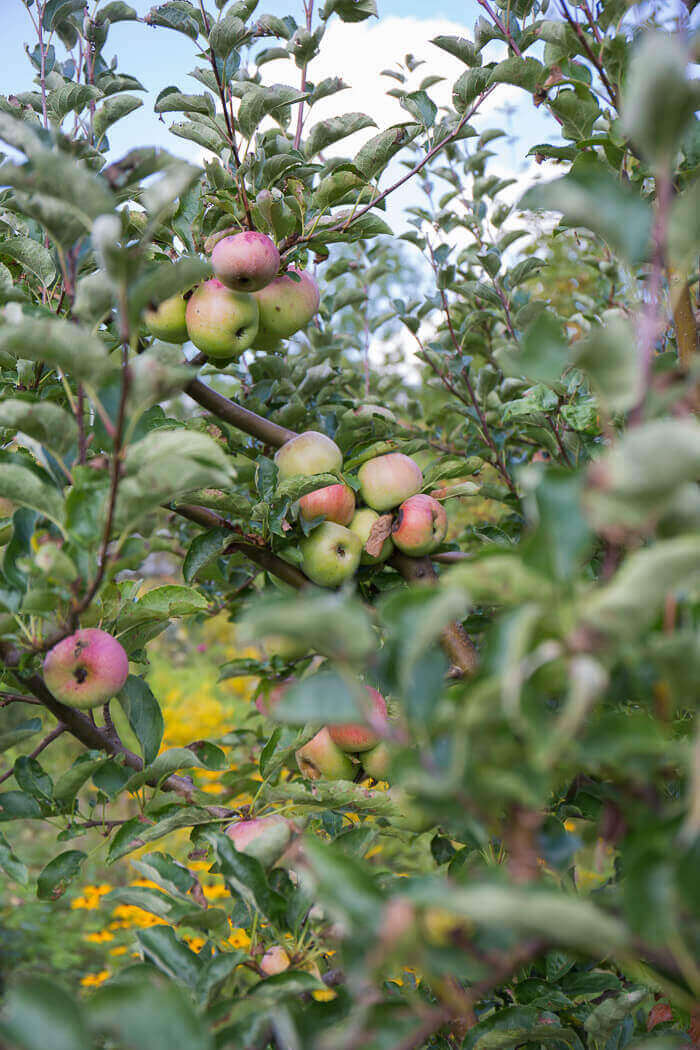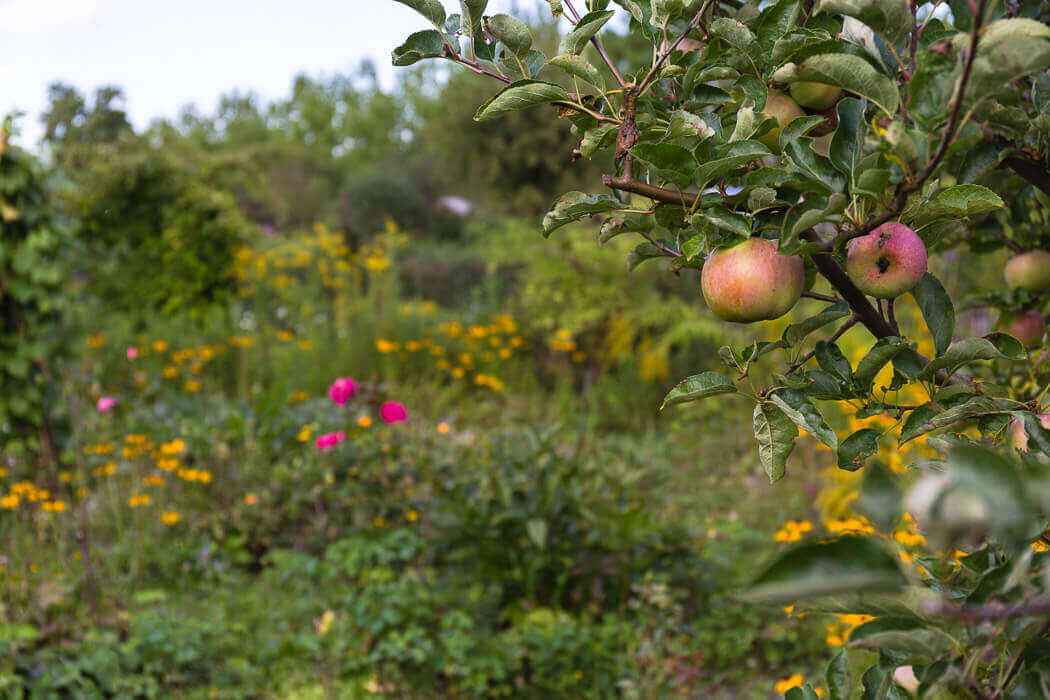 Look at this little paradise! In the heart of Munich – our little green island of serenity. Sure, there is a lot of work connected to the garden, however, harvesting the fruits and vegetables is wonderful! Also, I realize how important it is to me to let my children observe the process of how a blossom in spring turns into an apple in fall.Or how a handful of seeds deliver so many beans that it is hard to harvest and enjoy all of them!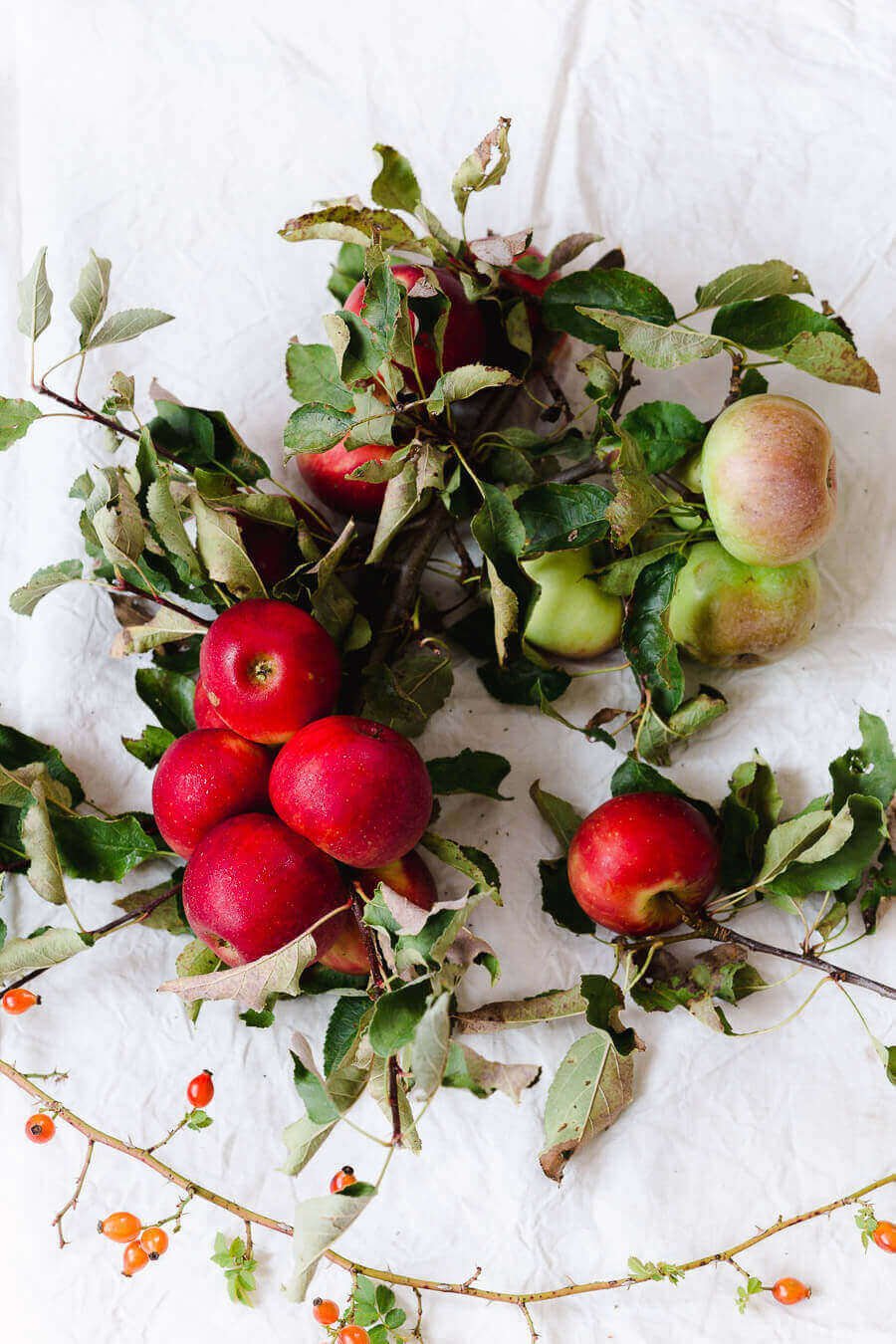 Climate protection in the kitchen?
Awesome! If there only wasn't this thought: "How will I make a change in my kitchen towards climate protection, while turning on my oven for only one (big) pancake"? Not quite ideal? Not quite ideal!
During summer break we had long conversations with the boys. Due to their interest I myself became interested in looking into climate / environmental protection even further. It's an overwhelming issue that can easily drift off into helplessness… at first. To be honest, my husband and I had to justify ourselves in front of the kids: "Why haven't you exchanged all the regular lightbulbs into led-lights, yet"? Yes, why haven't we? Comfort? Laziness? Also habits that are simply such habits already…
From now on!
But who says, that I cannot overcome this little giant phlegm? Everything is constantly changing and I decide – from now on – to actively participate in climate and environmental protection! Without having a bad conscience of what I might already have missed. Without the pressure of changing everything all at once. One step at a time – the way I preach it to my oldest one if it comes to tackling the mountain of new vocabulary he has to learn which at first seems insurmountable.
From my practical buddhist point of view I know that I can move mountains if only there is determination. And there is quite a bit that piles up: the fear of it all being to late already. The feeling of helplessness seeing the abstruse opinion of Mr. Trump if it comes to climate change. The knowledge of exploitation of man and nature in many parts of the world. And forth I could write down many more of these boulders which build up to that mountain…
The question is: do I let myself be knocked out by these fears, that sorrow, these worries, this discontent? Check mate as an excuse not to get involved in the first place? NO – au contraire! I will use these discomforting feelings as a springboard for my own growth movement.
Impact
As small as I may seem in this giant arrangement of the entire world, I am still connected to everything, Every one of my actions will have an impact. I am absolutely certain of that and that is what encourages. Courage that all of us need so much.
"Lost courage – lost everything"
A quote by Goethe (not quite sure if translated correctly but you'll get what I am trying to say). I only have to have a conversation with our boys and my courage level increases. They are just so much more open for change and not as easily intimidated by reality. Their eyes start to shine when we are discussing about what there is that could be done. Observing these moments gives me the power and makes me want to tackle all these challenges with all of my heart like a lioness. From now on!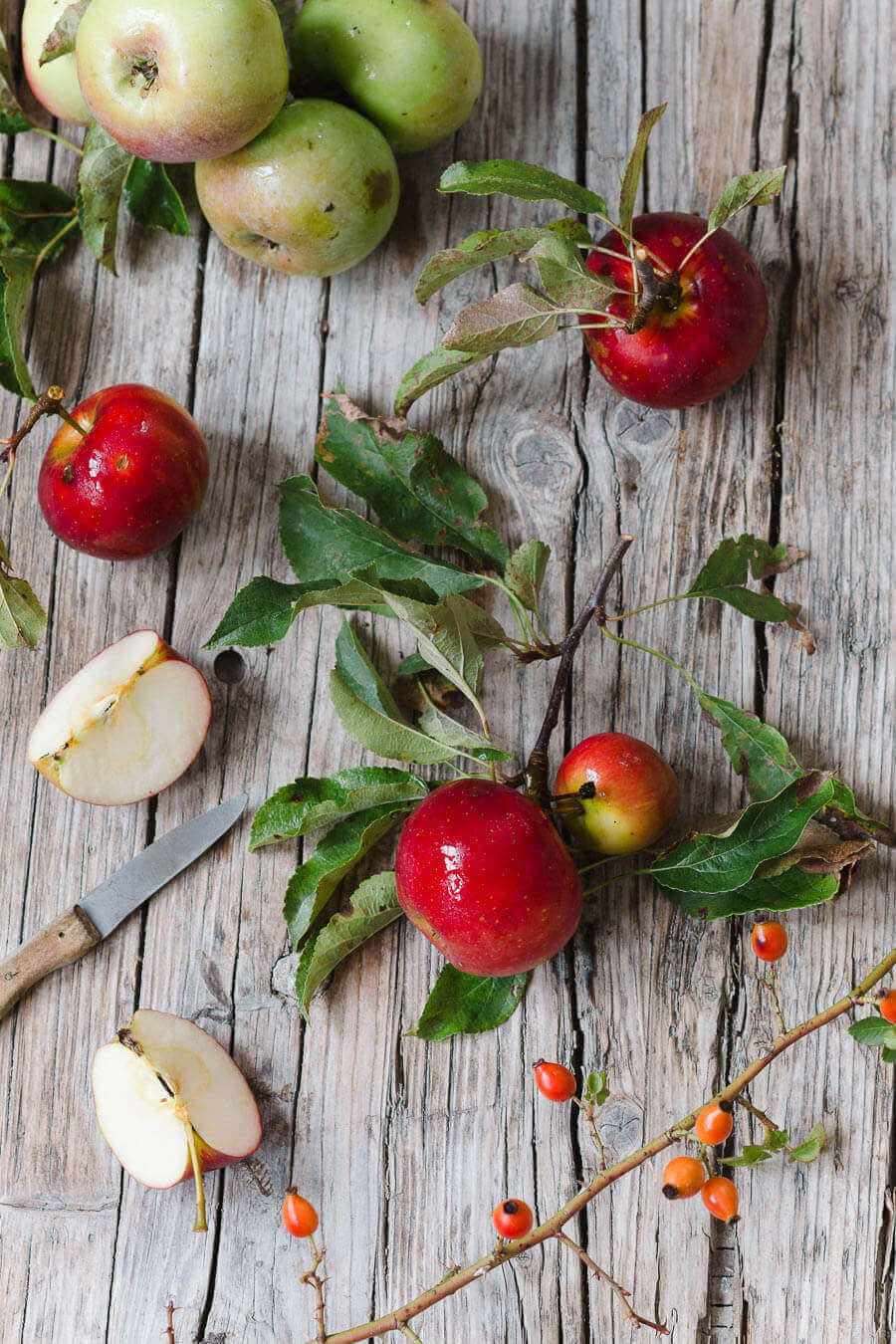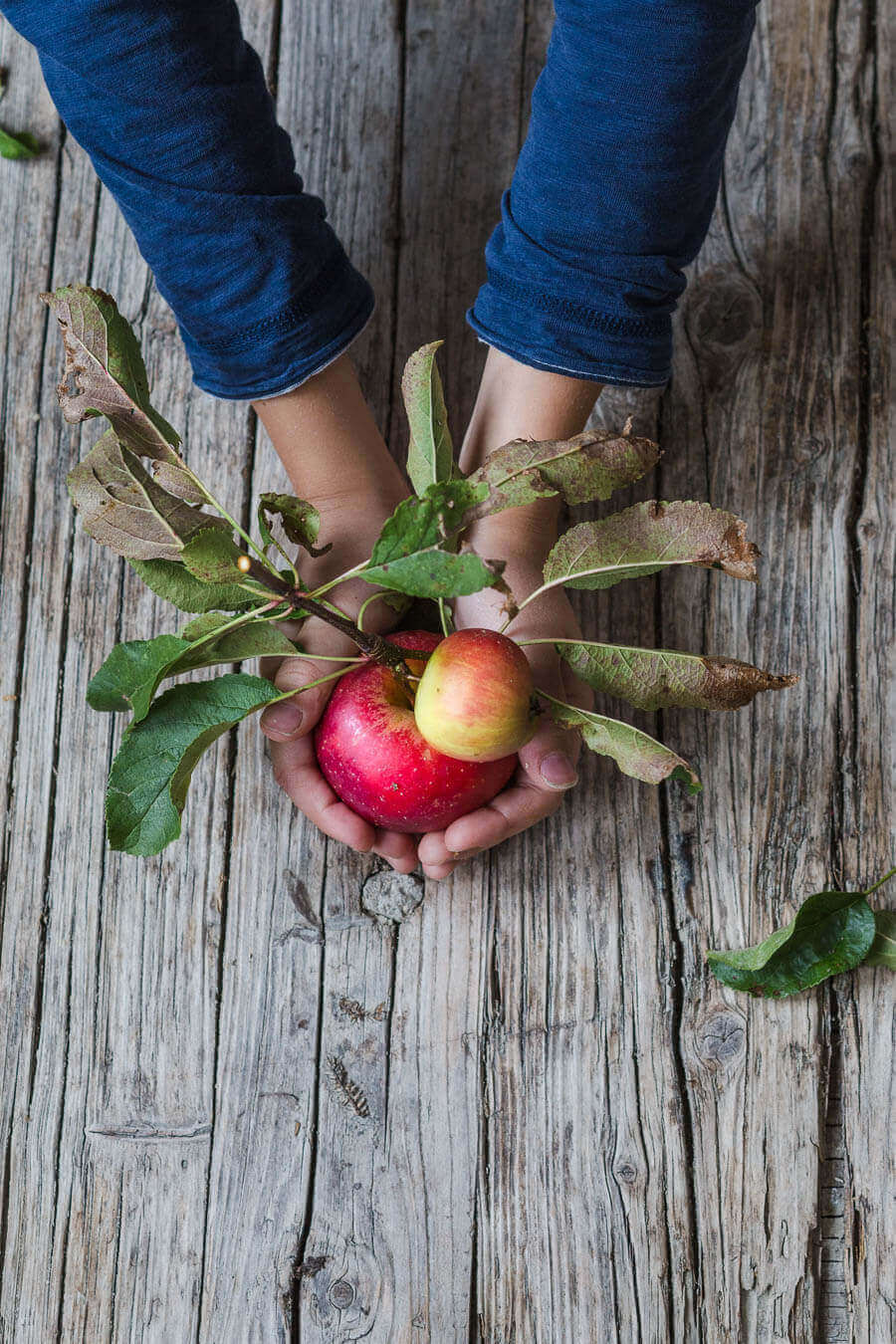 And the pancake?
The question from the beginning remains – what is going to happen to the pancake which is in the oven? I will continue baking it, but I'll start experimenting – one step at a time! Is it necessary to preheat the oven to top-/bottom heat or is it also possibly to use convection without preheating? I'll make an effort to combine all my baking and use the oven once it's already been heated. Making my bread or the muffins for the next day at that time instead of reheating the oven the next day again just because I didn't plan it right. I am sure that there are plenty of optimization opportunities. Here you go, now I have the recipe for you that made me think of my cooking and baking behavior… It is delicious! As soon as I tried it I will update and report about a more ecological way to bake it…. keep posted!
If you have ideas about climate protection in the kitchen… Proposals, experiences, inspiration, anything….write a comment and let me know!
Because that's what it's about here – from now on!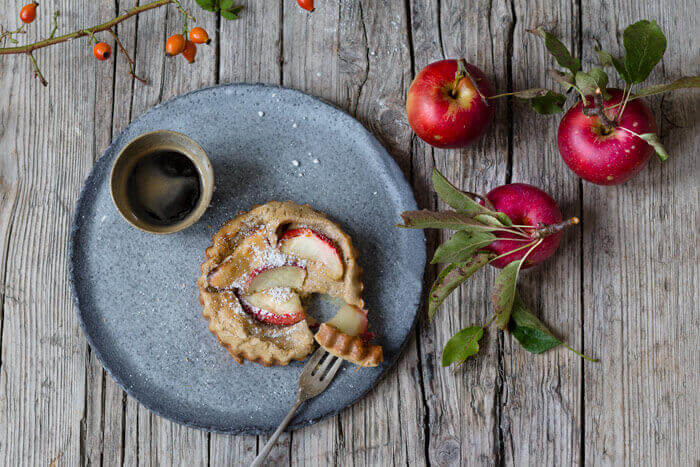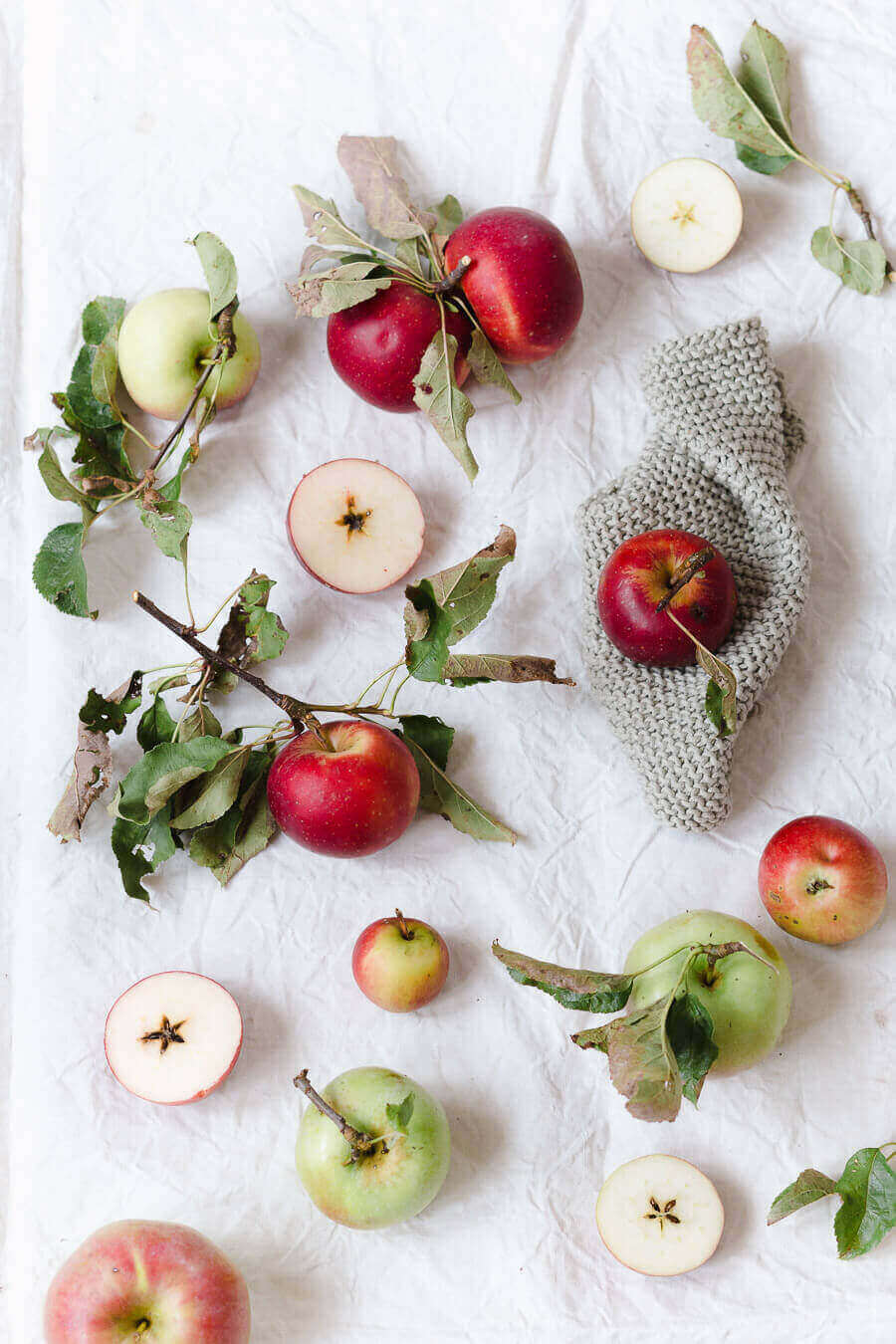 Apple Dutch Pancake From The Oven
2 apples, cut in quarters and slice thinly
3 eggs (M)
175ml whole milk or almond milk
125g spelt-flour
2 tbs cane sugar
1 pinch of salt
1/4 tsp cinnamon powder
1 1/2 tbs butter
Powdered sugar to garnish
Preheat the oven to 200°C top- and bottom-heat and place a grate
As soon as the oven has the right temperature place the butter (diced) in a slightly higher oven resistant pan. Let it melt – don't grease the frame!
Place the apple slices in the pan and add one tbs of cane sugar. Quickly close the oven and start preparing the dough.
Mix the flour, the remaining cane sugar, salt and cinnamon. Add the eggs and the milk and mix it with a whisk or a kitchen machine.
Carefully pour the dough on top of the apples in the pan and let it bake for 15 to 20 minutes. The pancake should rise and turn golden brown and starts to smell heavenly!
Take out of the oven, garnish with the powdered sugar and start eating it immediately because otherwise it will collapse and also it tastes best while still warm!