Get your greens!
Since I survived today's workout and of course as an ode to spring, I made a post-workout-smoothie out of fresh wild herbs! An ideal snack to "rehydrate" :-) after a good workout or just to refresh yourself in a healthy way.
It's worth taking a stroll through a (dog-free) fresh and juicy field. Wild herbs are just exploding right now – growing rapidly – and it's pure joy to just pick them up! My harvest contained camomille, bishop's goutweed, some common sorrel, veronica and stinging nettle. Some leftover lettuce and baby spinach from the fridge and there you go…
If you don't have time to pick the herbs yourself, you'll also get a good wild-herb-mix in well sorted organic market. My wholefood market just around the corner even has a fantastic readyly assorted wild-herb-smoothie mix. So, no more excuses!
For 18 weeks now I've been using "freeletics" – a body weight exercising program… really! It's an app, that allows me to confront and overcome my weaker self each and every week again. Additionally I have the help of the best sparring-partner-neighbour. There is no allowance for motivational lows – prepare your exercise mats, turn on the music and GO! The program gives you precise instructions with customized varying exercises for each week. Even though I have to swear in between, sweat a lot and often my entire muscles are sore and burn like hell… it's really worth it!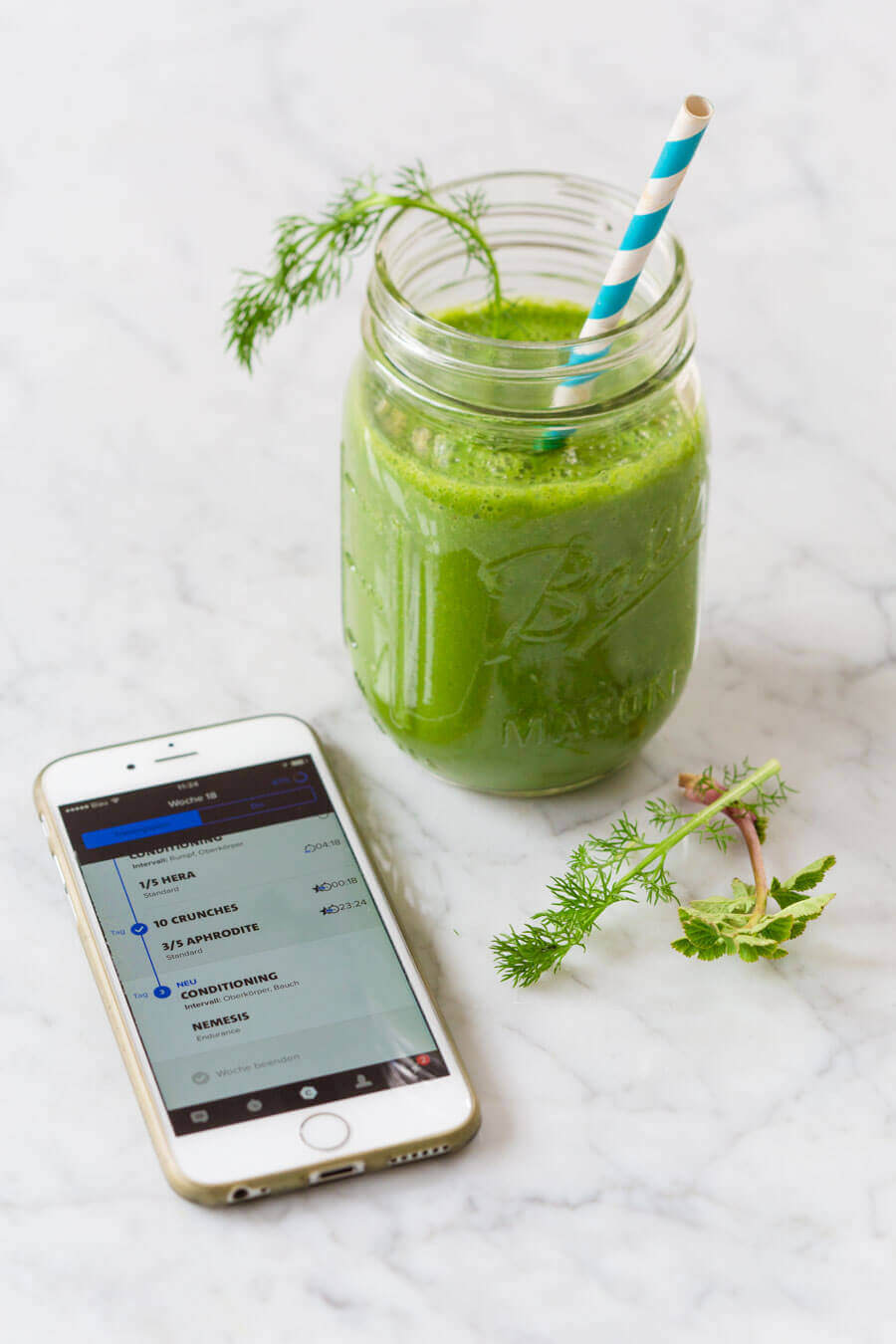 For me that's the perfect exercise unit that fits into my dayly routine. Combined with going for a run twice a week it is my ideal mix to have some strength and some endurance training.
The wild herb post-workout-smoothie is ideal in order to induce some energy after a good workout. Besides it also tastes good!
Wild herb post-workout-smoothie
3 handful of wild herbs, mixed with some lettuce
250 ml coconut water or your favorite nut-milk
1 frozen banana
5-6 dice of frozen mango
5-6 dice of frozen pineapple
Juice from half a lime
1 teaspoon freshly ground ginger
Rinse off the herbs and the lettuce. Add the liquid and the greens in a blender and mix on "high". Add the frozen fruit, the ginger and the lime juice and mix until it's nice and smooth. Pour in 2 glasses or drink up a giant portion all by yourself.
If you don't want to buy frozen fruit I recommend to dice up ripe fruits and but them on a tray, which you can put in your freezer. Once it's frozen you can fill it in ziploc bags and it won't lump up and it's easy to use whenever you need it as a smoothie base.
If you feel like getting a little more substance, just make a wild herb smoothie-bowl out of it:
Pour the green smoothie in a bowl  and add some popped amaranth, popped rice, a spoonful of coconut yoghurt and some frozen fruit and dig in. Another tasty alternative!