There it is – a rainy month of May. After a stunningly sunny weekend last week, we have a predicted rainy Whitsuntide ahead of us. I went running this morning and it started to drizzle – you know that kind of soft, fine, almost misty May-drizzle – and I was just telling my self, that this is the kind of rain, that makes you beautiful.
On the way back, I took a quick detour through our garden. The garden is about to explode – already drenched in a nice and juicy green, the columbines are beginning to blossom and the peonies are ready to open and display their beauty. That's why I brought home a small but well selected harvest plus a big smile, since fresh ingredients always make me happy!
I bought some baby-asparagus on the farmers market – delicate, fresh and simply beautiful. Exactly the right ingredient for an improvised lunch with mangold, arugula, turnip tops and fresh edible blossoms from the garden. Briefly fried in a little bit of butter and slightly caramelized and that's it. Some vinaigrette on top of the salad, sprinkle the blossoms on top and the only thing left to do is to enjoy!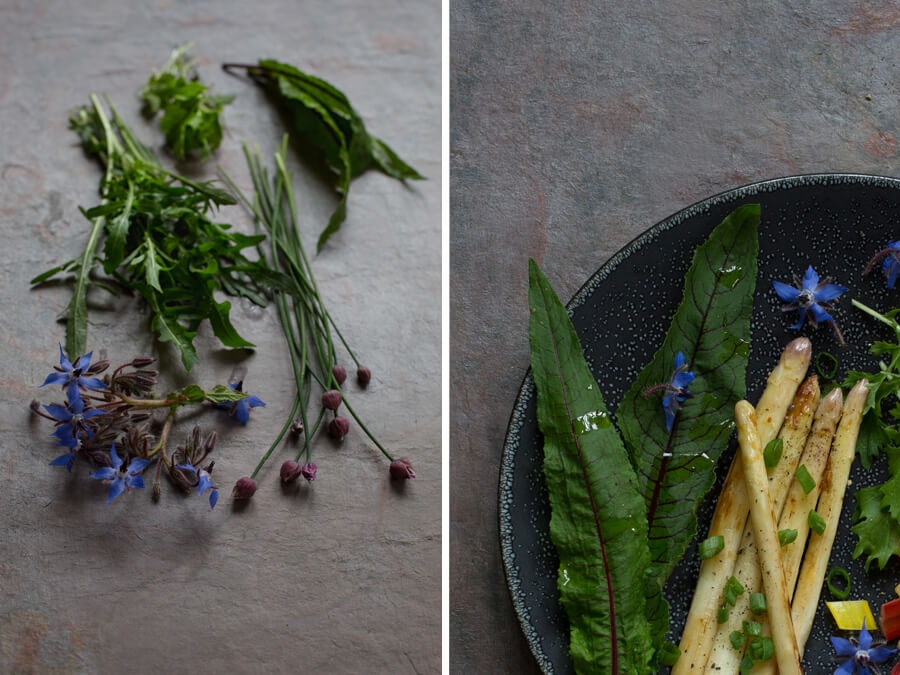 The small lilac tree is slowly growing, so that I allowed myself to clip some of the blossoms to take home. Lilac blossoms are wilting quite fast but the scent, they are spreading is dazzling… Also it perfectly matches my little desert: chia-strawberry-pudding with vanilla and homemade rhubarb sirup. Topped with the first elder blossoms, borage blossoms (for the color) and lilac blossoms. Some blueberries on the side – simply tasty! Enjoy the weekend despite the rain and make it a wonderul one.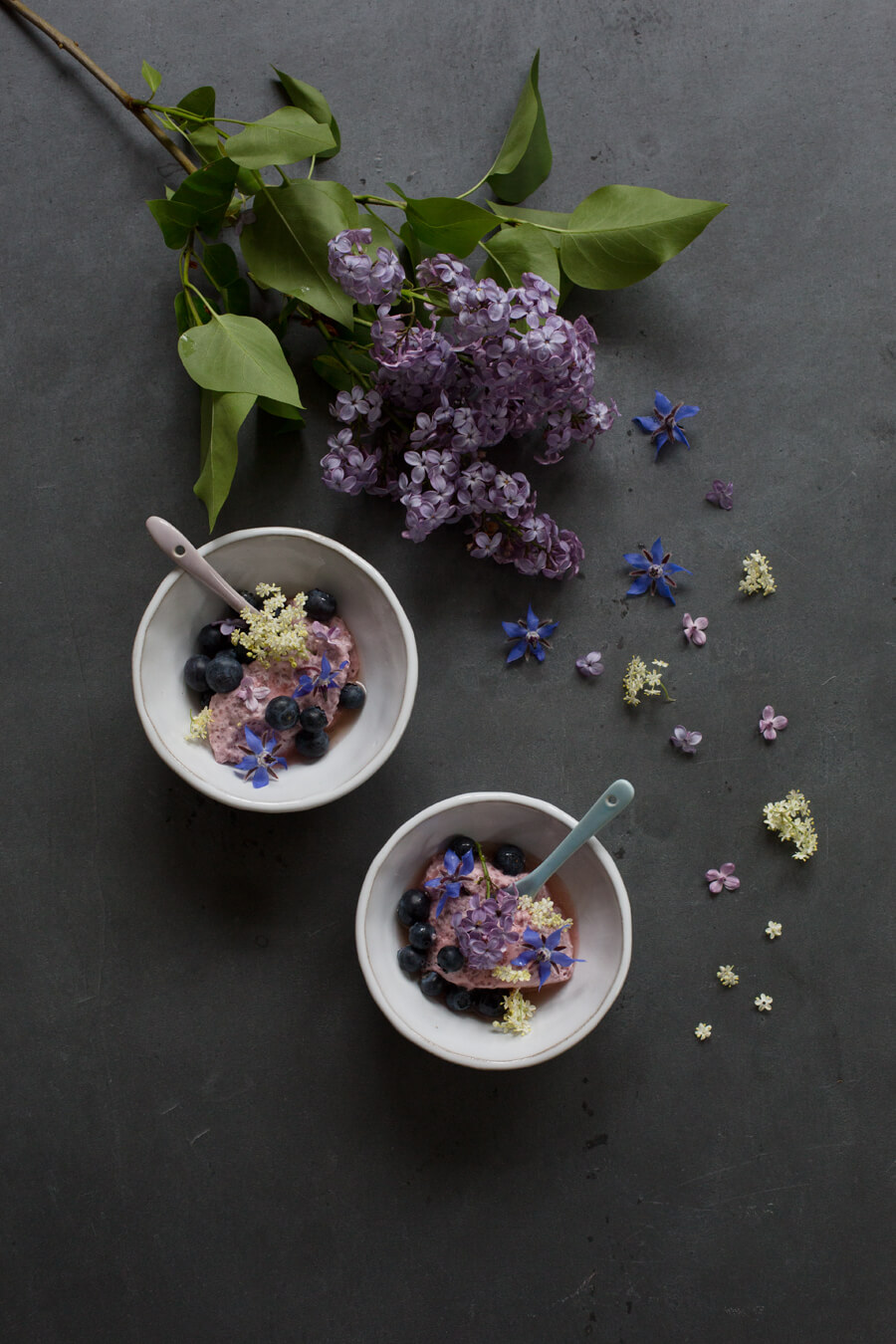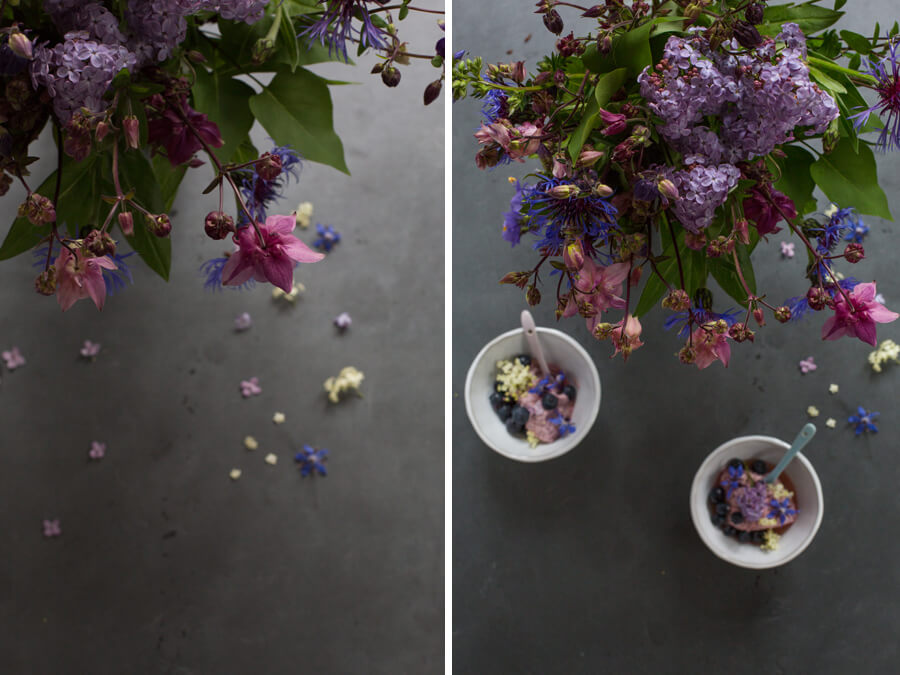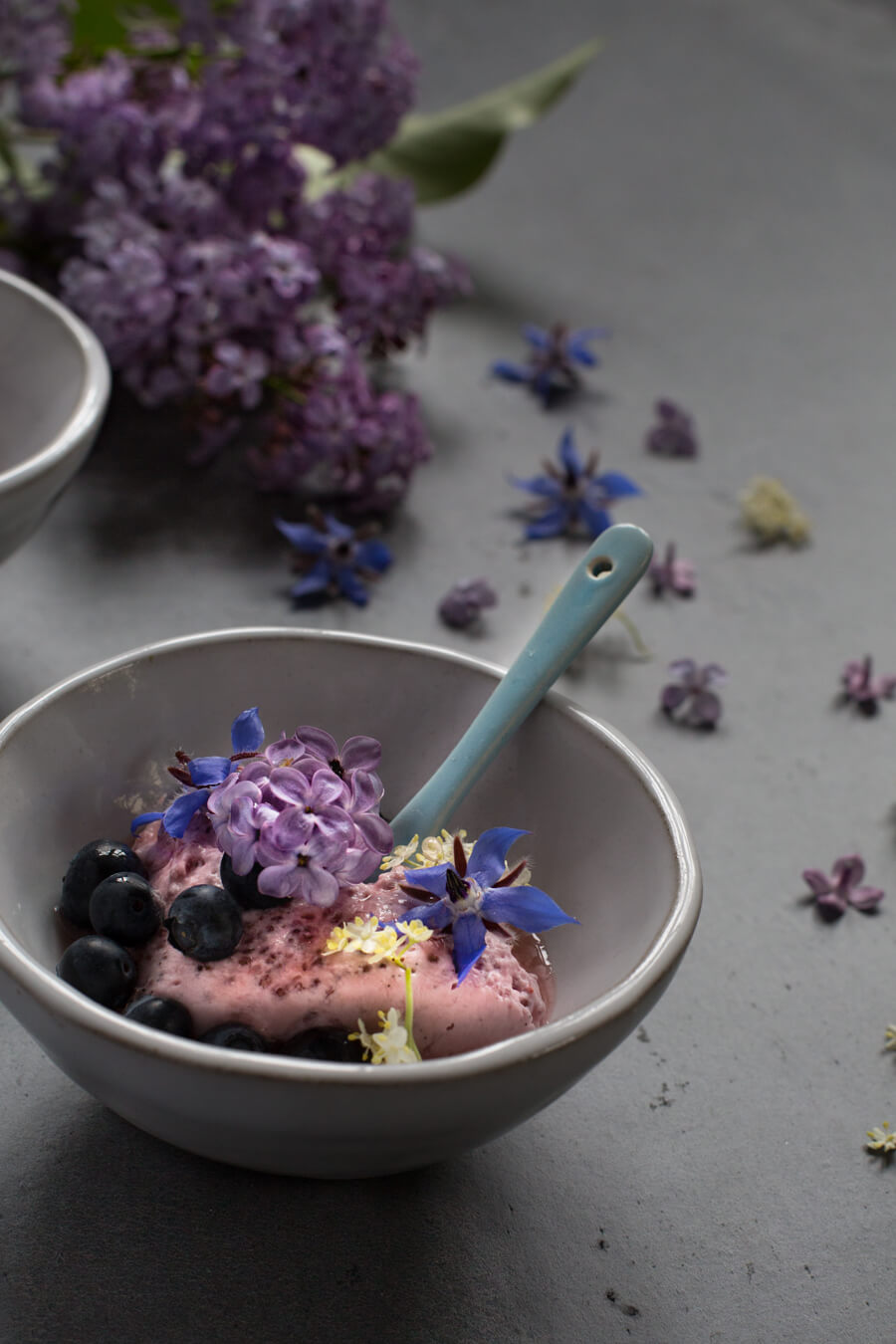 Chia-Strawberry-Rasberry-Pudding
400 ml coconut milk
1 handful of (frozen) rasberries
1 handful of strawberries
seeds of a vanilla bean
4 tablespoons of chia seeds
Use a blender to make a smoothie out of the coconut milk, the berries and vanilla. Add the chia seeds and stir them up in the "smoothie" and portion it in serving-size glasses. Let it sit over night (at least three hours) in the fridge. The tasty mix turned into a pudding – it's magic!
To taste you can pimp this desert with rhubarb sirup. I chose the recipe from the "Einmachbibel", a beautiful book which I was fortunate to be able to shoot with Sandra last year.