It is Wednesday morning and outside it is snowing again. Slowly, in a beautiful way. The snowflakes seem to dance and it makes me smile to watch them. Only the asphalt is not cold enough, so once touching down to earth the snow melts right away! So sad. I wouldn't mind an extra round of Winter right now. But only with the right amount of snow, to go skiing, sliding…
The way it is, people are getting grumpy. The mid-February feeling arrived. Everybody seems to be tired all the time, longing for sunny days, and desperately waiting for spring to arrive. It will take a few more weeks, that's for sure so right now it is all about staying energized. Half of the people I now in my surrounding are suffering from a bad cold – so my main goal is to boost my immune system!
After being out for a nice run, I prepared myself a beautiful Açai bowl. I love to have them in the morning, packed with vitamins, fresh fruits and some energy flakes. Whenever I do the energy balls  -and I do them quiet often these days- I get tired on a certain point to roll the little balls. So what I do is to store the rest in the fridge and use it as a topping for smoothies, yoghurt….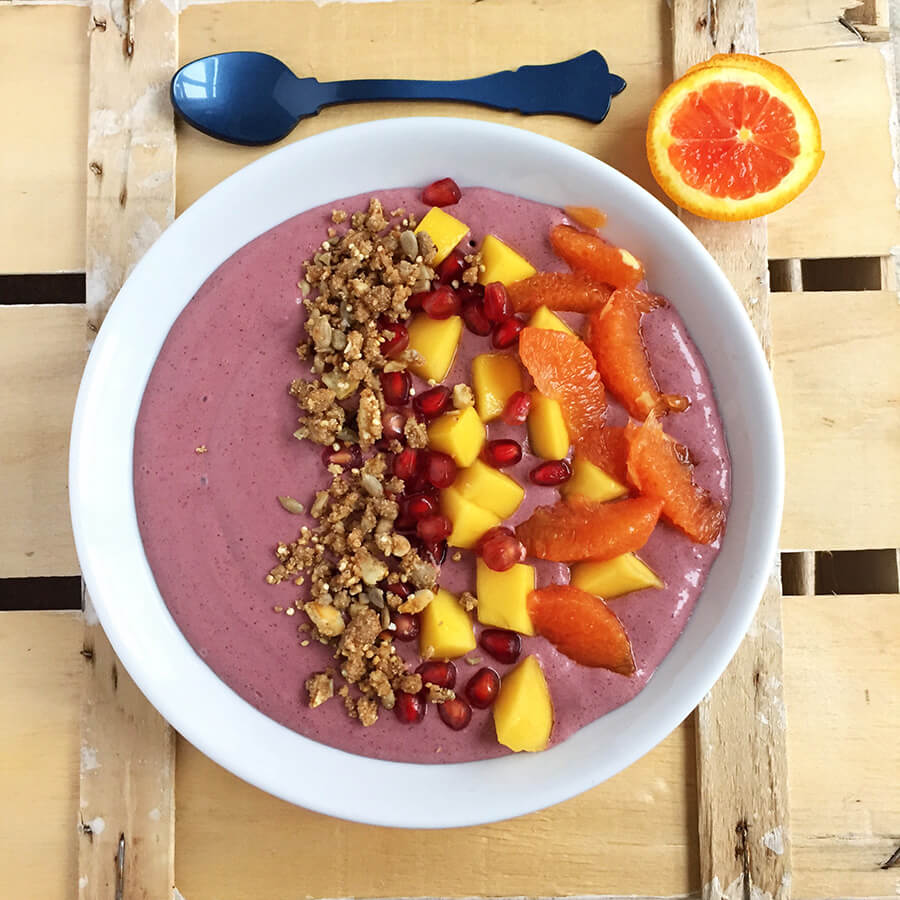 There are countless possibilities to prepare your Açai bowles. Mine is made out of a handful frozen strawberries, 1 banana, 1 tablespoon almond-tonka-cream, 2 tablespoons Açai powder, some yoghurt and a little bit of coconut milk. Mix it for one minute in a blender and top it with whatever you have handy. In my case it was mango, pomegranate (I told you I am addicted), orange and energy flakes. So good. So healthy. So energizing!