So what happened to my royal icing post? To be honest, I need more time to write and shoot a post about such a wonderful theme. We had a really nice baking afternoon last Friday, it was a joy to teach. At around 6pm my boys came home and we were still decorating with all kind of different icings. Can you imagine how their eyes started to glow? I couldn't count until two and the 2 older ones were sitting right next to us and started to decorate. And seriously, I was impressed how concentrated and focused they were working. They even used my tweezers to put tiny little golden pearls on their cookies and the results were outstanding cool! Unfortunately it was really dark already and I couldn't get a nice picture before we packed them away. They are on their way to be a little christmas surprise somewhere far away from here… psst surprise!
We spend the rest of our weekend remodeling the boys room. We painted it (and that meant to get all their stuff from their room to our living room where we literally couldn't do a step in then. Toys, toys, toys…) We rebuilt a bunk bed, and there is one to follow and there was no more time to plan and photograph my royal icing post. I got quiet sad about it, when I realized my whole week is full of appointments and I won't have a chance to work on it. And there are so, so many things I want to do.! Especially the weeks before Christmas are ALWAYS to short, don't you think? I want to take time to celebrate this time of the year with my family, to sit down, light a candle, eat cookies, drink hot chocolate. I want to craft with my two older boys, which is quiet a challenge, regarding that our youngest wants to do everything they do… I want to have time to think about little presents, to think about how we can spread the love… I don't want to feel stressed because of Christmas being around the corner. So I decided to focus on my family for the next weeks, and this means there won't be all the lovely, long and full of picture posts I have in mind. But that's ok. Next year, I'll be better prepared.
I am recently taking part of Christina Greves Jumpstart 2015 online workshop. You all know I already took 2 of her workshops this year, but this one is not only about photography. It is about getting ready for an excellent and successful and happy year 2015. Christina is not only an amazing photographer, she is a brilliant coach. She talkes about self-confidence, about what purpose we want to have in this life and as well about those embarrassing things like business plans! And you know what? She does it in a way, that I really have the feeling I can do it. I never thought something like:" ok that sounds good and easy for you, but how should I make it?". No! Christina is honest enough to tell us how difficult things can be, and how often we need to add another scoop of becoming active  to let our dreams come true. But while I am listening to her I really feel that I can do this. We do have homework, there are a lot of worksheets to complete. And it is amazing how important it is to write goals, feelings, actions down! It gives them a totally different value and I really have to think about all the lessons and all the information. So a big thank you to Christina, who actually is teaching more than 1000 women in this workshop for free.
Ok, I have one picture and two recipes for you today:
A Pinenut-Porcino-Risotto and a Winter Pesto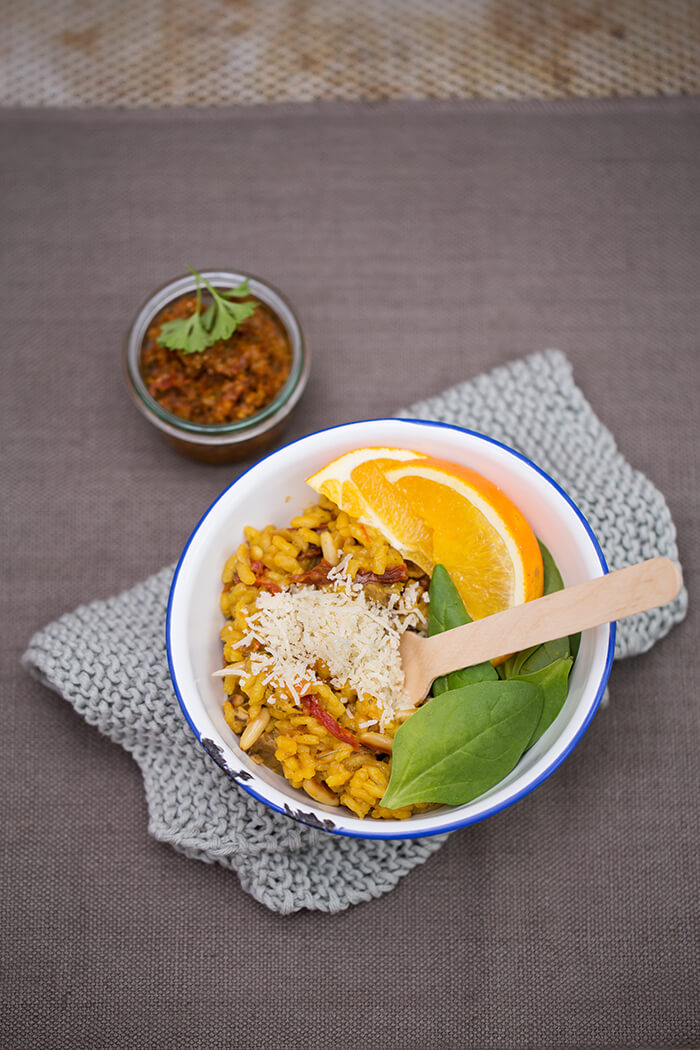 Print Pine nut and Porcino Risotto!
---
Description
Comfort food at its best!
---
dry ingredients:

60 g

pine nuts

20 g

dried tomatoes

15 g

dried porcinos

2 tablespoons

dried soup greens

250 g

risotto-rice

1 g

saffron

1

bay leaf

1 teaspoon

dried rosemary needles

1 teaspoon

Fleur de sel

1/2 teaspoon

fresh ground pepper
fresh ingredients:

2

shallots or

1

small onion

1

glove of garlic

800

ml vegetable stock

1 tablespoon

Olive oil

40 g

fresh ground parmesan
---
Instructions
For the Risotto Mix:
Roast the pine nuts in a pan without oil until golden
Cut the tomatoes in fine stripes
Cut the portions in small pieces
Mix all dry ingredients together. this is also a perfect little gift!
To cook:
Dice the shallots and roast in the heated olive oil until slightly golden.
Add the risotto mix and stir for 1 minute
Slowly add the vegetable stock, just as much as needed to let the rice boil
Constantly stir and add vegetable stock as soon as more liquid is needed.
This procedure will take about 20 minutes.
The risotto should be creamy but not overcooked.
Add parmesan and serve immediately
If you want add a teaspoon of the red pesto to each portion, it tastes delicious together.
---
For the red pesto mix together 100 g of chopped walnuts, 80 g of dried tomatoes in oil (dripped off), 2 gloves of garlic, 1 bunch of parsley, 40g fresh ground parmesan, 120ml Olive oil, salt and pepper. It is easiest to use a food processor, otherwise just try to cut everything as small as possible! Put in a clean container and stored in the fridge, the pesto will keep fresh for 3 weeks. Always cover it with oil!
This is excellent autumn and winter food,try it out and have a happy Friday!