We spent the weekend on a field trip with almost all families from our kindergarden. We were living in little huts, some were camping and there is always a camp fire going on. Each year our kids absolutely love to be there and we barely see them – at least the two older ones –  as they are so occupied playing in the woods, collecting fire wood, playing soccer… It is such a nice way to get to know each other better and to give the kids some remarkable memories.
But to be honest it is also a bit exhausting .-)… And so I had a huge craving to eat something fresh and full of vitamins to infuse myself with fresh energy! A friend of mine who was also at the trip came over for lunch and I decided to make a quick and easy asian style salad.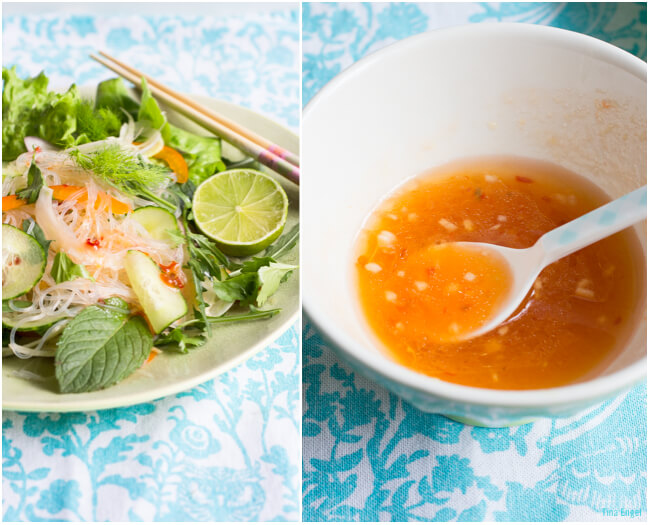 Serves 2
100 g mung bean vermicelli 

1/2 english cucumber, washed and thinly sliced ( use a mandolin if you have one)

1 small fennel bulb, green cut off and saved to garnish, core removed and thinly sliced (mandolin again)

1 orange pepper, seeds removed, thinly sliced

1 red shalott, thinly sliced

2 handfuls arugula

4 big leaves green salad

about 20  mint and cilantro leaves
For the sauce:
1 inch piece fresh ginger, peeled and finely grated

1 garlic glove, minced

Juice of 1 lime

3 tablespoons sweet chili sauce
Soak the vermicelli in hot water for 3-5 minutes, drain and let them cool down. For the sauce mix all ingredients together in a bowl. In a larger bowl combine all the other ingredients and add the sauce to taste. Garnish with the fennel green and enjoy!