When I woke up on monday morning, I felt like I needed to take a picture instantly. So while getting the kids dressed, making breakfast and lunch boxes I was constantly thinking what I could shoot. I knew, the day would be packed with different appointments, so the time window to realize my wish was tight. As a close friend of mine was coming to visit with her boys in the afternoon, I finally decided to make some muffins, as our kids are always hungry! On the way back from kindergarden, I grabbed some rhubarb, as it is one of my favorites in spring and I also couldn't resist to take some raspberries, to make the muffins a bit sweeter and more likable for the kids.
I never did rhubarb-raspberry-muffins before and I was eager to try something new. And a s I mentioned earlier I LOVE rhubarb, so I wanted to get as much as possible of it's flavor into my muffins. So I decided to cook some of the rhubarb and to put it as a purée into my dough to make the muffins nice and juicy. And it turned out great!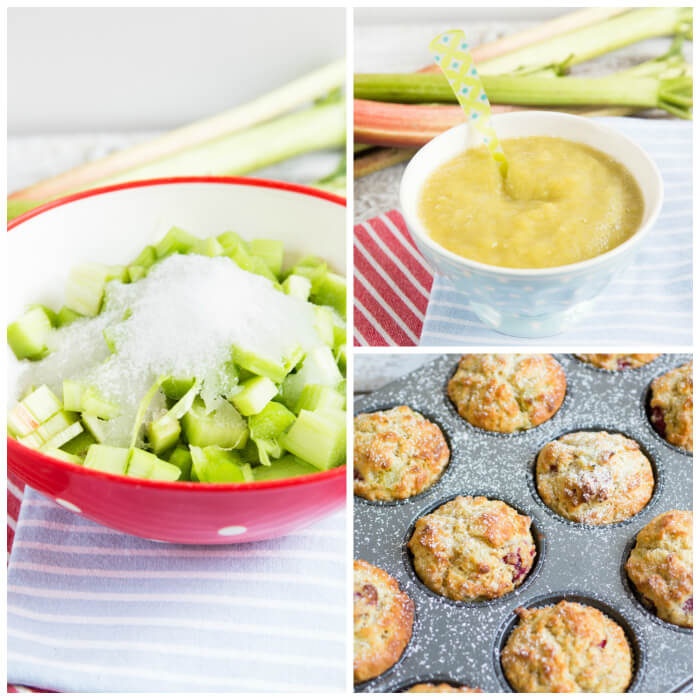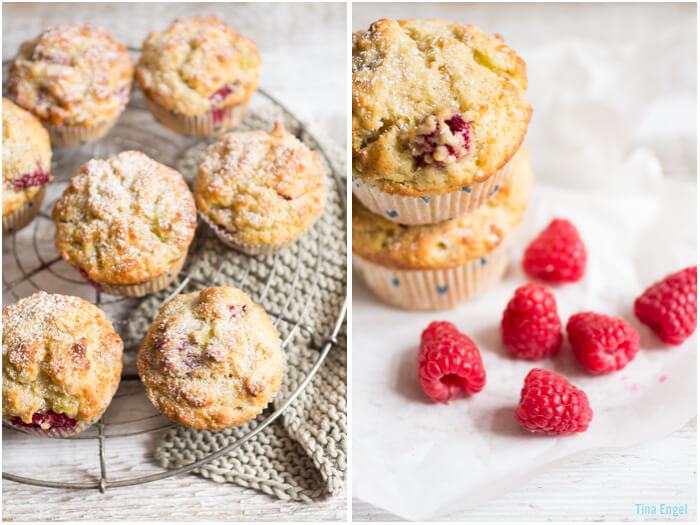 So this was done in one hour… sounds great, no? But to make it clear, the baking and shooting was done in one hour, while our youngest was asleep. And then the time to play for me was over, and there was not a minute left to edit or upload the images. To write a post ? Well not even thinkable. These are the moments where I have to recall myself, that this blog is going to grow slowly. That I would love to post and post and to shoot lovely pictures and to cook and bake…. But to be honest it is still a clear decision that I am staying at home with our 1 year old little boy and that the afternoons are full of energy and joy with all 3 boys. So my time is limited and even though it is sometimes hard not to be able to do what I want to do in the same second, I am still very happy to be able to live this life in exactly the way I do. So please be patient with me and this little blog…
So here comes the recipe:
300 g rhubarb

100 g sugar
Peel the rhubarb, add the sugar and bring to boil on low heat. Stir and stew until soft. Purée and take 120 g for the recipe, the rest you can enjoy in plain yoghurt – also very delicious…
Preheat the oven to 180°C and have the muffin molds ready. I always use paper forms in the muffin molds.
320 g wheat flour

2 teaspoon baking soda

1/4 teaspoon salt
Combine all dry ingredients.
125 g butter

100 g brown sugar

1 teaspoon vanilla sugar

2 eggs

120 ml buttermilk

50 g finely sliced rhubarb

100 g fresh raspberries
Melt the butter, add the sugar and vanilla sugar and whisk together. Add the eggs and buttermilk and combine everything shortly. Now add the rhubarb compote and the dry ingredients. Combine carefully and don't overdo it, it's ok to see some flour left. Fold in the diced rhubarb and raspberries. Fill the muffin molds and bake the muffins for 20 minutes or until cooked. Remove from the oven and let cool.