Fancy something sweet? Then I have a little delicacy for you today! Raspberry Bliss Balls are the perfect treat! They taste divine, are full of healthy ingredients and look beautiful on top. The perfect little gift from the kitchen, to treat family and friends.
What are bliss balls?
Bliss Balls are usually made of a few raw ingredients that are mixed together in a blender or food processor and then rolled into small power balls. They come in endless varieties and are often called energy balls, or no bake energy bites. But I think bliss ball sounds particularly pretty! Either way, bliss balls are a great source of energy and are such perfect little snacks. I like to make them in a big batch and freeze them. Because of the dates, you can eat them straight out of the freezer without them being rock hard.
Ingredients :
Medjool dates
Cashew broken or whole cashew nuts
frozen dried raspberries
white almond paste
I admit, we are dealing here with a noble version of the bliss balls, because the ingredients are not quite cheap. Therefore, they are a real "treat" in our house.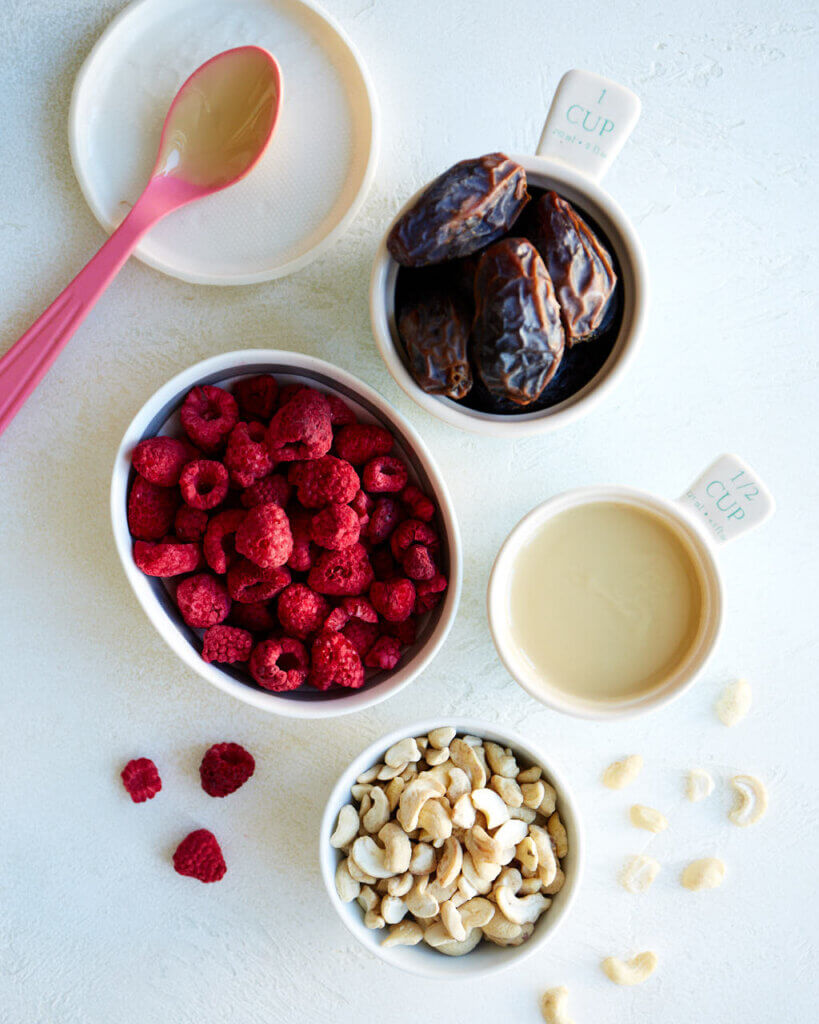 Why you'll love raspberry bliss balls:
You only need 4 ingredients and a blender / food processor.
These little power bites are gluten and grain free, naturally vegan and require no refined sugar
Bliss balls freeze well and can be stored in the freezer for up to 2 months. They even taste great right out of the freezer!
How to make raspberry bliss balls:
Pit the Medjool dates and cut them in half if necessary. It depends on the power of your blender. I have been using this food processor for many years and love it dearly. There is actually not a day that goes by that it is not in use. Who does not have a powerful blender / food processor, but works with your immersion blender, I can recommend the copies of Kenwood.
In any case, the less power your blender has, the more work you have to do yourself. In this case, that means chopping the dates as finely as possible. It's a sticky business, but it's worth it.
I put all the ingredients together in my magimix and it chops reliably everything small. Looks a bit like minced meat – but tastes waaaaayyyy better!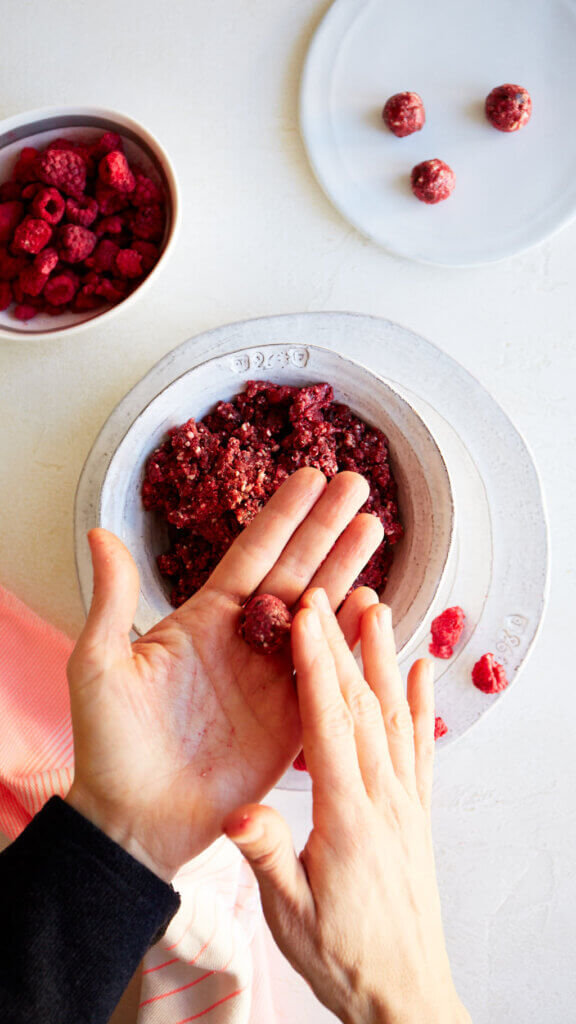 From the mass now form small balls. I make them really small, because that's how I find it most delicious. And since they are so noble…
At the end I roll the raspberry bliss balls in raspberry dust. I make this by finely crushing some freeze-dried raspberries or grinding them to dust in a small blender. As I said, this also works very well with a mortar, the raspberries are so delicate, they almost crumble into dust just by looking at them.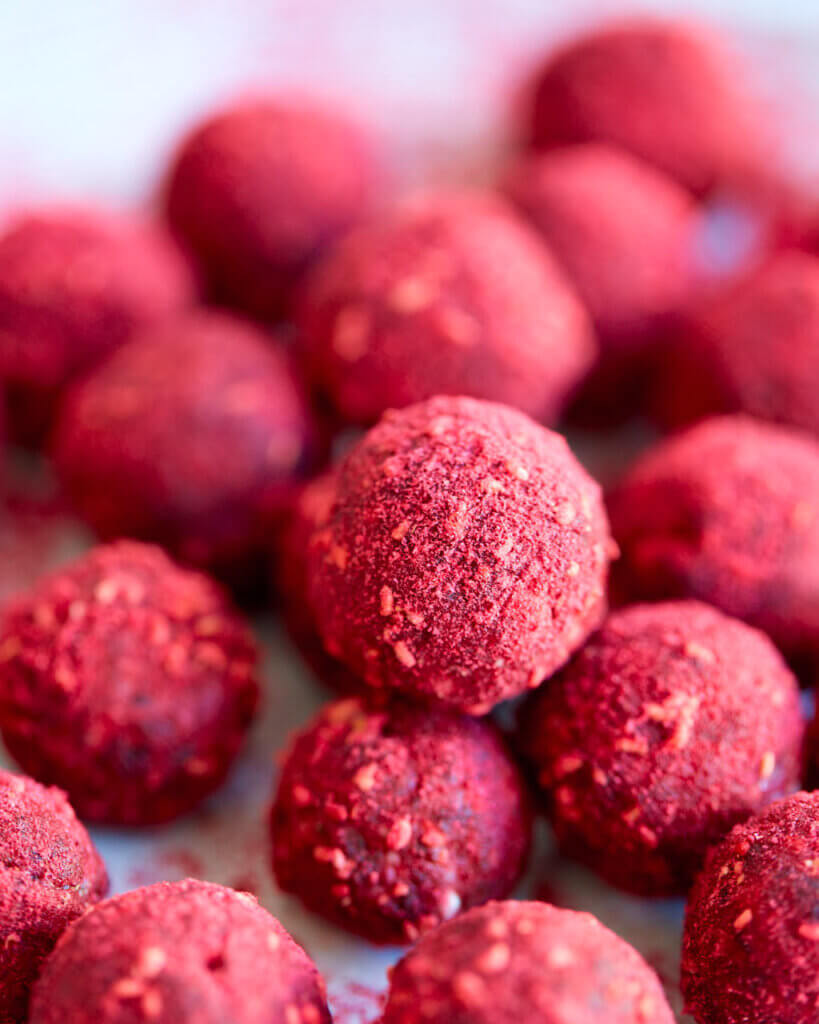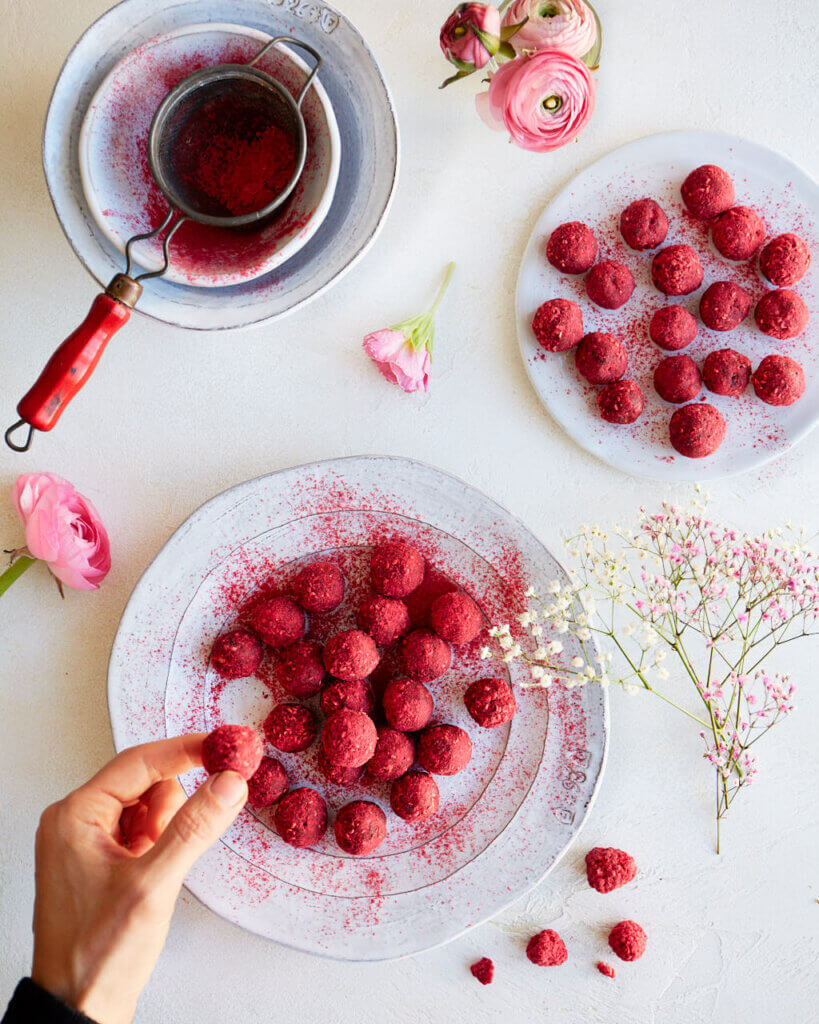 Print
---
Description
The raspberry bliss balls are in no way inferior to a chocolate! in our family, they go so rapidly – I usually make at least the double quantity!
---
1/2 cup

(

50g

) broken cashews or whole cashews

1 cup

(

90g

) Medjool dates

1 Cup

(

20g

) freeze-dried raspberries + 1/2 Cup for the raspberry dust

1/2 cup

(

110g

) white almond butter
---
Instructions
Pit Medjool dates, chop if necessary.
Blend all ingredients in a blender or food processor to a bound mass
Form small balls
For the raspberry dust, process the freeze-dried raspberries into dust in a mortar or small blender
Roll bliss balls in the raspberry dust (I like to put some raspberry dust in a small bowl, put the ball in and let it roll back and forth a bit.
Store in a cool place or in the freezer
---
Notes
Bliss Balls are great for freezing and you can snack them straight from the freezer.
Print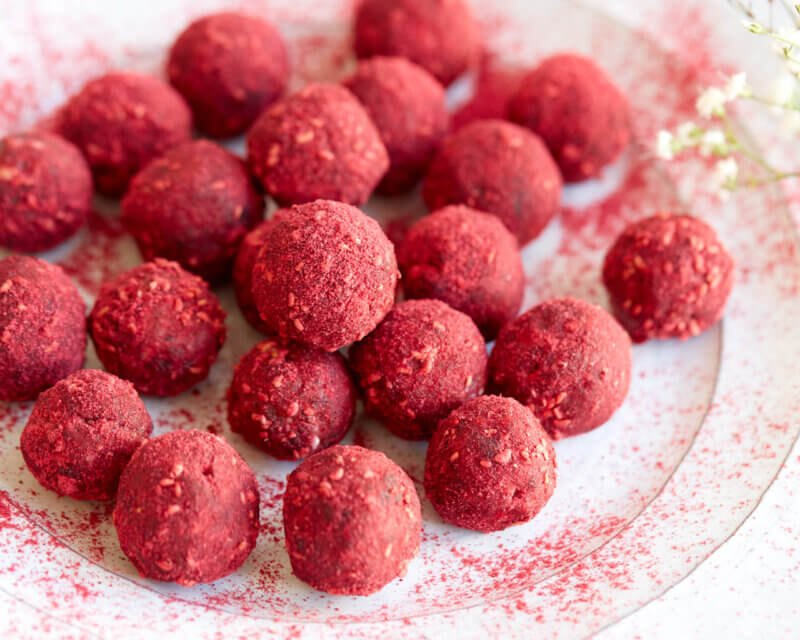 Himbeer Bliss Balls
Author:

Prep Time:

15

Total Time:

15 minutes

Yield:

20

–

3

0

1

x

Category:

Snack
---
Description
Die Himbeer Bliss Balls stehen einer Praline in nichts nach! Bei uns gehen sie so rasant weg – ich mache meistens gleich die doppelte Menge!
---
1/2 Cup

(

50g

) Cashew Bruch oder ganze Cashews

1 Cup

(

90g

) Medjool Datteln

1 Cup

(

20g

) gefriergetrocknete Himbeeren + 1/2 Cup für den Himbeerstaub

1/2 Cup

(

110g

) weißes Mandelmus 
---
Instructions
Medjool Datteln entkernen, eventuell etwas zerkleinern
Alle Zutaten in einem Mixer oder Food Processor zu einer gebundenen Masse verarbeiten
Kleine Kugel formen
Für den Himbeerstaub, die gefriergetrockneten Himbeeren im Mörser oder mit einem kleinen Mixer zu Staub verarbeiten
Bliss Balls im Himbeerstaub wälzen (ich mache gerne etwas Himbeerstaub in ein Schälchen, lege das Bällchen hinein und lasse es etas hin und her rollen.
Kühl lagern
---
Notes
Die Bliss Balls lassen sich hervorragend einfrieren und auch direkt aus dem Eisfach naschen.
Keywords: Himbeer Bliss Ball, Energiekugel, Energiebällchen, energy ball, bliss ball,