2018 is here!
Wow, a whole new year is ahead of us. Isn't that wonderful? Before we turn to the delicious, creamy sweet potato-carrot-soup, a few thoughts:
The Christmas holidays are over and today I had to wake up the whole gang again.  Sleep-drenched figures needed to be guided to find their way to get dressed and have breakfast. But it went better than expected, after a short recovery phase, all became quickly alive and everybody left quiet happy the house to school, kindergarten and work. Cool!
After 14 days off, I'm always a bit worried and especially in January, I tend to let myself be intimidated by my biggest obstacle: TIME.
It's probably because my goals, desires and fantasies are about to explode at the beginning of a new year! I just want to realize so many things and get it going! And then those little devils come hopping on my shoulder and whisper in my ear:
"Forget it! You have no time! When do you want to do it all? You have only 4 hours of work per day! Plus household! The kids come home hungry from school and you still have to cook! … "
Blablabla and so it goes on and on. And I do listen to them! No, stop this now! These little devils should be surprised, what I can do in 4 hours !! The list is long, that's true. Realistically from the outside it will be difficult to dig through it. But the way is the goal, right?
For 13 years I have practiced Buddhism and countless times I have been able to experience with my practice, how mountains can be moved. Every step, every little deed leads towards the goal.
And that's why I decided to make 2018 a year of great success!
You do not have to run away now. This is going to be awesome! I can't wait to fill the days with experiences and deeds. The one or the other steep climb will be there, or a raging river without a directly recognizable bridge. No question. And nobody says that it will be easy …
But everything is possible and I personally want to make an inner development towards openness and joy in 2018. Because one thing is clear to me: whenever I take action with a strong state of life, great things happen!
That's why I shake off the devils now and write this post for you. I don't care that at the same time I want to make the apartment shine, clean out my wardrobe, fix up the blog, edit the pictures of the last 4 weeks, set up a newsletter for you, write an e-book, cook and try recipes and do so much more. 
Wonderful, it won't be boring in 2018!
Sweet potato-carrot-soup
To keep us all energized to tackle our goals and wishes, there is a soup recipe today. Because even if the days are getting longer (jippih!), the extra portion of sun on the plate never hurts!
The recipe also works if you have only sweet potato or just carrots or just pumpkin in stock. Or just a sweet potato and more carrots to be consumed. This makes the soup wonderfully suitable for everyday use and a lot of variations.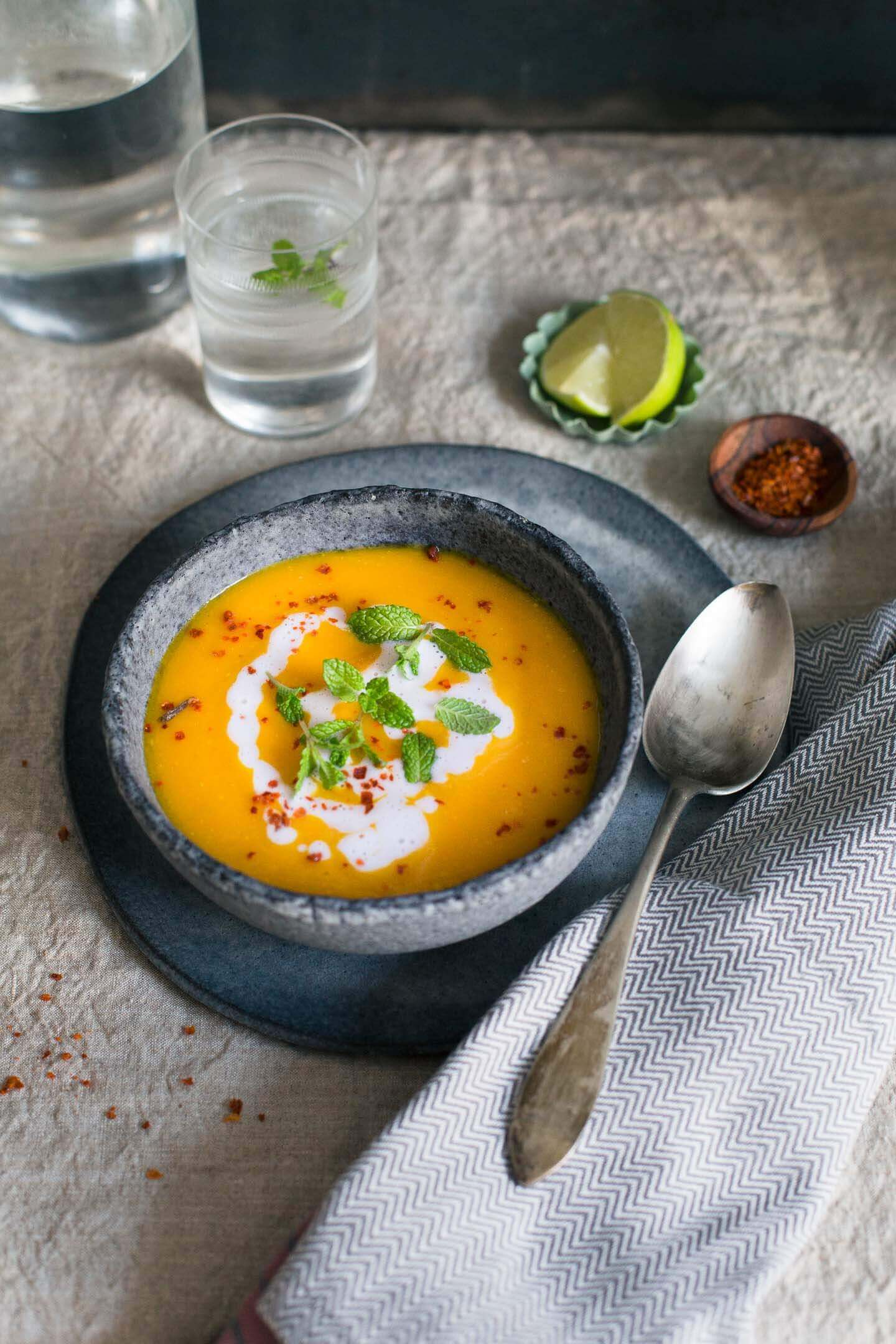 And oups, the first obstacle is already there! In the new blog format, the recipes can no longer be formatted as before! Murgs! Ok, I've been wanting to bring in a clear, beautiful line here for a long time, just how can I make it happen quickly now? The "You have no time – devil", rubs his hands and is jumping on my shoulder again!
So I can announce another decision now :-): I will try to throw my perfectionism overboard. Not that I do not care about it now, no, no. But I will publish this post anyway, even if the recipe for the sweet potato – carrot – soup is initially formatted totally stupid. You'll have to live with that right now …
Sweet potato-carrot-soup , 6 persons
300 g of pumpkin peeled and roughly cut

4 large carrots, peeled and roughly cut

2 large sweet potatoes, peeled and roughly cut

1 onion, peeled and diced

3 cloves of garlic

rapeseed oil

1/2 teaspoon chilli flakes
1.5 liters of water

6 teaspoons granulated vegetable stock

1 pinch of salt
400 ml canned coconut milk (attention, preserve a bit to serve)

1 lime, juice squeezed

1-2 tsp apple cider vinegar

1-2 tsp. cumin

2 cm fresh ginger, grated

1 tsp turmeric

fresh mint

salt and freshly ground pepper
Heat a dash of rapeseed oil in a large saucepan, sauté the onions and garlic until translucent. Add the pumpkin, sweet potatoes and carrots and fry for a minute. Sprinkle chili flakes over it and pour in the vegetable broth. Bring everything to a boil and simmer for 15-20 minutes until the vegetables are tender.
Remove the soup from the heat and puree with an immersion blender.
Now put the soup on the stove again, reduce the heat and add the remaining ingredients (except  the lime juice). Let simmer again for about 10 minutes, so that the aromas of the spices can develop.
Season with the lime juice, distribute in bowls or deep plates. Garnish with the remaining coconut milk and a few mint leaves.
Woah, publishing it just like that is really hard for me! You, however, have the opportunity to cook a delicious soup today! Therefore, bye bye perfectionism, hello everyday!
If you feel like having soups, have a look here ! Or here ?