No gifts yet? Put yourself into the kitchen!
Gifts from our kitchen have become a tradition by now – they almost gained the status: classics. Whoever is still behind or wants to give something extra, ride along, I got something for everyone. Sweet or savory, quick and easy, you name it!
Bacon-salt
Let me start with the bacon-salt. Personally I love different kind of salts in all kind of variations, that's why a new combination is on my kitchen classic gift list almost every year. Last year we made some pomegranade-salt – refreshingly different in taste and great in colour! This year I chose something rustic and really savory: bacon-salt added to fried potatoes, salads, soups…. really gives this hearty note to it. So for you vegetarians or vegans, just skip this one and scroll on down to the next recipe….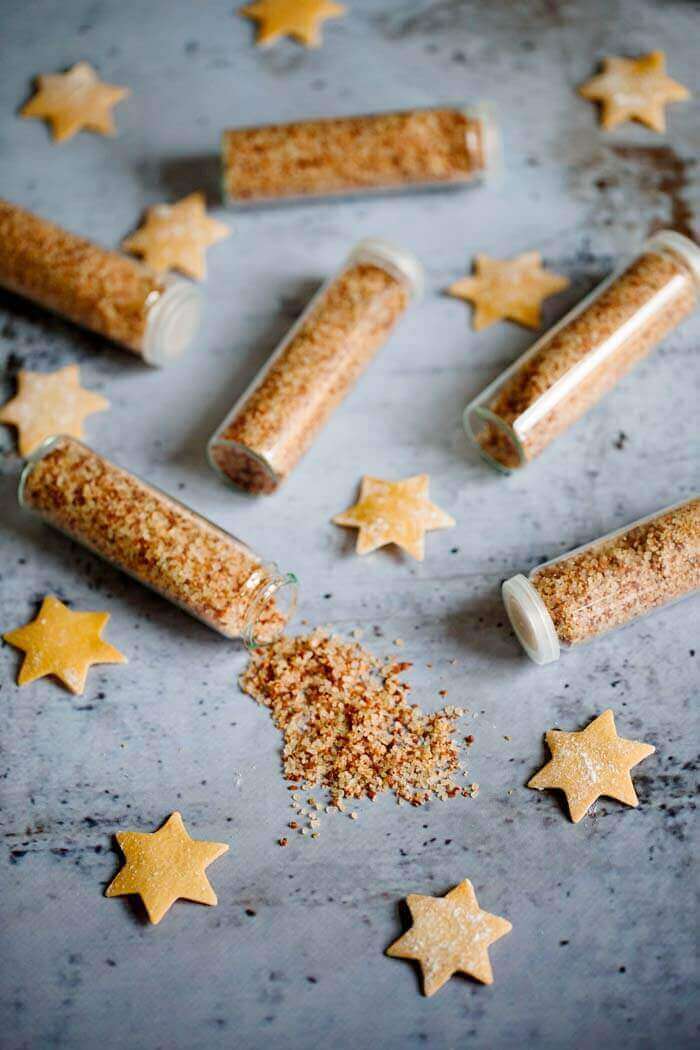 Bacon-salt
300 g bacon
400 g coarse sea-salt (finest quality)
Prepare the bacon on the BBQ (friends of winter-BBQ), in a pan, in the oven or even in the microwave until its completely dry and crisp. You can use some paper towels to soak up the last bit of fluid (fat). Add the bacon and the salt in a blender / food processor and blend it. I used little glass tubes with a lid as a gift size. Fill it and you're all set!
Almonds – sweet or salty, the perfect little snack
Movie-classics and emotional tearjerkers are on the TV-program – there is a need for some snacks! So why not pimp a pack of almonds both sweet and also salty, pack them in little bags and have them as a tiny thoughtfulness ready for anybody in need for some soulfood. They are a great energizer if you run out of energy while wrapping all those presents…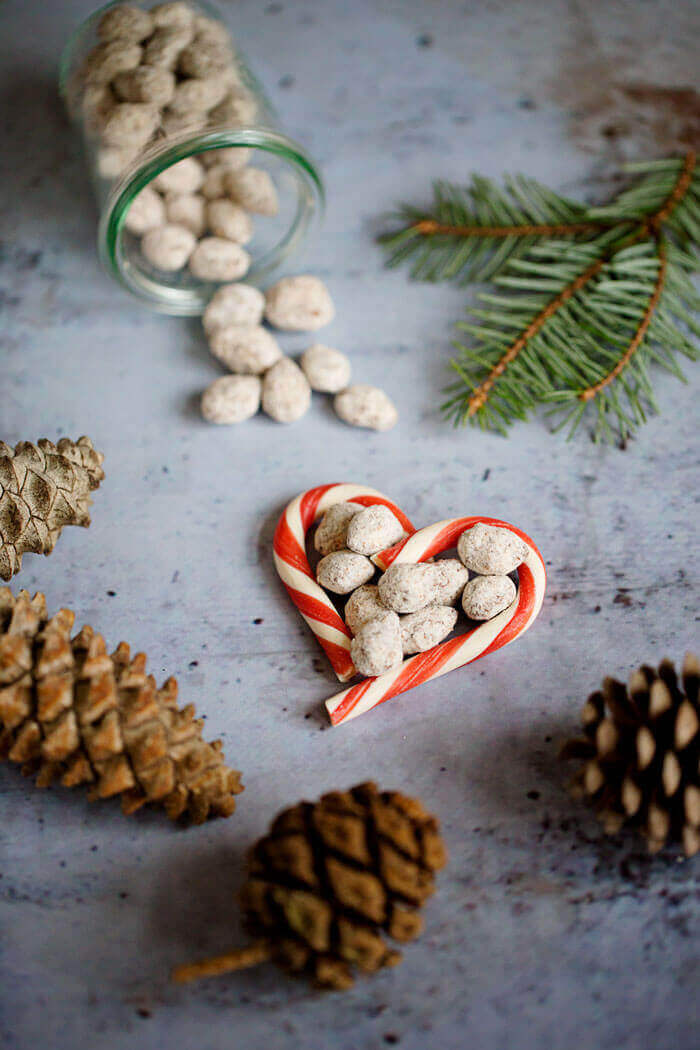 Chocolate almonds
400 g almonds
100 g milk chocolate
100 g dark chocolate
Zartbitterschokolade
2 tsp cinnamon
1 vanilla bean
200 g powdered sugar
Spread the almonds on a baking tray, sprinkle with 2 tbs powdered sugar and roast them in the preheated oven for approx. 20 minutes at 180°C until they turn golden. They should start spreading a beautiful scent. Meanwhile melt the chocolate in a bain-marie, add the cinnamon and the inside of the vanilla bean. Put the almonds in a sealable bowl (with a lid), pour the chocolate over the almonds, close the lid and shake thoroughly. After all the almonds are covered with chocolate, add the powdered sugar and shake again until everything is evenly spread.
Again, variations are possible – e. g. using German lebkuchen-spice in addition or simply use chocolate induced with chili to cover the almonds…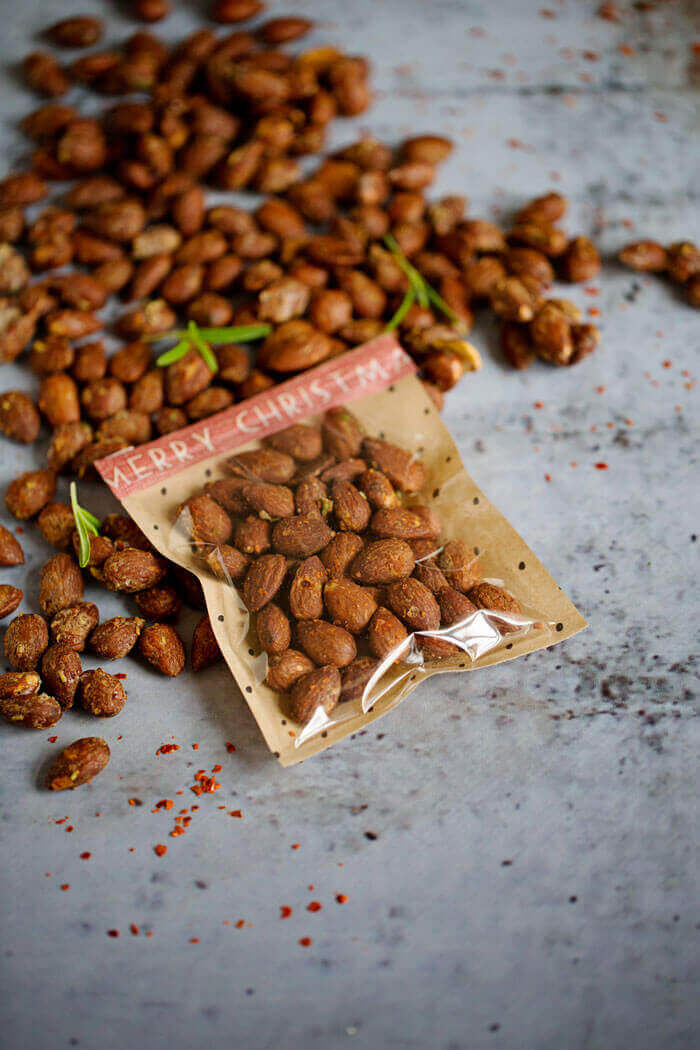 Rosemary-chili-almonds
400 g almonds
1 egg white (big)
1 tsp coarse salt (why not use the freshly made bacon salt?)
1 tsp brown sugar
1 -2 tbs freshly chopped rosemary
1 tsp chili-flakes
Spread the almonds on a baking tray and roast them in the preheated oven for approx. 20 minutes at 180°C until they turn golden and start spreading a tasty smell. Beat the egg white (roughly only – it musn't turn white and stiff) and add the spices. Mix the almonds with the egg-white-spice-mix and shake them up. Back into the oven for another 15 minutes – tasty!
For sweet teeth and everybody who is in a big hurry
There is hardly a faster treat than cinnamon-chili-pretzels or without the chili for the kids. I can guarantee you that your home will be instantly filled with a typically Christmassy scent and the taste is really really great!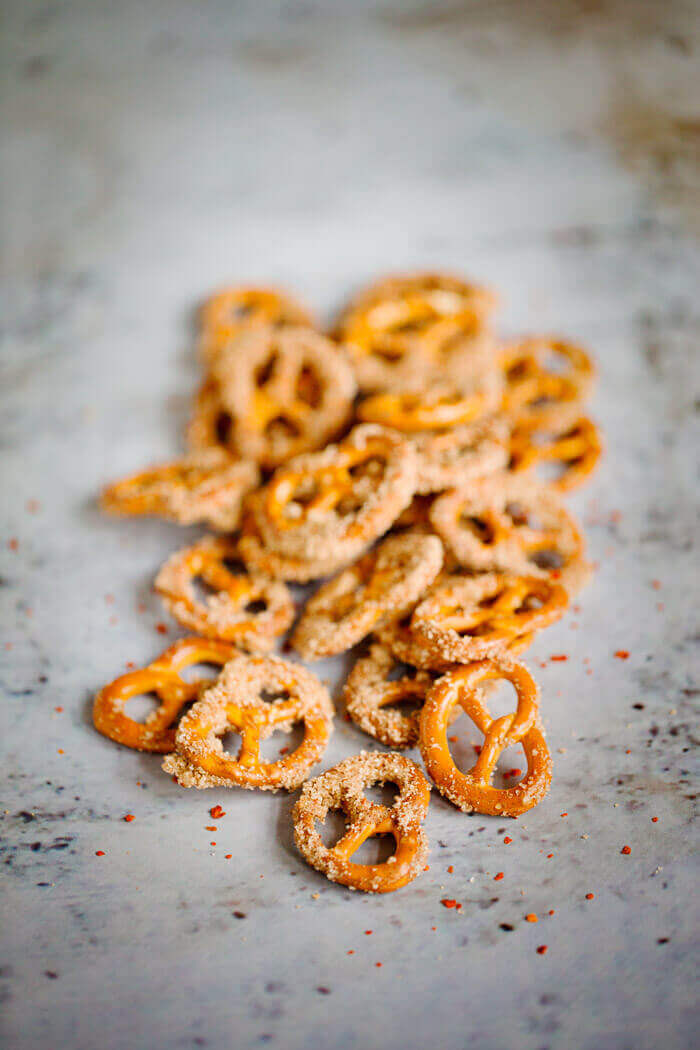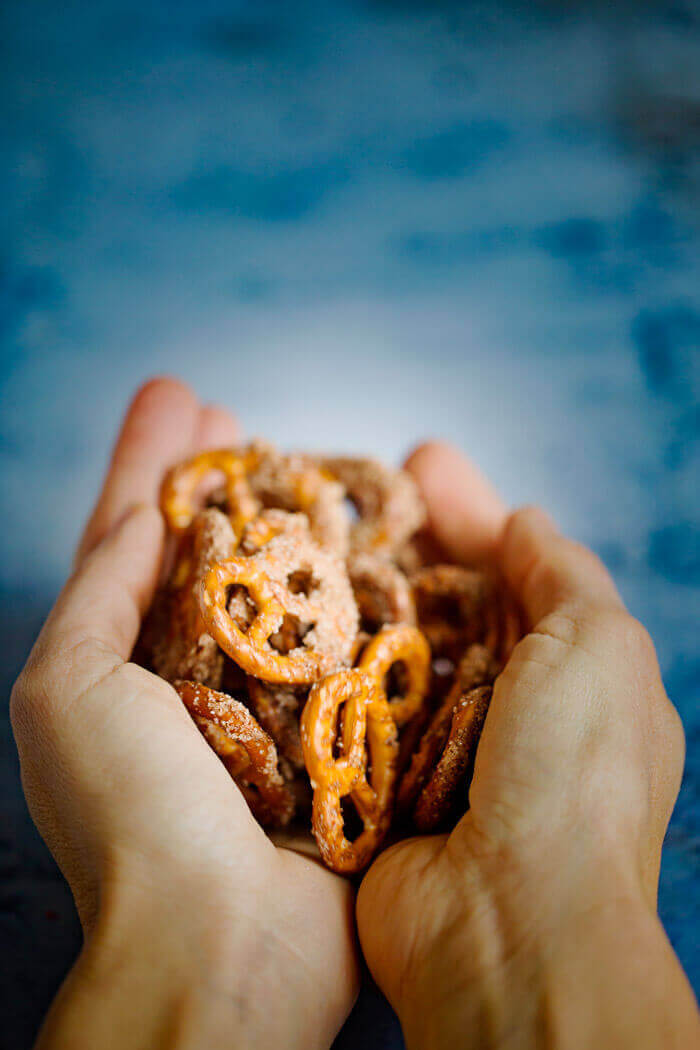 Cinnamon-chili-pretzels
250 g miniature salted pretzels
1 egg white (big)
200 g sugar
2 tsp cinnamon
1 tsp chili-flakes
Preheat the oven to 160°C. Beat the egg white without it turning stiff. Mix up cinnamon, chili and sugar and add it to the egg white. Place the pretzels in a sealable bowl and pour the egg white sugar mix over it. Close the lid and carefully shake it so that the pretzels won't break. Prepare two baking trays with baking paper and spread out the pretzels. Bake for approx. 20 minutes and occasionally change the position of the baking trays for an even roasting.
I skip the chili for the children :-)
A two-person treat that warms you up from the inside – quick and easy lentil-soup
Get some transparent bags, let your children do some weighing :-) or simply keep control put on some christmas tunes, hum along and get started yourself… You won't think so at first but this lentil dish is quite versatile. You can serve it as a simple soup for two people or pimp it with some vegetables and rice for it tobecome a main course. It's tasty in an any case and also quickly prepared!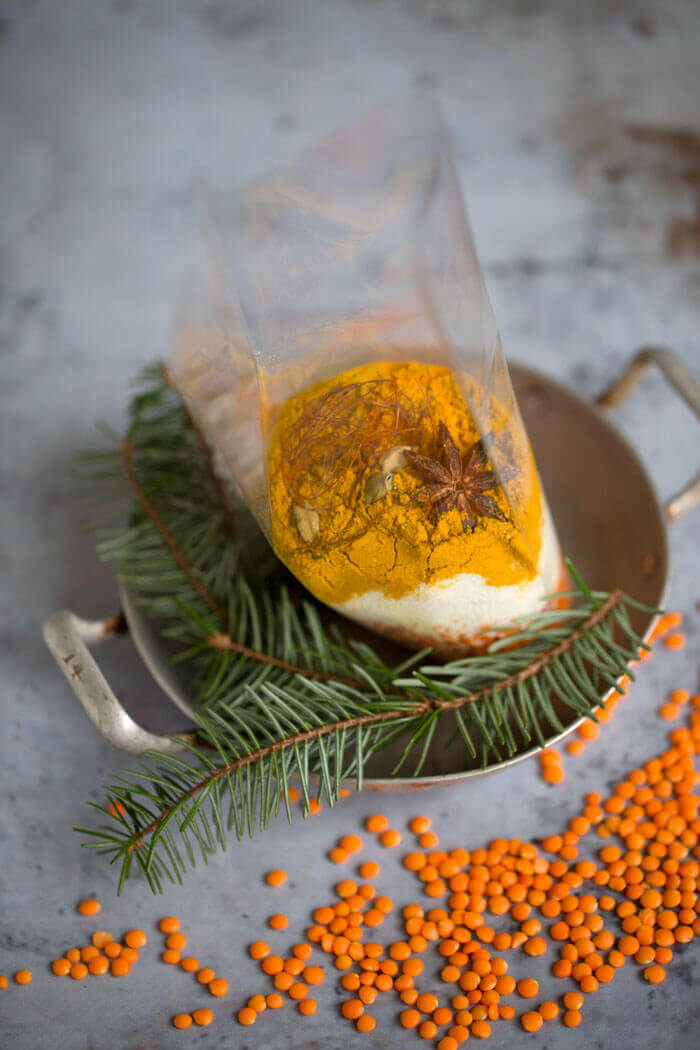 Lentil-curry-soup
150 g red lentils
30 g coco flakes
1,5 tbs curry powder
1 star anis
3 cardamom capsules
some chili-threads
Put layer for layer in the transparent bags and tie a little manual "how to prepare the meal" around it…
Finely dice 1 schallot and roast in a pan with some olive oil. Add the entire content of your bag and briefly roast everything before adding 3/4 liters of vegetable broth.
Let it simmer for 15 minutes and remove the star anis and the cardamom capsules. Season to taste with some orange juice and freshly ground pepper.
So, in case you need some more giveaways feel free to get started! Gifts from the kitchen are always welcome and the usually come from the heart and are obviously made with aloha! Enjoy and remember how much fun it is to present presents, to give gifts, to give…