We were gone this summer – far away… In Oregon, USA, to be exact. A family trip including the boys grandparents, my brother and his wife. Very unusual for us since we stayed in Europe as a family so far. However, we took the big step over the ocean and arrived in Portland. Wow – it was worth it! An incredible city and the nature surrounding it… amazing! We lived through and experienced many adventures, met many wonderful people and the outcome is, that I am still sorting through all the pictures…
In order to revive the blog and finally fill it with life again, there will be a seasonal recipe – squash/pumpkin. The twist is the truffle salt, that I brought from Oregon. Of course there are many excellent truffle salts here in Europe as well, so no need for you to fly over to Oregon, even though I can highly recommend it ;-)
This year I can finally find the spaghetti squash in the store shelfs, on the farmers markets and also on the huge pumpkin piles in the countryside.Very easy to prepare! Just cook in plenty of salted water for 30 minutes, spoon it out and it's ready to use. It's also tasty just with butter and salt but I thought another pumpkin won't do no harm. So I added some hokkaido, fresh goat cheese and the truffle salt which adds the certain taste to it. Yummy!
Jacobsen's is a rapidly rising tiny salt manufacturer. They manufacture the salt directly at the Oregon ocean front. While driving along the coastline, we stumbled upon the small company sign, stopped and tried all the different flavors. It was fascinating – the salt is literally melting on your tongue without leaving a strong salty flavor. You can simply suck the crystals. Delicious!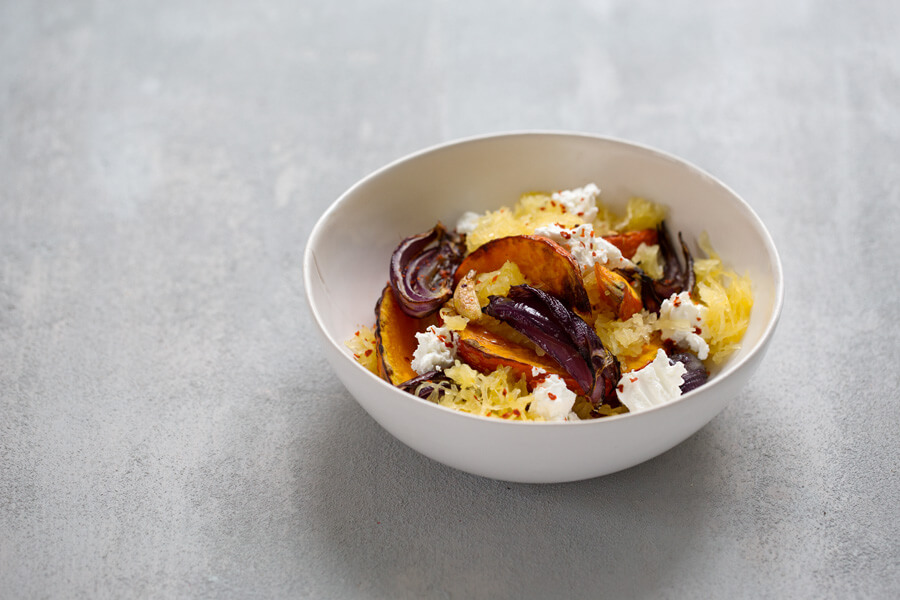 Spaghetti squash with goat cheese and truffles salt (4 per.)
1 spaghetti squash
1 small hokkaido
2 red onions
4 cloves of garlic
2 tsp olive oil
150g fresh goat cheese
chili-flakes
Cook the spaghetti squash in plenty saltwater for 30 minutes. Preheat the oven to 230°C. Cut the hokkaido in little chunks and chop the onion in 8 pieces. Generously oil a baking tray and spread the hokkaido, the onion and the garlic cloves (whole and unpeeled) on it and let it broil in the oven for 12-15 minutes. Cut the spaghetti squash in half and remove the seeds with a spoon. Then take a fork and just scrape out the "spaghetti". Mix everything in 4 serving bowls and divide the goat cheese in four portions and add it to each dish. Use plenty of chilly flakes and truffle salt to taste.