Summer fruit crumble – the perfect summer dessert or a deluxe breakfast on a sunshiny summer Sunday? Isn't it awesome to have all the beautiful summer fruits back? Domestic strawberries and rhubarb are one of my favorites. They really call for a crumble! The best thing about this dish is, that I most of the time have all the basics needed at home. And then I just use fruits lingering around on the kitchen counter. Like this half full basket of strawberries, 2 stack rhubarb, 3 nectarines and a small handful of blueberries.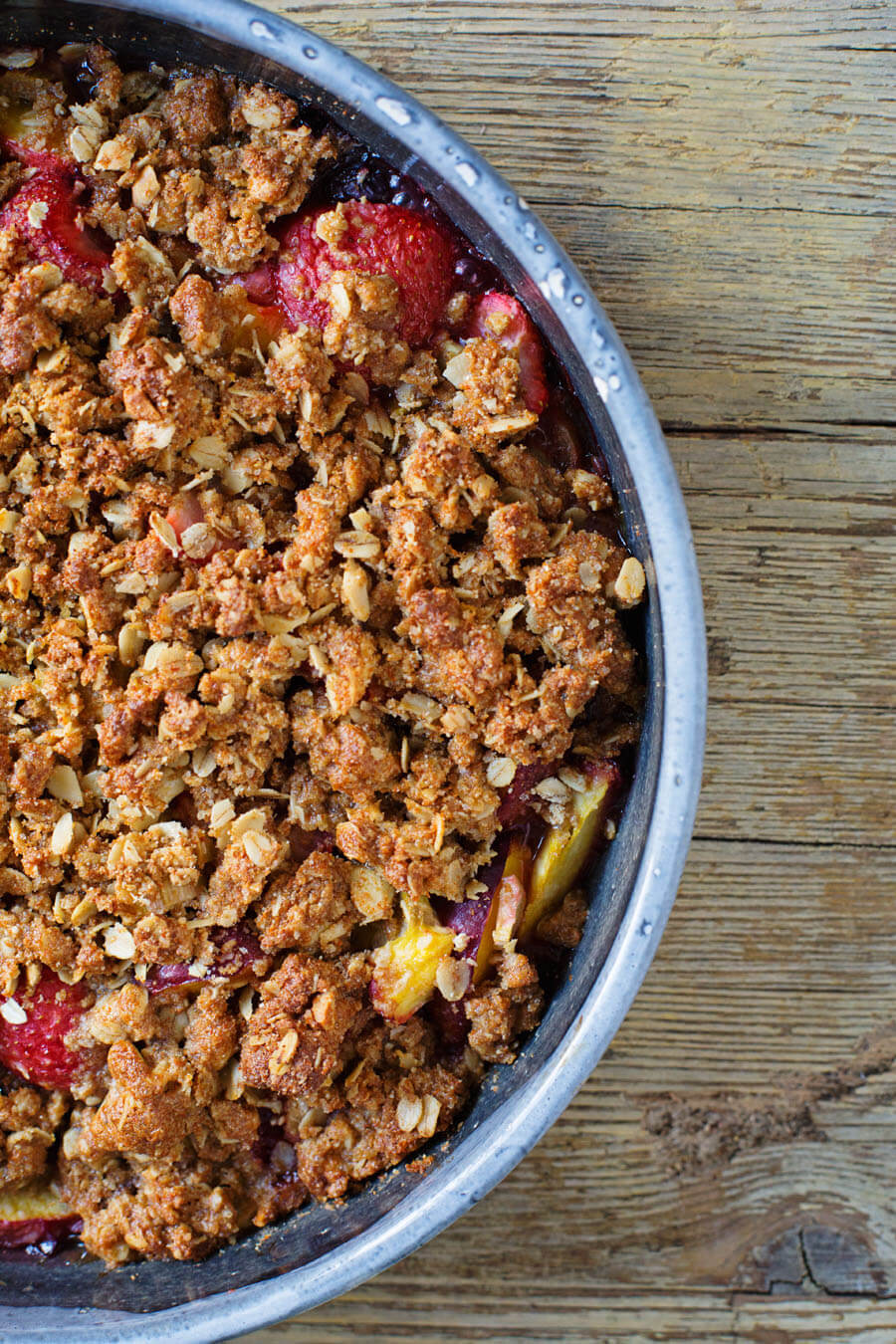 Summer fruit crumble
For the crumble topping:
85 g millet flour
75 g rolled oats
50 g blond cane sugar
80 g dark muscovado sugar
50 g crushed cashews
zest of one organic lemon
100 g cold butter
In a bowl combine all the ingredients for the topping. Use your fingertips to work in the cold butter and work until coarse crumble form. Set aside to the fridge until ready to use.
For the fruits:
3 nectarines, pitted and sliced
2 stack rhubarb, peeled and finely sliced
500 g strawberries cut in half
100 g blueberries
1 tablespoon lemon juice
2 tablespoons cornstarch
3 tablespoons blond cane sugar
confectioner's sugar to dust
Preheat the oven to 180°C (350°F). Butter a baking dish and set aside. Mix all fruits in a big bowl and combine with the lemon juice, cornstarch and sugar. Arrange in the dish and cover with the crumble topping. Bake for 30 minutes or until golden brown and juicy. Let cool down slightly and dust with the confectioner's sugar.
Serve with some cream or with vanilla seeds floured crème fraîche! Delicious!
I got inspired by a recipe out of the new book from Béatrice Peltre, author of the wonderful blog "La Tartine Gourmande". She recently packed again 120 gluten free recipes in a colorful and totally beautiful book!