Rhubarb season is almost coming to an end, but strawberry season is right around the corner! And I love to mix these two flavors. There is this red rhubarb all around the blog world, beautiful and colorful. But in Germany it is not as easy to get. I wanted to buy some plants for our garden, and had to do a lot of research to find the right plant, with red skin and red flesh. And when I finally found a nursery with  "strawberry rhubarb" it was already sold out. But I will keep it in mind and will try to find plants later.
Meanwhile I decided to mix my "normal" green flesh rhubarb with strawberries to make a refreshing syrup. I used 2 kg rhubarb and 1 kg strawberries, and the color came out perfectly red! Beautiful and tasty. You can use it to make some homemade lemonade ( just add sparkling water and some ice cubes), it tastes lovely in a glas of sparkling wine, or you can pimp your yoghurt… Feel free to infuse your syrup with all different kinds of herbs. Basil works fine and so does rosemary. Or add some lemon grass and a few leaves of kaffir lime…Vanilla would make it classic…. Just play around and find your perfect syrup.If you want to have different flavored syrups, make a huge batch of the "basic rhubarb strawberry syrup" and then add the herbs with the sugar and strain it after 5 minutes of cooking. Enjoy your Friday and your week-end!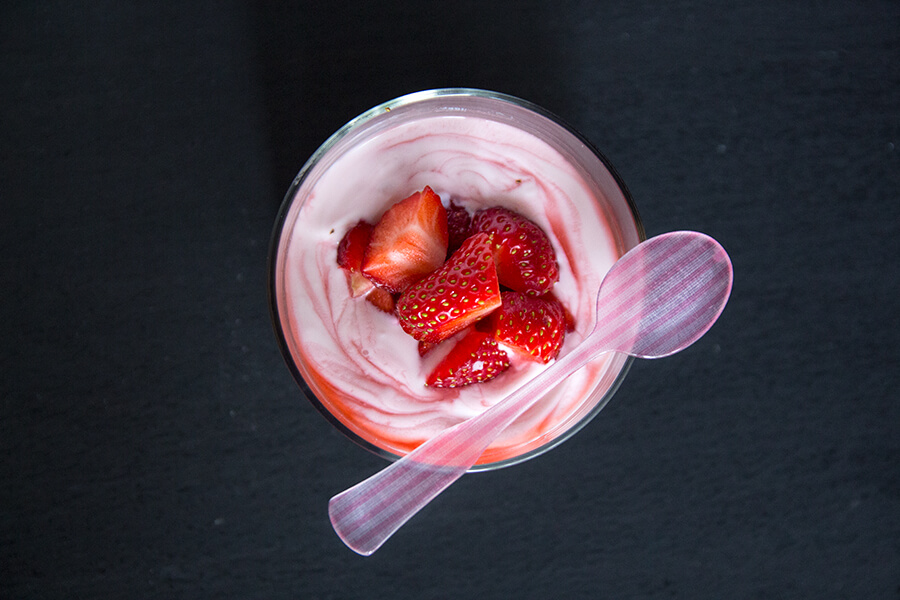 Print
Strawberry Rhubarb Syrup
Author:

Prep Time:

10 mins

Cook Time:

45 mins

Total Time:

55 mins

Category:

Drinks

Cuisine:

Homemeade
---
Description
Refreshing syrup to pimp your drinks and desserts
---
2

kg rhubarb

1

kg strawberries

1

l water

1

kg sugar
---
Instructions
Wash and cut the rhubarb and strawberries and bring it to boil with the water.
Let simmer for 20 minutes, stirring occasionally.
Strain the juice through a sieve and bring the juice to boil.
Add the sugar and if wanted herbes to infuse the syrup.
Boil for 5 minutes, then strain into sterilized bottles.
Once open, keep it in the refrigerator.
---