It is still Friday, although already friday evening in Germany. But anyway, I wish anyone a happy friday of course!
"Spritzgebackenes": I have no idea how to translate the names of the cookies… But I guess you will get an idea by watching the pictures. This is another one of my favorite recipes. I got it from a very good friend and she got it from her mum, and she got ist from her school, and…. It is traditional, as it can be traditional….
My boys love to help. The trick is to use a grinder (classically for meat, but with a star cap), this helps a lot and is the fun part for the kids. Mine is a beautiful vintage one, I got through my father from an old lady. I wish this grinder could talk, I am sure it has seen a lot of kitchen stories! Anyway. It is important to cool down the dough. Otherwise it is going to be impossible to work with it. There is quiet an amount of butter inside (which makes the cookies so yummy), so do yourself a favor and work only with the portion you'll need, and keep the rest in the refrigerator. Depending on the warmth in your kitchen, especially when the oven is preheating or already baking, the dough can get too smooth within minutes.
I love to use fresh hazelnuts, of course best collected by ourselves. But it even makes a big difference to buy already cracked ones and grind them yourself. For me, my lovely Kitchen Aid does all the work and that is the first fun moment for the kids. They just love to start the machine…. We made the dough in the morning and then went out for some skating and outdoor fun for a couple of hours.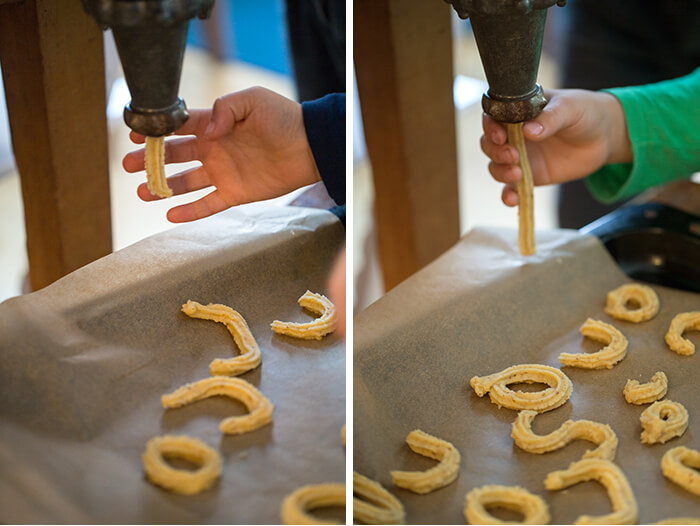 And then the real fun starts. One is pulling the grinder, the other one is forming the cookies. And of course the boys need to test the quality of the dough by tasting it once in a while…. This year, I almost had no chance to do some shapes on my own, but that's ok. I think they did a great job and I consider myself very happy to have such good helpers!
The next step will be to dip them in chocolate, but I will wait a bit longer to do this….and maybe without the boys… because in their believe, chocolate can always turn bad and needs to be tasted every 3 seconds… and what should I put on the cookies then????
Recipe again later, probably tomorrow….!! Ok, it took me more than a week, but here you go:
Print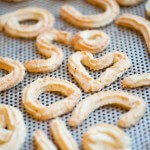 Spritzgebackenes
Author:

Prep Time:

3 hours

Cook Time:

10 mins

Total Time:

3 hours 10 mins

Category:

Christmas cookies
---
Description
A classic german Christmas cookie
---
375g

butter

190g

sugar

5

egg yolks

500g

all purpose flour

125g

hazelnuts
---
Instructions
If using whole hazelnuts, peel them and grind them in a blender.
Mix all ingredients together, until well combined.
Put into the refrigerator for at least 3 hours or overnight.
Preheat the oven to 180°C.
If you are lucky and have a meat grinder with a cookie attachment, press the dough through ist and form the out coming dough-strips into desired forms.
You can also use a piping bag with a wide opening, but be prepared to use you muscles to get the dough through.
Bake on a with parchment paper covered tray for about 10-12 minutes, depending on your oven. You want the cookies just in a light golden brown, don't overbake them.
---